I am excited. SO excited. I would even go so far as to say that I am quite
thrilled
!
For one thing, today was a pleasant 80-something degrees. Tomorrow, it is supposed to be in the 70's. When I went for a walk this morning I could hear leaves crunching beneath my feet. I had hot tea with my breakfast this morning, for the first time in a while. And when I drove down the street this afternoon I couldn't help but notice that certain trees were starting to turn lovely shades of orange and red. You know what this means, folks. FALL! It is finally and at long-last arrived, and my little heart is happy and glad to welcome it.
If you have been reading my blog for a little while, you know that around this time of year I get into a
mood
... a
blissful
, happy, dreamy, let's-all-wear-sweaters-and-drink-tea-and-cuddle-on-the-couch-all-day sort of
mood
. I can't help it... I just LOVE fall and everything that comes with it.
This year, I am passing on my love of all things autumn to all of you, in the form of a give-away!! And really, I could not be more excited about this particular give-away, because I am able to feature the Etsy shops of some of the girls I know and love, whether it be through blogging or otherwise. Oh, I am SO glad I can do this, because really, these ladies are all not only incredibly talented, but also super-sweet and totally loveable.
And now, let's take a peek at the wonderful things up for grabs, shall we??
Leafy felt wallet, mustard with teal leaves
by
yourwishcake
. Also known as
Kerri
, or One of the Loveliest People Ever. I'll be honest, it was when I saw her brand-new batch of adorable fall-colored wallets that I knew I had to have a give-away-- the colors are so cheery and wonderful!
Silver nature leaf cut-out earrings
by
oh, hello friend
.
This little lady
has done amazingly well in the Etsy world, and no wonder. Not only do I want everything listed in her shop, but Danni also happens to be a true sweetie. With these beautiful earrings of hers, you can have leaves under your feet AND on your ears!
Embroidered felt coffee-sleeve cozy
by
Joyful Star
.
(It looks like this one, but in blue and brown instead.)
Ashley
is pretty much a doll in every way. I've never had the privilege of meeting her in real life (just like many of these girls), but I'm sure that if I did I would love her even more. Everyone needs to wrap their hands around a good cup of coffee or tea when the weather turns cold-- and with this cute lil' cozy, that starbucks treat will be even more fun to drink.
Yellow and gray leafy hair pin
by
Pinned Up
. Yay, more leaves! Could there be anything more autumn-ish? This adorable little one comes to us from
Miss Alyssa
, who is a dear girl with a definite eye for the crafty and domestic.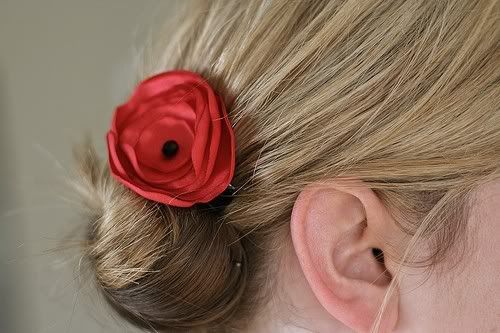 Red Posy Hair Clip
by
Little Lovelies
. The ever-fabulous Morgan from
Mrs. Priss
has put together a shop full of very lovely indeed accessories for ladies both small and large, and I wish I could own them all, for myself and my little ladies. Also, this girl is a complete sweetheart, so there's that, too. This particular clip caught my eye because of the beautiful red color... just like an autumn tree.
Home Sweet Home Print
by
tankandtink
. Have you become accquainted with
Molly June
?? Because if not, you really should. She is pure sunshine and will definitely brighten your day. I really love this print of hers, because when cool weather and early dusk rolls around each year, there is nothing I yearn for more than home and all its comforts and blessings.
Be sure to check out these girls, and especially their Etsy shops. You never know what other treasures you will find, for all of them are simply full to the brim with lovely things!
In addition to this package of Etsy goodness, there is also a bonus give-away of a $10 Starbucks gift card.
Because there is nothing better than a Starbucks on a cold day (it's definitely one of my favorite things). So, that means there will be TWO special winners! Get your happy-dances ready, friends.
To enter, simply leave a comment on this post by October 8th, 2009
. Tell me your favorite thing about fall if you wish-- I would love to hear how you celebrate and enjoy this beautiful season. If you so desire, you can blog about this give-away, and I'll give you an extra entry! Just leave me a second comment with the link to your post.
A big huge thank-you to all you Etsy girls, I am so grateful to be doing this giveaway. And thank you to all of you, my friends, for making things like this so fun. :)
I wish you all a most blissful and cozy, colorful and leaf-crunching, delightful autumn!