If you know me at all, you know how giddy and excited and happy a great bargain makes me. You know that I very rarely, if ever, purchase ANYTHING full-price. Some may say I am cheap. I prefer to call it "frugally creative".
You may also know that I adore a good project, and an opportunity to take something that was old and ugly and make it unique and pretty is a call I can hardly resist.
So, given my love of these two things, you should find it no surprise that a good thrift store makes my little heart go pitter-patter. I LOVE thrift stores. Everytime I step inside one I can't help but think "the hunt is on!" And when I walk away from that store having found exactly the thing I needed (even if I didn't know it) for a ridiculously cheap price, it is a heady victory that leaves me with what I can only refer to as a bargain hunter's high. Who needs drugs? I've got THRIFT STORES, baby!
Well, in the past month or so, I have been so blessed as to enjoy many such victories in my thrift store excursions. It all started when we were in Denver visiting my family, and my mom and sisters and I decided to make a Goodwill trip. Lydia really wanted to find a desk for her room (which she did, a VERY cute one for $10!). Seeing as how we were over 1000 miles from home with a van full of luggage and kids, I really had no intention of buying anything for myself. And then, I saw it. A chair. THE chair.
The price tag read $14.99. It was in perfect condition, other than a slight fading of the upholstery. It was clean. And cushy. And SO CUTE. I knew I had to have it. I did stop to wonder for a brief moment if my husband would kill me for purchasing a CHAIR when we were halfway across the country... but it was a very brief moment. So, I pulled the tag to take to the cashier, already so excited at my wonderful find.
And then, oh wonder, she told me that all furniture was half-off that day (seriously? Why don't any of OUR Goodwills have sales like that??). Which brought my chair to a grand total of a little over $8. EIGHT DOLLARS! That's euphoria right there, people.
It now sits in our living room, and my plan is to paint the dark wood a light blue, just to lighten it up a bit and bring out some of the color in the fabric. If you look at the back of the chair, where it's not as faded, you can see that there are some really beautiful colors in there.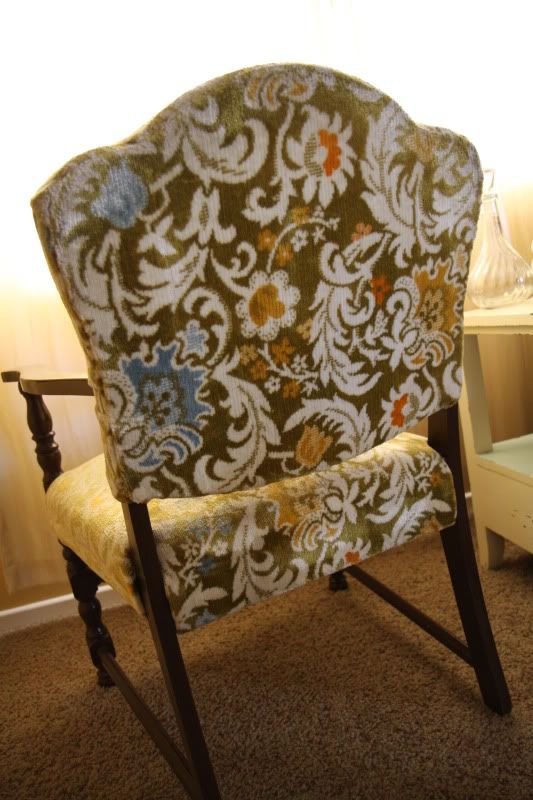 I love the spindle detail of the legs, and have a feeling you'll be able to see it even better once it's painted.
On that same shopping trip, I also came across this grand bowl for only $4.99: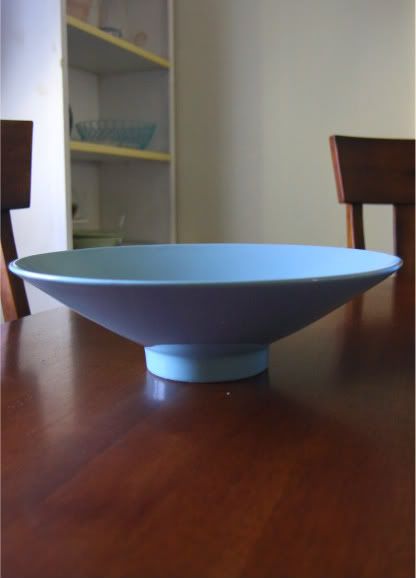 This is one of those things I needed and didn't even know it. I've since used my beautiful bowl all the time, for lots of different things. The shape and color is so perfect.
After this wonderful (and very exciting) thrifting experience, I was left wanting MORE. So, a few weeks ago, my dear bestie Jessica and I headed downtown for a kid-free, therapeutic afternoon of shopping at some of our local thrift stores. Our good friend
Stacie
(who is a thrift-store aficionado), had tipped us off to a couple places we'd never been, and we couldn't wait to see what was in store! Well, they did not disappoint. At the first one, I found a pair of very chic barely-worn shoes...
and this adorable teal jar...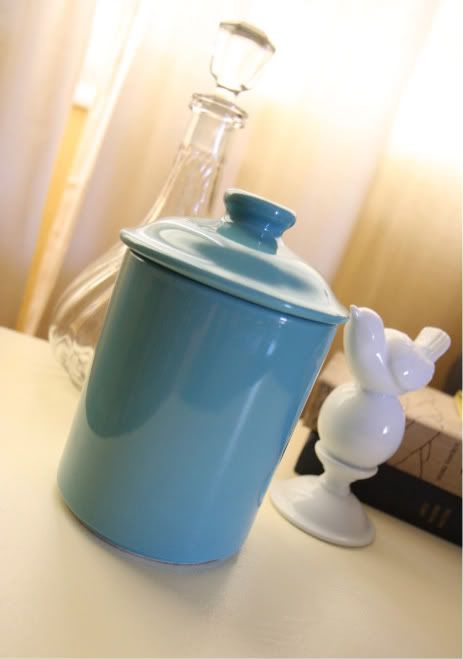 ...among some other fun finds that weren't as picture-worthy (a few games and books, baskets, etc.).
The next place we went seriously looked like a hole-in-the-wall, and I was a bit dubious as to what we would be able to find there. Turns out that yes, it was most definitely a place filled with a fair amount of dirty old junk and extrememly out-dated ugly clothes... but, with a fair amount of digging, there were LOTS of treasures to find. Also, everything was incredibly super cheap, so when we did find something, it was extra exciting.
Behold, my treasures:
REAL leather boots, exactly my size, exactly the kind I've been wanting for fall. $3.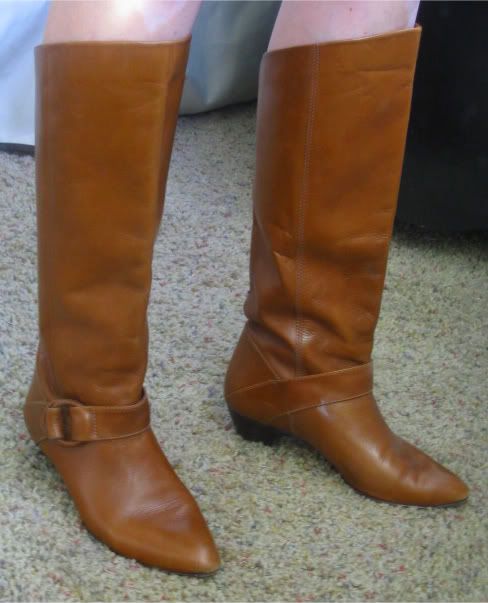 Retro dishes. 50 cents for the big plates, 25 cents for the small. (there was only one good big plate, so I use it as a platter, but I got 7 little ones.)
This was my favorite find of the day. A vintage (probably from the 60's or 70's, judging by the tag) dress! I love the colors and the stripes, and it fits me just right. The price?
One dollar!
And look... pockets! I adore a dress with pockets.
Thank you, thrift stores, for being so good to me and my wallet. I will always love you without fail and most passionately.
What about all of you? Have you had any good finds lately? Do tell!!