Well, hello there.
It's been a little while, hasn't it?
I did so well, blogging every day for fashion week.... and then, nothing.
Life called loudly and insistently, and in order to meet it, I had to run, hop skip, and jump away from the internet and all the time-consuming wonders it holds.
But, I'm back today for a wee little bit, just to share with you some happy little things that are making me smile lately. :)
*shopping at Anthropologie. Just the other day, I got to set foot in one of the stores for the first time in years. I may or may not have swooned. And I may or may not have splurged and bought myself
something.
(I did. just for the record.)
*birthdays. Today is the 21st birthday of a
certain dear girl
. I'm so excited when lovely people have birthdays, because it's just so much fun to celebrate them. And by "them", I mean the birthday
and
the person!
*chilly weather. The weather has suddenly and most wonderfully turned cold. This means snuggling up under a thick comforter at night and feeling oh-so-cozy and tucked-away, little girls clad in footsie pajamas, and scarves and sweaters galore. It also means...
*the red cups are back at Starbucks! hooray!
*getting our family pictures taken. It's something we've never done since Rosalie was born.
(This was the last time. Quite a lot has changed since then, wouldn't you say?)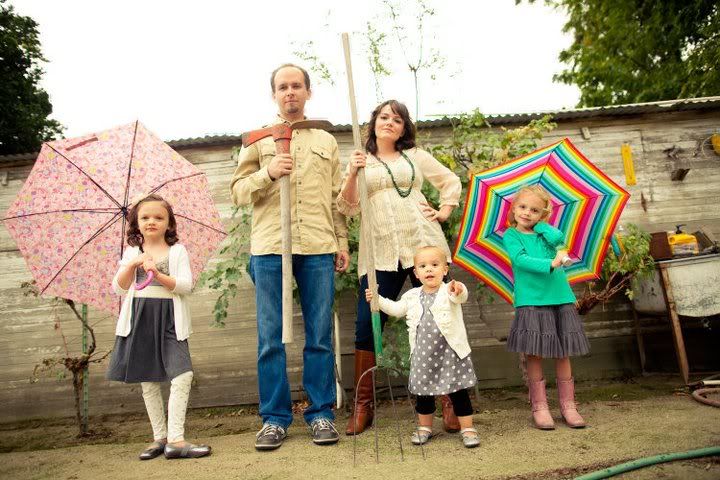 Just a bit of a sneak peek for you. I am dying to see the rest of them.
Lorie
is simply amazing. But more on that later, when I'm able to show you the rest! Eeeep!
*watching Pride and Prejudice (the newer one, with Keira Knightley). It just so happens to be one of my most favorite movies ever. It's so beautifully done. Also: Mr. Darcy. Need I say more?
*writing notes on pretty notecards. Lately I've been taking the time to write more notes, and it's so lovely. I adore the feel of a pen going across the paper with words for someone I love, knowing it might bring a little extra sweetness to their day.
*enjoying some much-needed and longed-for sister time.
My Lyddie-Lou is in town for ten days, and I'm loving every minute of it, as are my girls. We would like to keep Auntie Lydia for always, please.
(If only I could see the rest of my family now, I'd be even happier than happy!)
I look at my happy list and can't help but think how good our God is, even in the little things.
And now, I would love to hear
your
happy list, my friend!