This was one year ago
. I must say, a year that went by oh-so-quickly and was filled with many highs and lows. I've realized recently that other than the post about our first day of school, I've not really blogged much about homeschooling and what we've all been up to in that area of our life. So, I thought I would post a little re-cap of our kindergarten, our FIRST, year of homeschooling before we begin anew another year (tomorrow!!).
Although Emma was my official student, being the kindergartener, I made sure to include Annabelle as well, and did lots of "preschool" activities with her. Our two main goals for the year were to make sure she recognized all her letters and could write each one (she can!) and for her to be able to spell and legibly write her name.
She can!
We also did a lot of coloring and painting.
And we made some pretty nifty little "books" here and there. One of my favorites was her "color book".
She cut lots of pictures out of magazines and then glued them to the right color page. Not only did this keep her busy for quite some time, but it turned out really cute.
I also was able to include Annabelle in much of Emma's extra work too, which she loved, and it made it so easy for me, having to only focus on one activity.
These mighty tigers were an activity we did for science when we learned about... well, tigers, of course!
(Annabelle's is on the left, Emma's on the right)
I found myself combining science with art this year. I know, it might sound like an odd combo, but it really worked. When we learned about rainbows, the clouds, and the sky, we painted pictures using watercolors. When we read about rabbits we learned how to draw one. When we studied about plants we sat outside and drew colorful pictures of flowers. It gave me just the inspiration I needed as to what to do for artwork, and at the same time I was able to reinforce the things we were learning in science. Perfect!
And this brings us to Miss Emma. Her kindergarten year was very full, and she enjoyed pretty much all of it, I think. She's a good student and loves to learn. But I'm definitely noticing where her real love of learning lies, and at which subjects she simply excels. I'm not trying to sound like a braggin' mama here, but this girl's drawings always astound me. So much detail, and so much realism, too! This was the whale she drew after looking at a picture of one in her science book.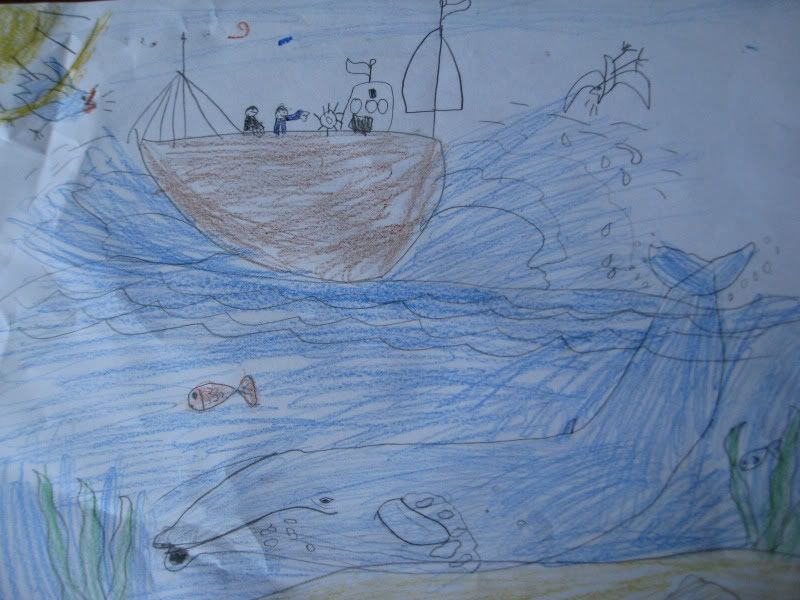 She also LOVES to write stories and illustrate them. We did quite a few pages like these, as it was a great way to work on punctuation, grammar, spelling, and handwriting, all while she got to do her creative writing and drawing.
Because of the science-turned-into-art thing, we ended up learning how to draw lots of animals. Rabbits, whales, horses, elephants, cats...
.... and mice. Bless google, I was able to find lots of "how to draw a..." printouts whenever we needed them. Emma especially liked drawing mice. The one on top is the mouse I drew, and the one beneath is hers. It probably won't be too long before my 6-year-old daughter can draw better than I can. :)
Both girls simply love to paint and were thrilled to get to do so in school. This rainbow was one of the first art projects that we did. Emma was quite upset about the green dot that ended up on her page somehow, but I think it's still a very nice rainbow indeed.
After reading this, you must think all we did was artwork and writing... but no, we did lots of other subjects too, it just so happens that those aren't quite as much fun to take pictures of! Emma completed
Alphaphonics
, and is
such
a good reader who has recently discovered the joy of finishing chapter book after chapter book. We of course also did math, history, Bible, and penmanship in addition to the phonics, reading, science, and art.
(for those of you who are interested, we used Christian Liberty Academy. If you click on this link you can see exactly the curriculum we used. I added in our own art projects and Alphaphonics and also made use of the Bob books. We did a lot of extra reading for history too, using different picture books that had to do with the event we were studying.)
I realize this post is already quite long, but bear with me. I'm about to get real here, folks. (I can see you all anxiously leaning forward in your seats, just waiting for the juicy part, am I right??) If I'm being honest, our first year of homeschooling was not at all what I expected it to be. When we started off in September, everything was pretty easy. Sure, it was a lot of work, but I felt on top of it, like I had found my groove and was rollin' along smoothly. This continued for several months, until December hit. December, which held not only the mad scramble and craziness that is the holidays and the bajillion birthdays that follow, but
everything that happened with my Mom
. Our extremely-last-minute trip to Colorado, the worry, the stress, the overwhelming sadness you feel when someone you love is going through something really hard. God is good and gracious, and He brought us all through that time in one piece, a fact for which I'm still daily thankful, but while it was all happening it was hard, and I think we were all more stressed and affected than we even realized. Add to this fact that along the way I added more piano students to an already busy schedule, my baby stopped taking morning naps and became mobile, and things just kept piling up. I often found myself snappish and impatient, not at all the loving, cheerful, and fun teacher that I had envisioned myself as. My poor children... I felt awful for them some days.
After our break in December I never really "found my groove" again. There were days when I was struggling just to get the bare bones of our schoolwork done, much less add in anything fun or different. There were days and even weeks in which we accomplished next to nothing, and I honestly felt so behind in EVERYTHING sometimes that the sheer thought of it all made me want to sit down and cry. I would read blogs from other moms who homeschool and feel completely and utterly inadequate, and I would feel horrible that my child was missing out on so many fun activities or projects.
Now, though, I look back on our year and I'm glad I allowed myself a bit of leeway, that I took it a bit easy where I at first didn't expect I would. It was our first year, and it was a year that wasn't easy in many ways. I needed to be ok with less-than-perfect. And, when all is said and done, everything that needed to be learned was learned. We finished everything we needed to, and the kindergarten work got sent in
(as of Saturday! MUCH later than I ever thought it would be, but I'm still counting it a victory! hehe).
Emma and Annabelle both enjoyed it, and they both know much more now than they did when we started. And, so do I! I've learned so much from our first year... what my priorities should be, where my strengths and weaknesses lie, the things which I need to pray for on a daily basis, what kind of schedule works for us, and how to live and let live through it all.
I still love homeschooling. I still think that it's exactly what's right for our little family at this time in our lives. I still wouldn't have it any other way. I'm thankful for the opportunities God has given me as a mom and a teacher to my girls, and I'm going to strive to make the most of them no matter what may come, with His grace to help me along.
And I'm oh-so-excited, thankful, and happy that a brand new year, fresh and sparkly-clean, filled with promise and potential, is ready and waiting for us.
Tomorrow.