In a sense, our home has always been a place of learning (as all true homes are)... there are always things to teach and lessons that are being learned. But today was different. This was SCHOOL. Complete with freshly sharpened pencils and brand new boxes of crayons and workbooks and the tangible sense of excitement that comes with a fresh start.
I set our start time for 9:30 am. It might seem a bit late, but for us, it works perfectly. It gives me time to exercise, shower, do devotions, feed the baby, get everyone dressed and ready, make sure we all eat breakfast, and then put Rosalie down for her nap. I have a feeling our new schedule is going to be good for us all.
We had a special first-day-of-school breakfast this morning. Cherry-berry smoothies (for protein) and cinnamon muffins (with sprinkles, of course. Because sprinkles make anything special).
And then, it was time to begin. Emma and Annabelle were eager and excited, clad in "school dresses" found especially for the occasion, their hair in pigtails-- pigtails are just so
school-ish,
don't you think?
I was ready too.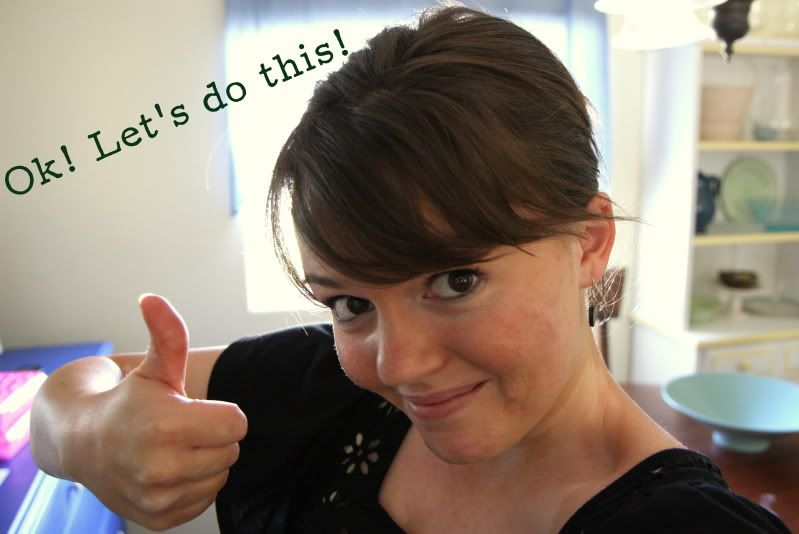 Emma was so glad that I was FINALLY going to let her write in her new books.
But first, she remembered that her feet needed to be appropriately dressed too...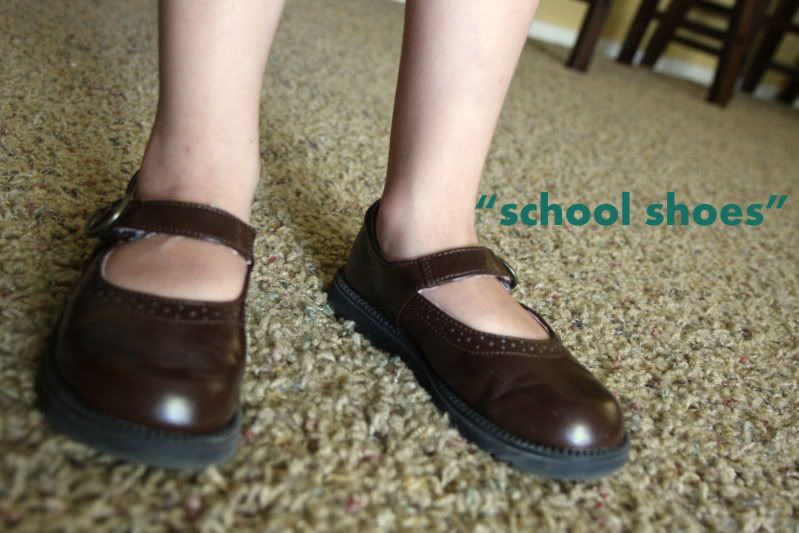 We began with our Bible book and prayer. Emma's prayer was for God to "help mommy to be a good teacher", among other things. I'll take all the prayers I can get! After starting our school day off right, we delved into the vast and wonderful world of phonics, history, math, and writing... my little kindergartener was in heaven. She really thrives on learning, and I could see her mind working as she concentrated and took everything in.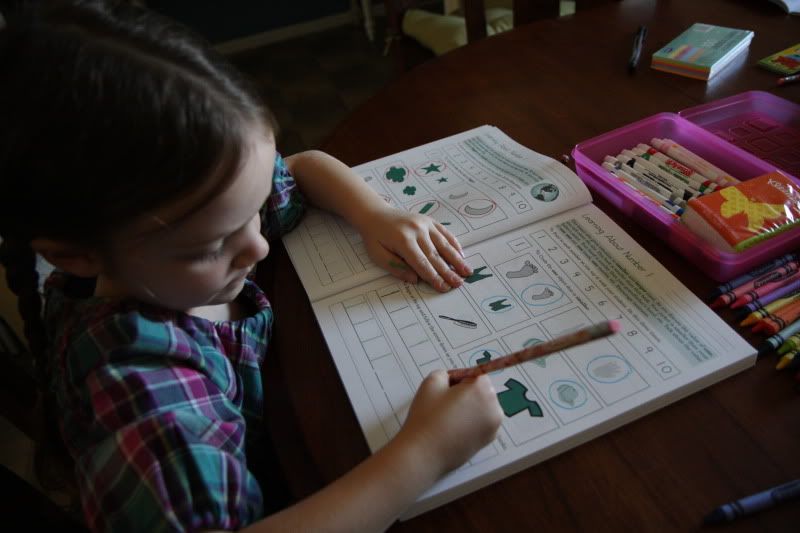 At one point, when we were talking about the things children can do to glorify God (and this was while doing history! Love it!), Emma looked up at me with an impish grin and said "Just X the bad."
Silly girl.
While this year is mostly about Emma, as she is the official kindergartener, we certainly couldn't exclude Annabelle. I ordered preschool books for her that cover everything from letters and writing to numbers and shapes. My thinking was that she'd get bored and want to go play about half-way through school time, but she sat there the whole time and kept quite busy with her little workbooks.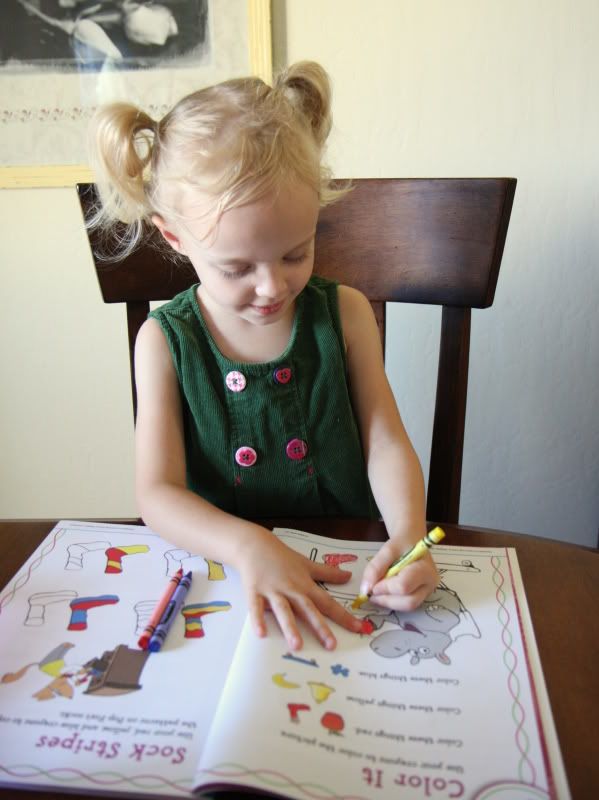 She was very pleased with herself. And who can blame her-- just look at those beautifully colored socks!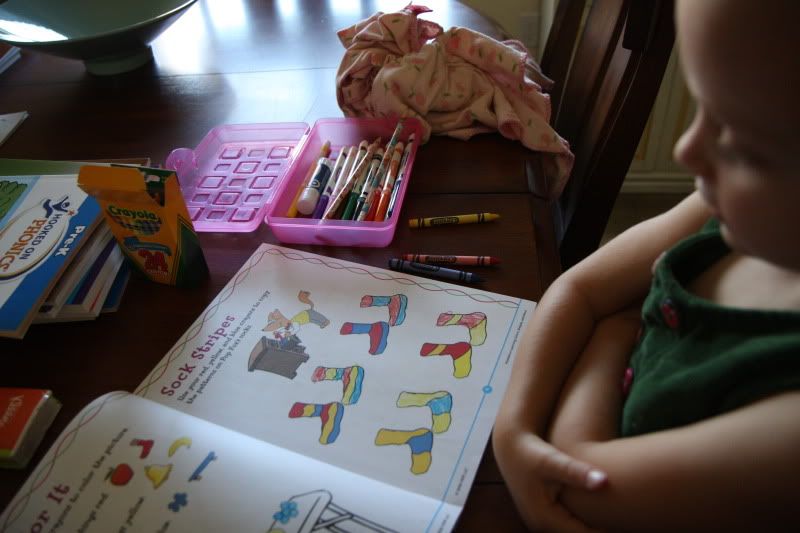 We worked hard for about an hour. An hour that really just flew by, it seemed. But we were definitely ready for a break after that. In honor of the day, I bought Trader Joe's cinnamon schoolhouse cookies. Snacktime!
It's quite possible that snacktime is Annabelle's favorite subject.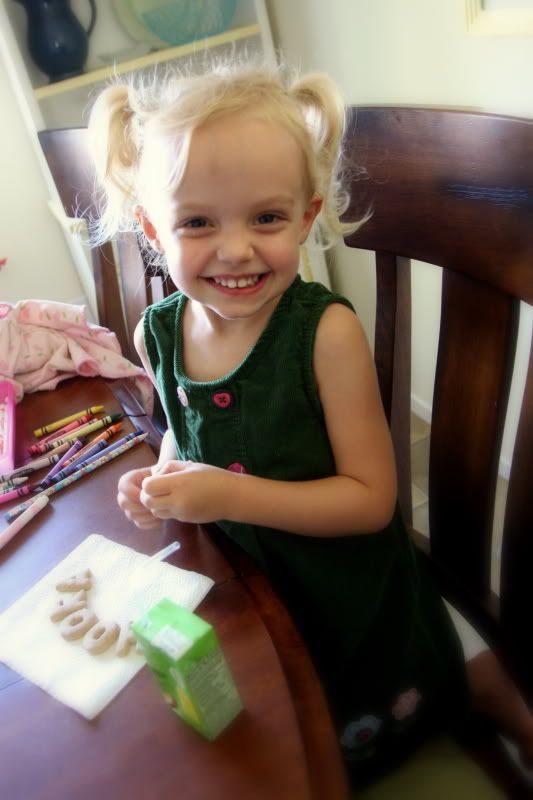 We resumed our studies once cookies and juiceboxes were all gone, and were done for the day by 11:45. Not bad. Not bad at all!
And where was Miss Rosalie during all of this, you ask? She was a doll and did this the whole time: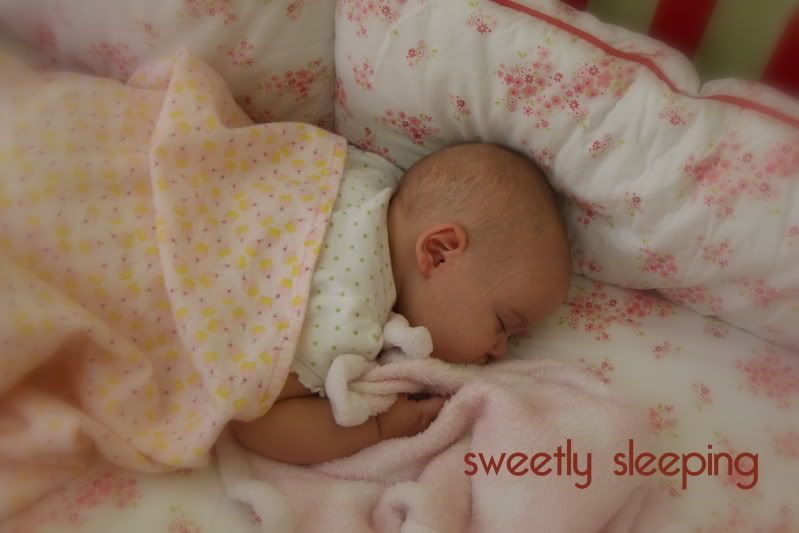 Thank you, baby, for making our first day of school just that much easier!
I can hardly believe, in some ways, that our years of formal education have begun and I actually have a school-age daughter. This is our life now. It's exciting. New. Different. And wonderful. I look forward so much to all the adventures we will have through our years of schooling. Not every day will be as easy or as fun as today was, and I know the challenges and difficulties will come, without a doubt. But I am blessed with an amazing group of people who are daily an encouragement and inspiration to me... as well as an abundance of grace.
It's true that homeschooling is not for everyone. But, for me, I simply cannot imagine doing this any other way. Oh, the joy of seeing these sweet faces light up with the thrill of something new learned. Such a reward.
yes, indeed, it was a good day.