Friday last week at this time, we were in the midst of that most wonderful place, Disneyland.
(I do realize I've been a horrible blogger lately, but do you see this?? It's only taken me ONE week to post about our trip! Not a month. Not six months. Not a year. ONE WEEK. That's got to be a record for me! heh.)
The
last time we took our kids to Disneyland
-- the one and only other time, actually-- was when I was pregnant with Rosalie and ohmygoodness, Emma and Annabelle looked like babies! It was so fun to take all three of our girls this time (especially since Rosalie was still free, woohoo!) and have an entirely new and different experience with them all. The only thing not different is that I was, once again, pregnant in Disneyland. I seriously think I've been to Disneyland pregnant more times than not. Just ask me what you CAN'T do there when you're pregnant-- I know!
Anyway. Prepare yourself, for I am about to bombard you with what is probably far too many pictures.
(if you're my facebook friend, you've already seen these. but, come on, you know you want to see them again!)
The night before, with all three of them tucked into the cozy hotel bed, they were SO excited they could hardly sleep. Went to bed at 11:30, up by 6. Kids are crazy. I expected them all to be tired and dragging the next day, expected Rosalie to crash in her stroller at some point, but none of that. We had our tired moments, but considering the short night they had, I was so happy that
they
were all happy!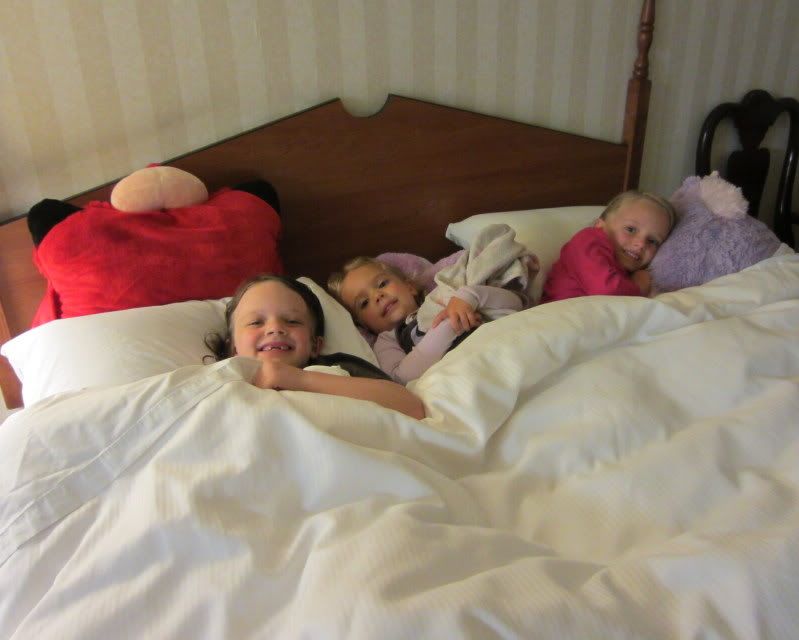 From the instant we walked onto Main Street the next morning and made our way back under the castle into FantasyLand, their faces were just LIT up, so joyful and excited and thrilled to be there.
This was Rosalie's first time at Disneyland, and I almost couldn't
stand
how cute she was, pointing everything out and smiling constantly. This kid kills me.
After the merry-go-round, it was time to take another spin... in the teacups!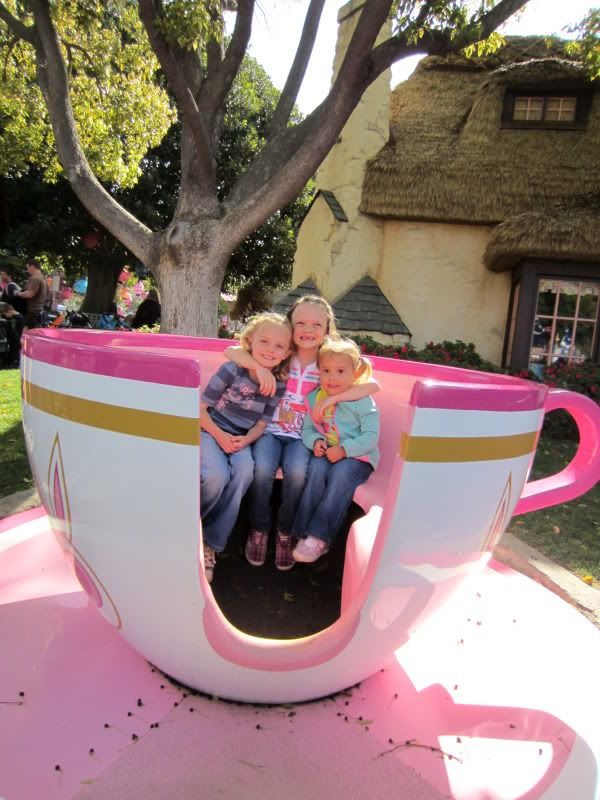 Emma and Annabelle loved the teacups the last time, and it was no different this time. And Rosalie couldn't stop giggling as we spun round and round and round, all sliding into each other and getting dizzy. It was one of my favorites with these three too, I think!
When we got to the teacups, we noticed that one side of it and the pathways that led past it were roped off. Turns out that the show Modern Family was filming there. RIGHT THERE. Like twenty feet from us. Some of you out there are probably going "so?? who cares??" WE care! :) It's one of our favorite shows. HI-larious. The characters are amazing and quirky and so funny. So when were actually able to spot some of the stars only feet away from us, well, we got a little excited. (we don't see celebrities very often, you know.) But don't worry, we didn't turn into crazy weird stalker fans. I only snapped one teensy weensy discreet picture, just to prove that we were there and we saw them.
After the excitement of spinning teacups and celebrities, oh my, we headed off into calmer waters (ha! ha! sorry.) and took a ride on the jungle cruise. I'm pretty sure Rosalie thought 90% of everything in that jungle was real.
"Look, it's fell-e-phants!"
While we were there in Adventureland, my husband was kind enough to buy me one of the Dole pineapple soft-serve ice creams... oh my. It was good. I'd never had one before. But now I want more. I snarfed that thing down.
Since we had park hopper tickets, we were able to head over into California Adventure for a few hours too, and the first thing we did there was to ride the new Ariel ride. So fun, so colorful. The kids (for the most part) loved it.
Right now, at the ages our kids are at, their favorite place in that park is the Bug's Land. We rode every single ride in Flik's Fun Fair, oh yes we did.
We went a-munching with Heimlich the caterpillar...
Daddy and Emma and Annabelle took a ride in Tuck and Roll...
we had MORE spinning fun on the scowling ladybugs...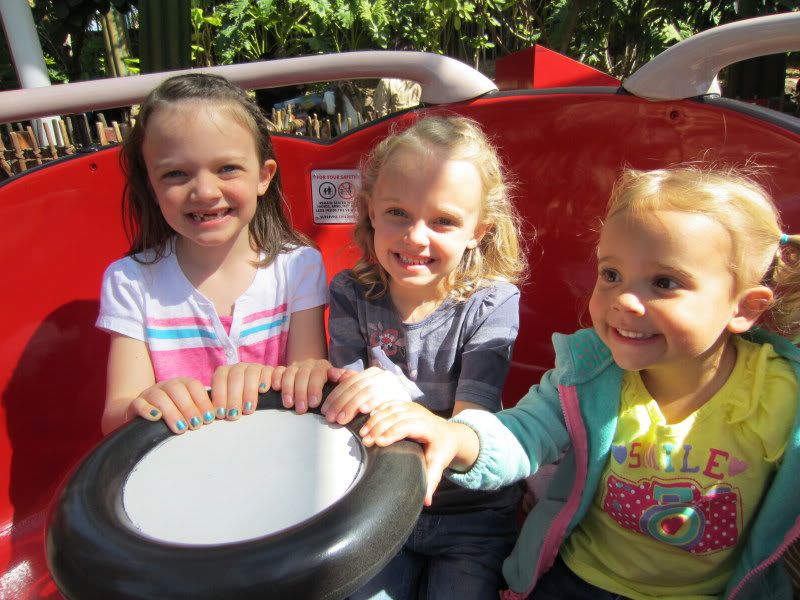 and we flew up, up, up, and away in an animal cracker box!
Lots of smiles, lots of happiness, and absolutely no "scary" moments. Perfect.
We also took a trip through Monstropolis on the Monster's Inc. ride, because my kids adore that movie. At the end Roz (you know, the green oozy slimy monster who wears the glasses and is always onto Mike about his paperwork) is standing there to say different things to those getting off the ride, and she happened to tell us that we aren't allowed to take little monsters out of Monstropolis... at which statement Annabelle got very worried that we weren't going to be able to take Rosalie with us! Rosalie can be a little monster sometimes, so I understand her confusion. heh.
As we entered Disneyland again, Minnie and Mickey Mouse themselves were right there in the town square, practically waiting for us! I was SO excited, because I had been really hoping that we would get to see them, especially since it was Rosalie's first time and she loves all things Mickey Mouse.
Minnie was the first character she had been close to all day, and she actually hugged her! (I missed the moment by thismuch, unfortunately). However, after the hug, she decided she wanted nothing to do with these huge mice, or any other Disney character to follow. She would wave and smile and call out their names, but no hugs or pretty posing for pictures, thankyouverymuch.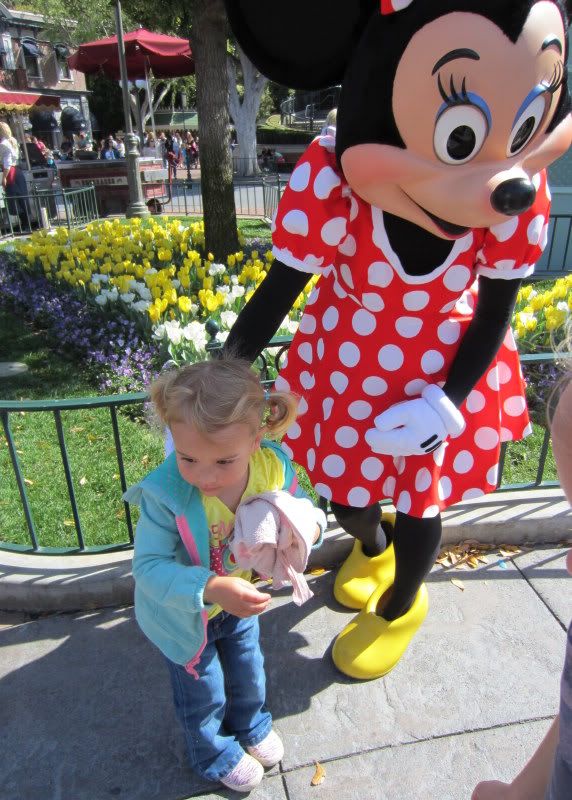 Her sisters, thankfully, were more than happy to hug and to smile and to pose.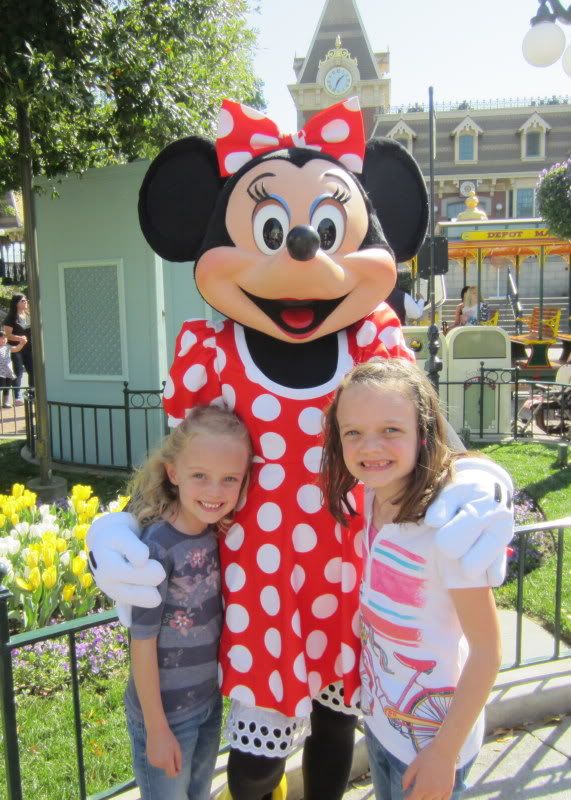 Rosalie looks terrified in this one. poor child.
While we were there we also got to see Ariel...
and Jasmine...
Princess Tiana...
Tigger!!!......
Eeyore!!! oh, I love Eeyore, he is the cutest thing ever.
The best part about watching my kids meet the characters they know and love is the look on their faces when they go in for that first hug. So precious.
We love Winnie the Pooh.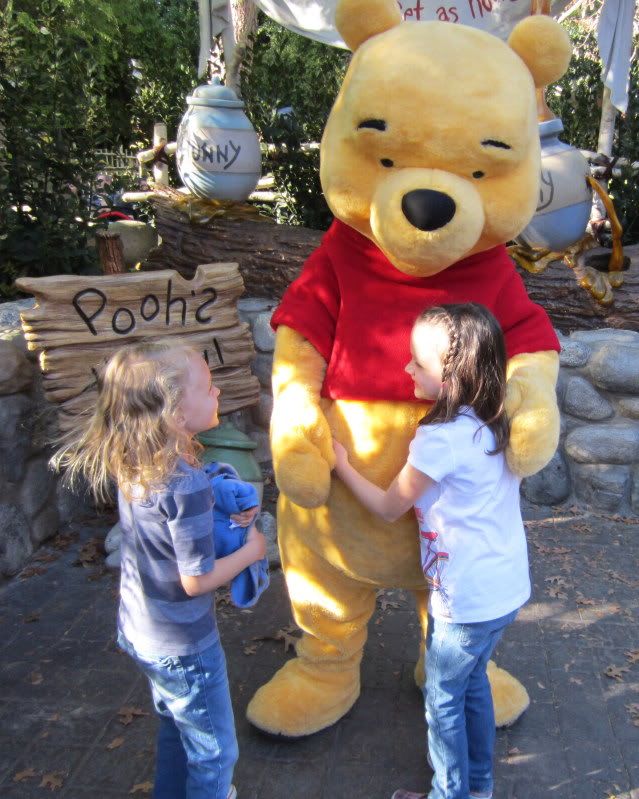 This picture makes me happy... all of us together and Winnie the Pooh too!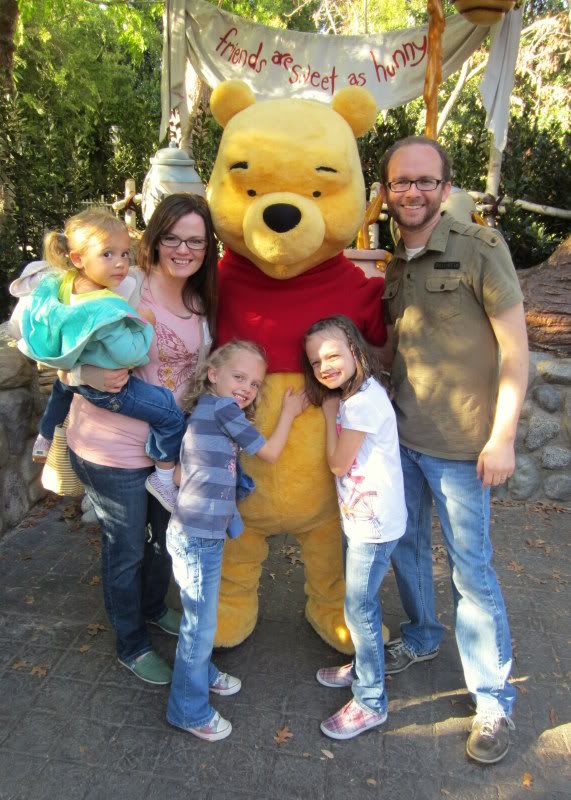 We were blessed by the fact that we didn't have to wait in line TOO much the day we were there... it was busy, but not overly so. Part of Disnyeland is the lines, though. The waiting and anticpating what's coming next, the people-watching while you stand there, the conversations you have with other folks who are just as excited as you to be there.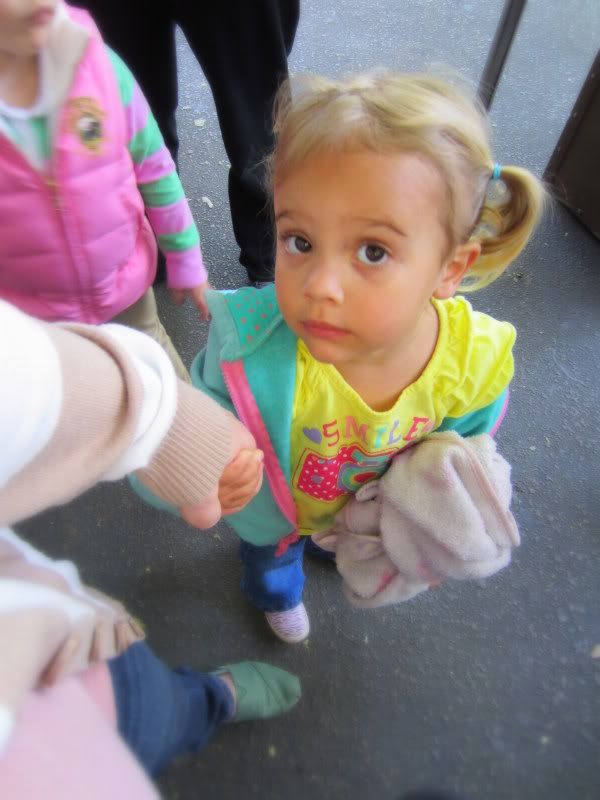 While the three girls and I stood in line for the princesses, a mentally challenged lady spent ten minutes talking to me about who her favorite princesses were and why, and how she HAD to be there at the parade later because Tinkerbell would be looking for her specifically. She was sweet.
More waiting in line, this time getting close to Pooh and friends!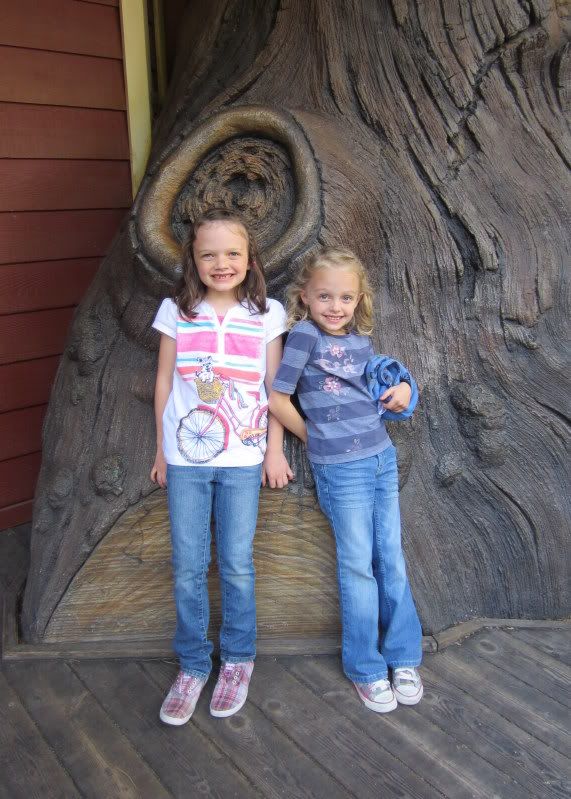 Ready for our cruise around the world, and for the Small World song to become lodged in our heads semi-permanently.
Toon Town is another favorite place for the kids. They love just goofing around back there, playing in the characters' houses and being generally crazy.
Annabelle rode the Toon Town coaster with Daddy-- her very first roller coaster ride! and she loved it!
By this time, we were ready to sit down and take the train back to the other side of the park in time to watch the parade. I must admit, the parades are one of my favorite things, They're just so
happy.
We found a pretty good spot and settled in (ah, it felt good to SIT) to eagerly wait for the start of it.
Unfortunately, right after I snapped this picture of Main Street all lit up, my camera battery completely died.
It's ok though, because after the parade, dinner, and the disappointment of a cancelled fireworks show (booooo), we were all ready to head back to the hotel and rest our tired feet and put some VERY tired girls to bed.
Next morning it was sleeping in, getting ready to go, checking out of our hotel, a very late breakfast where we happily talked about all of our fun the day before....
... and then on the road again, headed homeward.
I already miss Disneyland, and wish we could take our girls back! But I'm SO thankful and glad we got to have such a wonderful little family getaway, so chock-full of happy memories and fun.
oh Disneyland, you are always good to us. We can't wait to visit you again someday!