I found this half-finished blog post sitting in my drafts from a year ago, and I thought "why not... it's never too late to blog about something!" Right??? :) So, here, FINALLY, is the story of our adventures in Disneyland, October 2008!
Once upon a time, there were two beautiful princesses named Emma and Annabelle.
One day, two people (let's call them King Daddy and Queen Mommy) took these beautiful princesses on a journey into a magical land.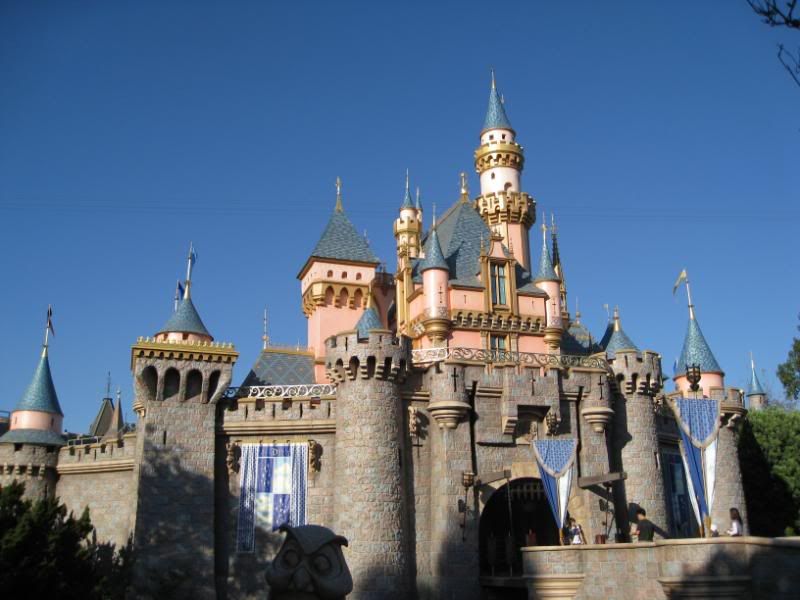 As they zoomed above the ground in a speedy white carriage into this land their joy and excitement was exceedingly great.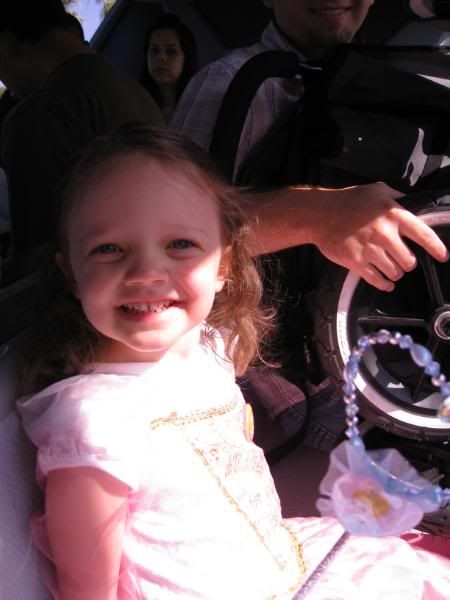 Upon entering the wonderful kingdom for which they were destined, King Daddy and Queen Mommy took them straight-away to the royal courts. After a while of waiting in a throng of other expectant princesses...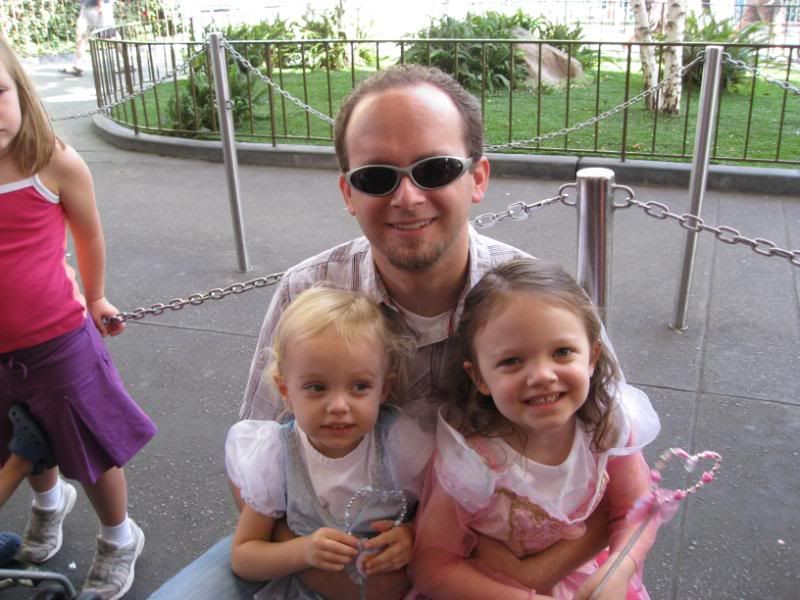 ...they were admitted entrance and royally greeted with song and dance.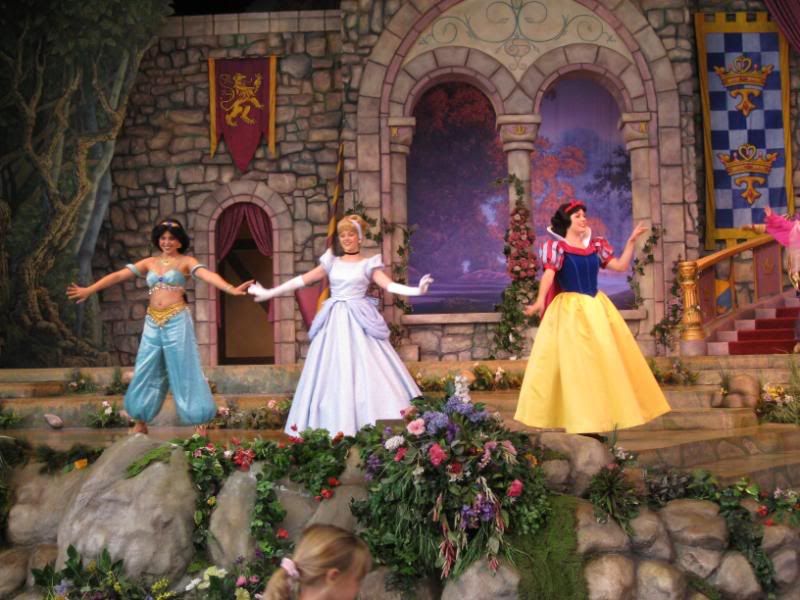 To their great delight, they were able to meet with several other princesses whom they loved the best. It was a most exciting thing!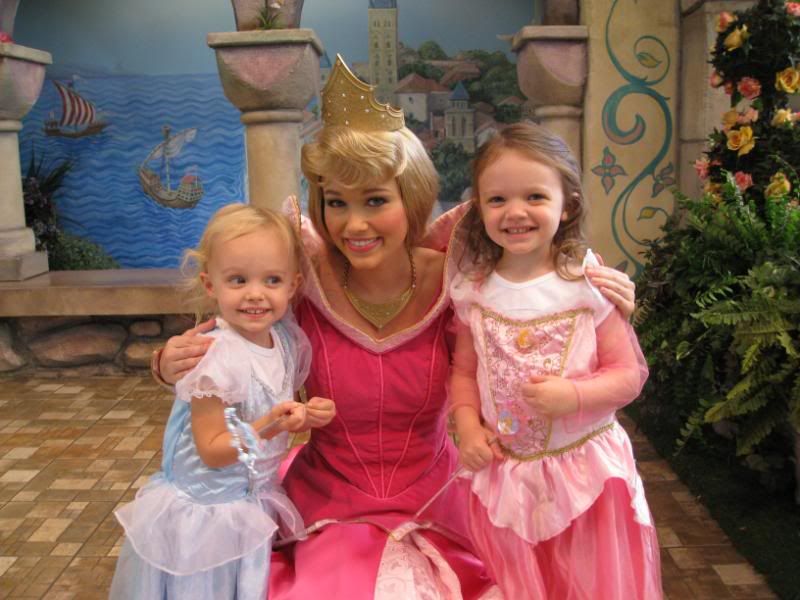 Upon bidding the other princesses adieu, and enjoying one last look at the royal courts...
...they began a new adventure into a watery and dark place, a place where pirates lived and danger lurked around every corner.
They did not enjoy that. Not even a little bit.
However, they soon recovered from their grave experience and were treated to lunch on the Bayou. As it turned out, Queen Mommy did not even get to finish her delicious Monte Christo sandwich because a certain little princess had simply had too much excitement and was at the end of all reason or cheerfulness. She fell asleep straightaway, which was just what she needed.
While Princess Annabelle slumbered peacefully, Princess Emma was taken on many adventures in Fantasyland by King Daddy or Queen Mommy. Her most favorite of all was the flying elephants. She could hardly believe that one could fly while riding an elephant! Thrilling!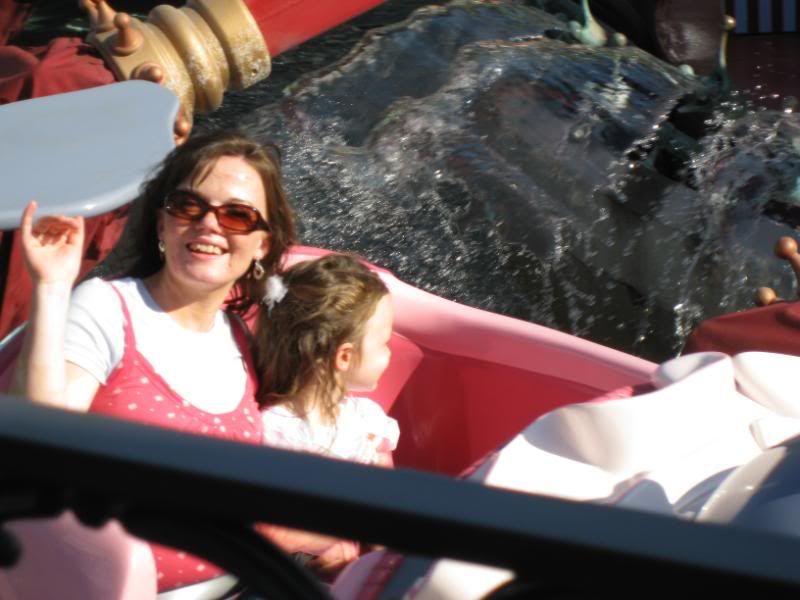 She also enjoyed the giant spinning teacups with King Daddy.
After Princess Annabelle awoke from her slumbers, refreshed and eager for more fun, they all climbed into a teacup and spun around merrily.
By this time the day was wearing on, and it was time for Queen Mommy, who happened to be carrying yet another little princess around inside, to get off her feet and rest a bit. So King Daddy treated his two little girls to rather large lollipops, which caused great mirth and many giggles.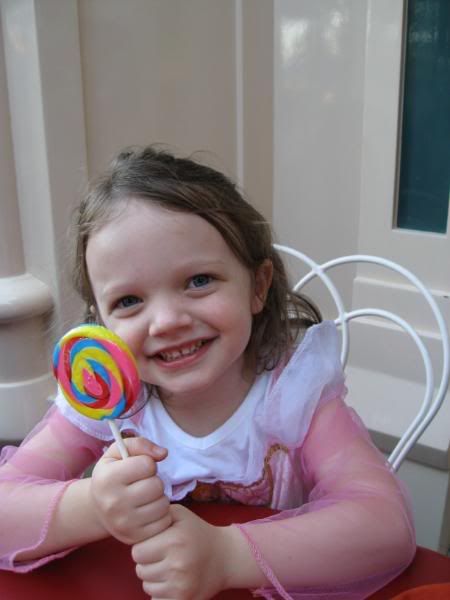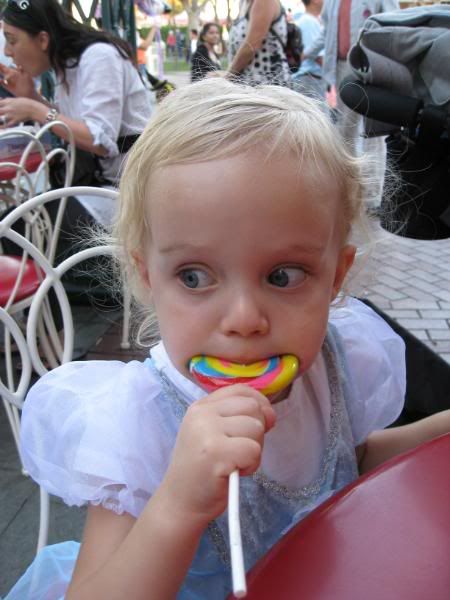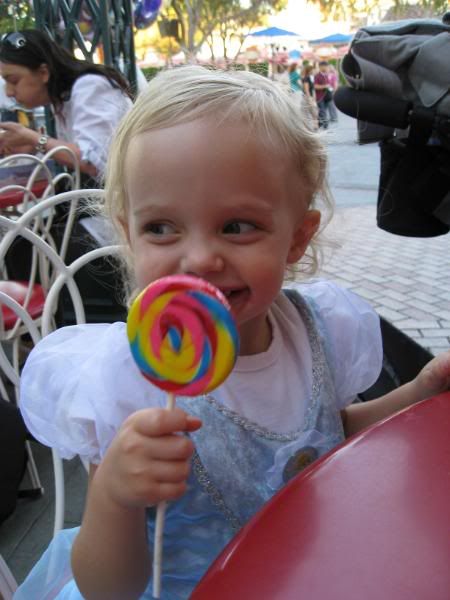 That night, they watched a stunning parade of lights, songs, dances, and characters well-beloved. It was amazing.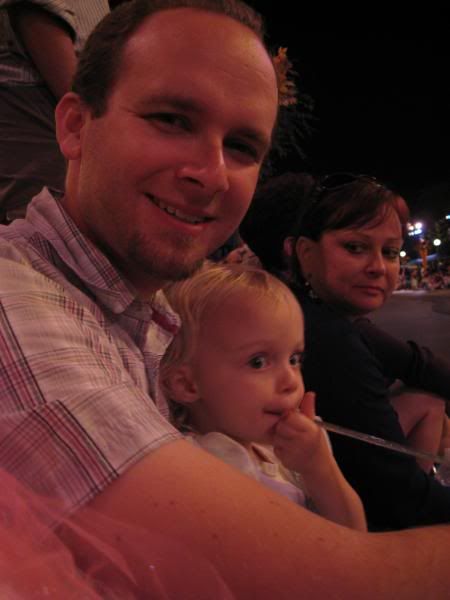 The next morning, after a much-needed night of restful sleep, they all ventured into a different land-- still just as magical, mind you, only a little less royal and a little more Californian. Almost immediately after entering this new place, who should the princesses spy, other than Minnie Mouse herself! They were overjoyed and ran to hug her enthusiastically.
There was so much to do and see, that one hardly knew where to begin. So, they ventured into bugland and rode on a caterpillar...
spun round and round in a ladybug...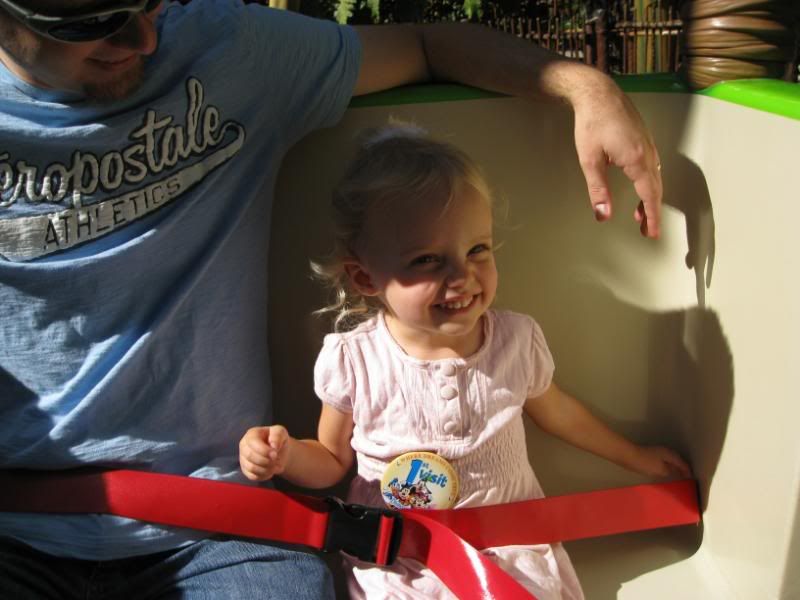 watched a show at Playhouse Disney (which was MOST delightful for the little princesses), went hang-gliding over California, and finally ended up talking to a sea turtle named Crush. It is quite possible that King Daddy and Queen Mommy were even more entertained by this than the girls, as Crush had quite an interesting conversation with them both.
Again, it had been a long and exciting day, so our adventurers accquired some huge ice cream cones and settled into watch yet another parade.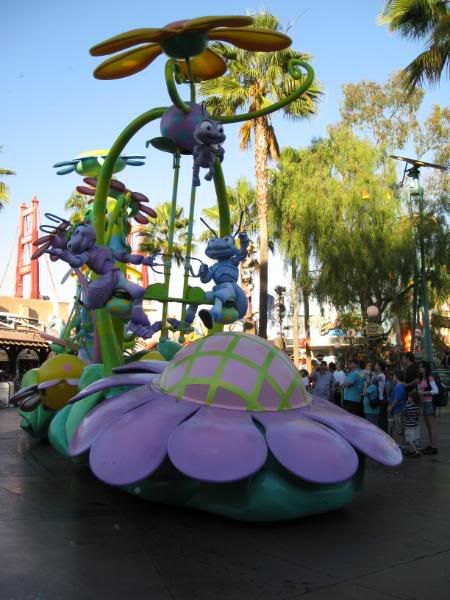 As you can see, it was so fun and exciting that our royal family was sad to see it end.
But the next day held even more fun and adventures. Another trip on the speedy white carriage (which looked suspiciously like a monorail)...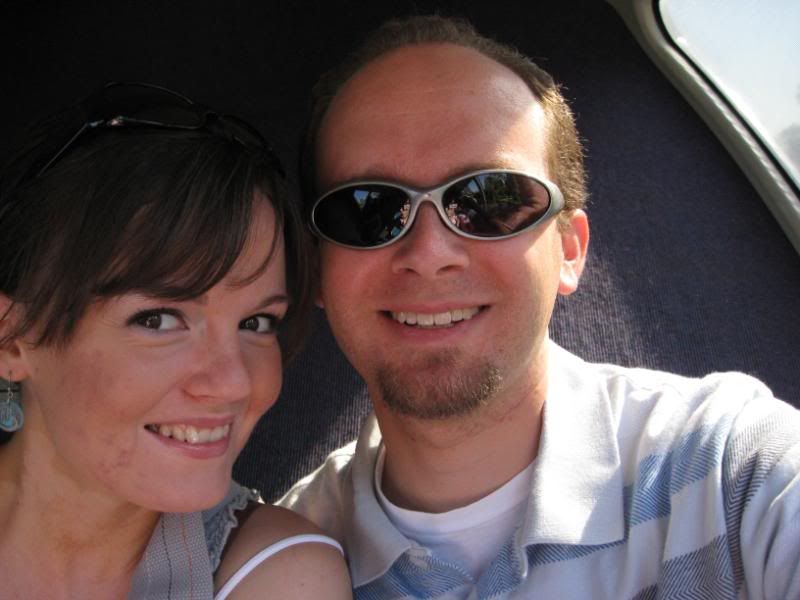 ...brought them all back into the magical kingdom for one last time.
Now, you may not know this, but sometimes princesses can also be fairies. As it turned out, Princess Emma and Princess Annabelle were quite lovely little fairies! Especially once they had accquired the necessary sparkles and beautiful markings on their pretty faces.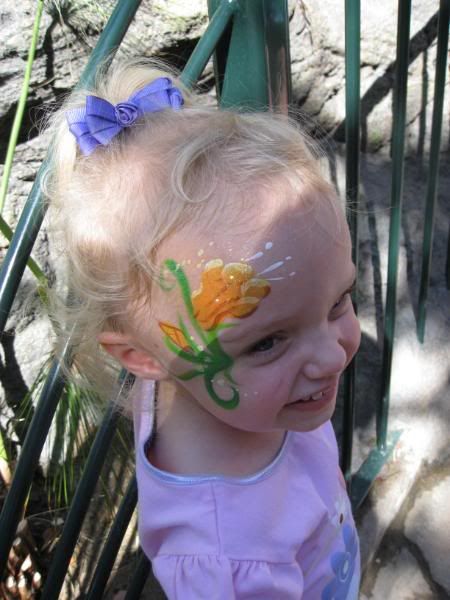 Now looking exactly like little fairies should, of course a meeting with Tinkerbell and her friends was in order. And after a veeeeeeery long wait in a line that was slower than one could have anticipated, they finally reached Pixie Hollow.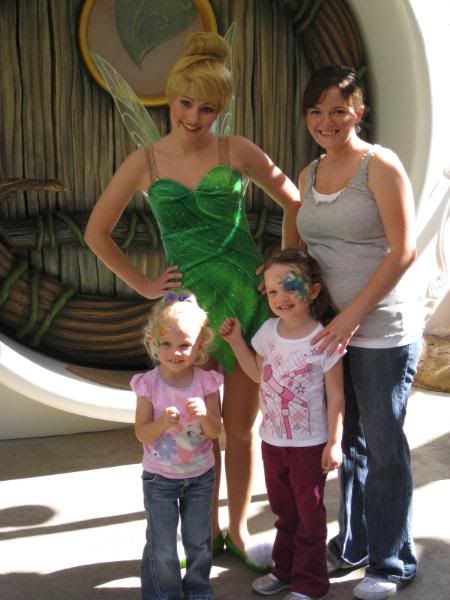 The princess-fairies then flitted over to meet some of their favorite furry friends. Fairies and woodland creatures have long been known to have a most amiable and joyful accquaintance, and this gathering was no exception.
Afterwards, they were delighted to learn that they had been invited to tea at Minnie's house in Toon-town, and were quite happy to oblige.
There was one very important person (mouse) that our princesses had not yet met on this journey of theirs. Some might even call him the king of all the land. Thus, Princess Emma and Princess Annabelle were overjoyed to learn that they had gained an audience with this very important person (mouse). Mickey was gracious and kind, although a little busy. So many visitors to attend!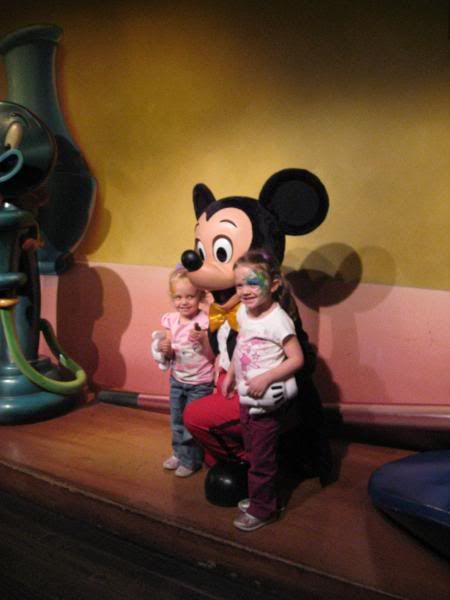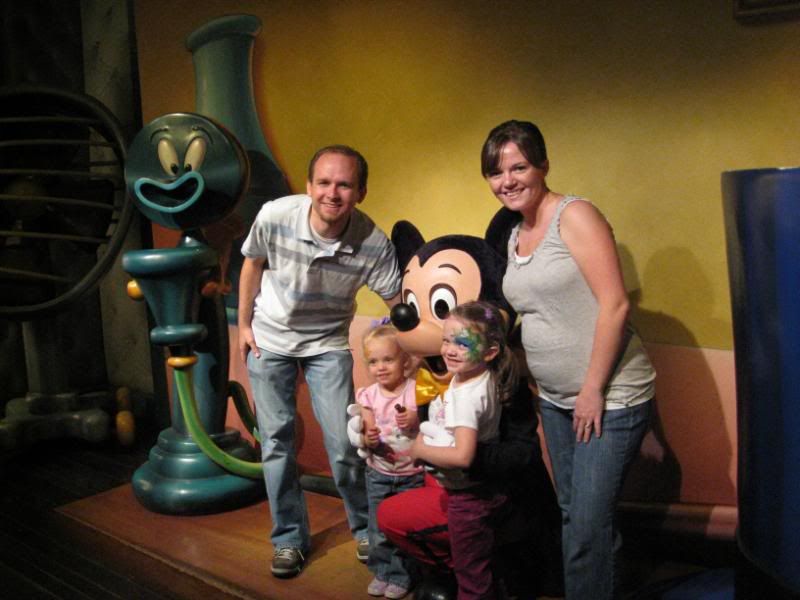 The time in the magical kingdom was drawing to a close, and soon it would be time to return home to their own castle. But first, one last look at the beautiful castle which overlooked all the land.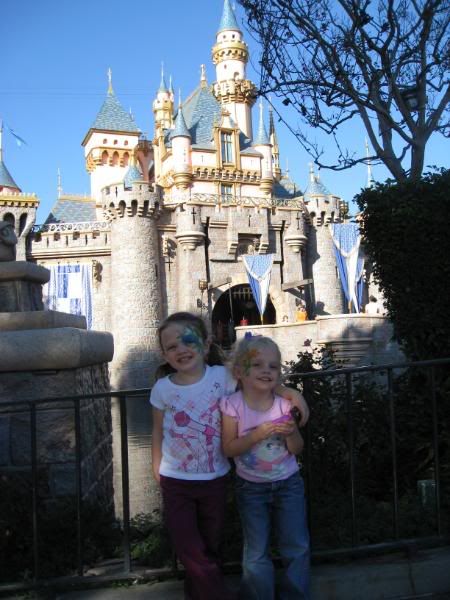 Then, as night fell once more and our princesses grew weary and tired, King Daddy and Queen Mommy betook themself and their royal little charges to their own carriage, and began their journey homeward.
And Princess Emma and Princess Annabelle slept peacefully, with the glitter of fairy dust sparkling on their beautiful faces and sweet dreams of wonder and joy in a magical kingdom behind their sleeping eyes.
The End.