May 31, 2011, on a Tuesday evening.
At long last, the day had arrived!
Songs had been carefully selected and chosen. We had put in hours and hours and many lessons of preparation. Each student had practiced hard and worked diligently.
And now it was here, the evening we had all been waiting and working for. It was time for The Piano Recital.
All day long I was so excited, just thinking of the proud parents and family that would fill the seats and get to watch their child perform. I couldn't help but remember the piano recitals that I played in as a girl. That feeling of anticipation and excitement coupled with nerves. How my fingers would simply take over once I started playing and the nerves would disappear, and I would feel that rush of joy as I realized I was simply getting to play a beloved piece for everyone sitting there. The exhilaration and relief I would feel when the last note was over and I stood up to take my little bow. I loved piano recitals. And remembering all of this, years later, made me so excited for all of
my
students, knowing that soon all their hard work would pay off and they too would feel that thrill.
I gathered up the certificates I had printed up for each student (paired with giant Crunch candy bars, because I knew a piece of paper just wouldn't cut it with this crowd. hehe),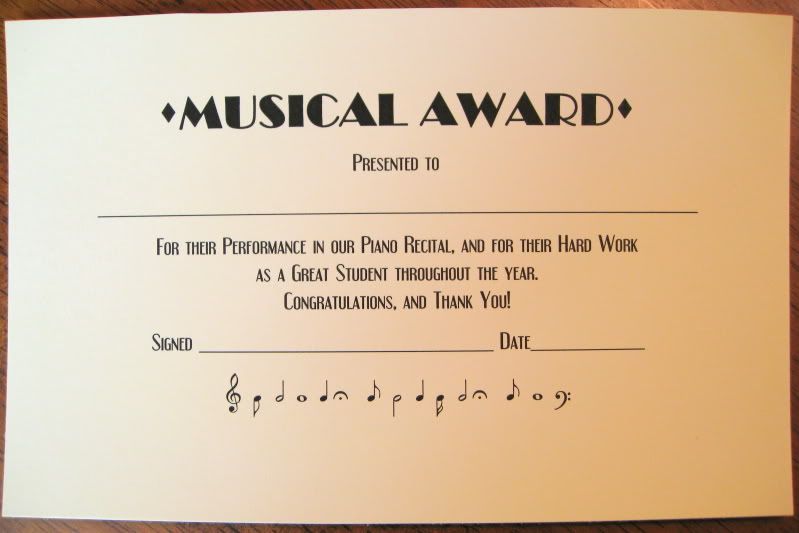 made sure to grab my stack of programs,
rounded up our family and a plate of cookies, and headed off to our church for the big event.
This was my 2nd annual piano recital with all of my students. Last year, when we had one for the first time, I had seven students. This year, there were 14!... and one more. This year was extra special because it was our Emma's very first piano recital! She started piano lessons with our good friend Ryan in September of last year, and since he doesn't have a lot of students of his own yet, we decided it would be nice if Emma played in this recital.
I could tell she was feeling all that nervous excitement, and it made me smile. I couldn't wait to watch her play.
Sure enough, as soon as she got up there and started playing, you could see how thrilled she was.
Ryan played a duet with Miss Emma, and when they finished, the smile on her face was beautiful to behold. What a joy it was to watch my own daughter in her first performance. I'm so proud of our girl. And so thankful for Ryan, who is doing an excellent job teaching her. We love Ryan!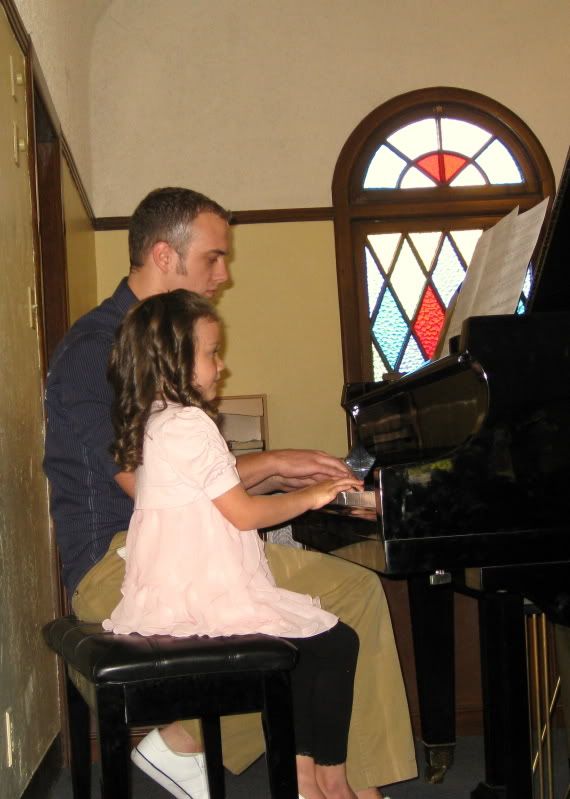 The hour flew by so quickly, as each one came forward and played their two songs. The variety in the music was wonderful; everything from classic Beethoven to contemporary Christian to blues to patriotic songs to Twinkle Twinkle Little Star. I must say, helping my students select their songs for the recital is one of my favorite things. Too much fun.
You know what else is too much fun?
the lovely Ella.
Playing duets! We did a lot of duet-playing that night.
this is either Ashton or Cole. They're idnetical twins, and I can barely tell them apart in real life, much less in a picture. but they're both dear boys. :)
All too soon, the last performer took the stage, and as I sat there and listened to "Conquistador" being played just how it should have been, I was nearly bursting with pride. Each young person, each boy and girl, had done so well and played to the best of their ability. They have so much talent, so much skill. All of those hours we had spent sitting on the piano bench together playing songs again and again, learning new things, working through frustrations, rejoicing at difficult songs conquered... it was all a part of this night.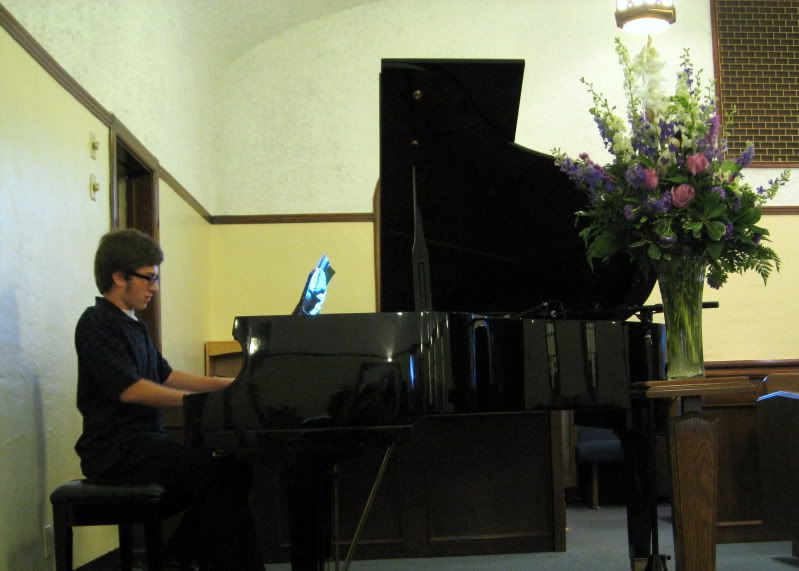 skillful Daniel, my longest-running student.
I love every single one of these young people, and I truly am privileged and blessed to be able to teach them something that is a passion of mine.
Thank you, dear ones, for the gift of an amazing night.
As we all gathered in the hall for a reward of cookies and lemonade, I couldn't wipe the smile from my lips. I thought of all the piano lessons yet to come, and all the music and all the joy, and I couldn't help but think
I can't wait for next year....!