Last week there was a Thursday. There usually is. But this Thursday was special, because it was spring break for the schools here. And that meant that all my piano students were out of school... which meant that they weren't coming to piano lessons either. A Thursday without piano lessons! Such a rarity! Usually I have five students. I hardly knew what to do with myself.
We decided to take advantage of this free day and drive a few hours down south to LA and visit the Getty Center and Museum. I had never been, but always wanted to, and I heard it was quite kid-friendly. Lydia hadn't been in years and wanted to go back. And so, off we went!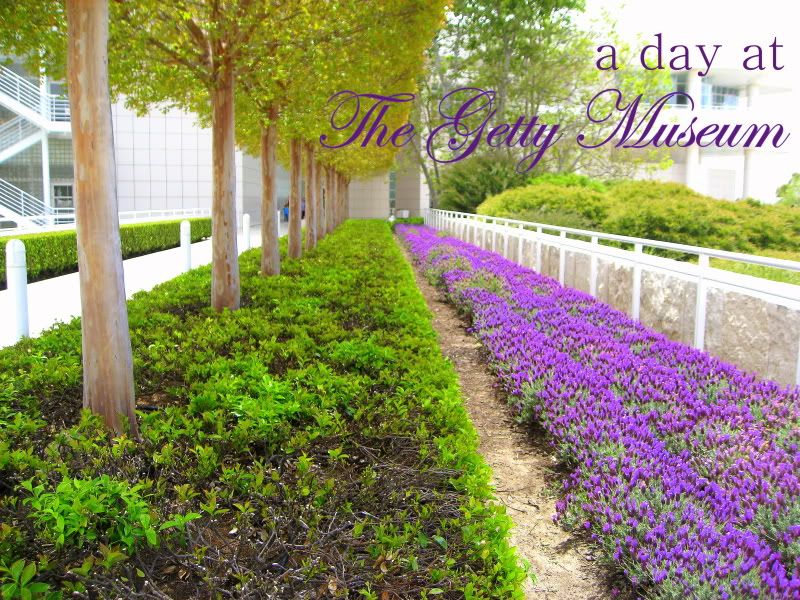 As soon as we stepped off the tram I fell in love with the place. It's just so beautiful.
But... our time there did not begin well.
Emma and Annabelle, who were overly tired after a slumber party with a friend the night before, kept complaining about the sun being in their eyes as we tried to take pictures. They whined about the fact that we hadn't gone into any buildings yet. They whined about anything and everything.
Rosalie didn't want to sit in her stroller and threw a fit. And then when I finally let her get down, she tried to take the stroller from me, got mad, and fell down and hit her head on the hard ground.
At lunch, none of the girls wanted to eat their food properly. More complaining.
Rosalie had a major meltdown which resulted in my literally crouching behind a trash can trying to quiet/discipline her.
Lydia and I had begun to despair.
Thankfully though, things turned around when we visited the garden and they were outside, running around, and exclaiming over things, enjoying themselves and getting into our experience. I was so glad to see my girls having fun... which meant we got to have fun too!
Have you ever been to the Getty Museum? It's incredible. The architecture is so gorgeous, with these amazing lines. There's white stone and tile everywhere, and such openness. It's so calming.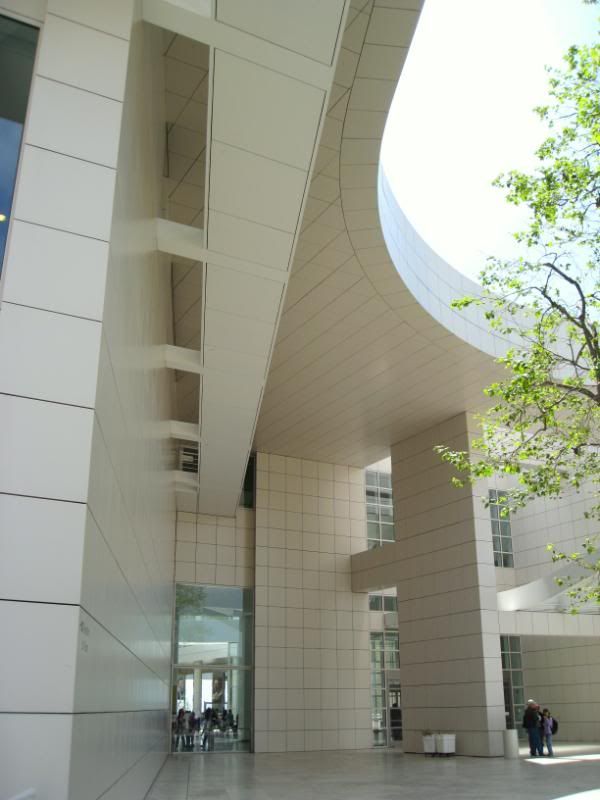 One of our favorite places, where we spent a good deal of the afternoon, was in the gardens. Ohh, the gardens. They are so incredibly beautiful, laid out in such a way that you wander from path to path discovering new wonders at every turn. I could have wandered for hours.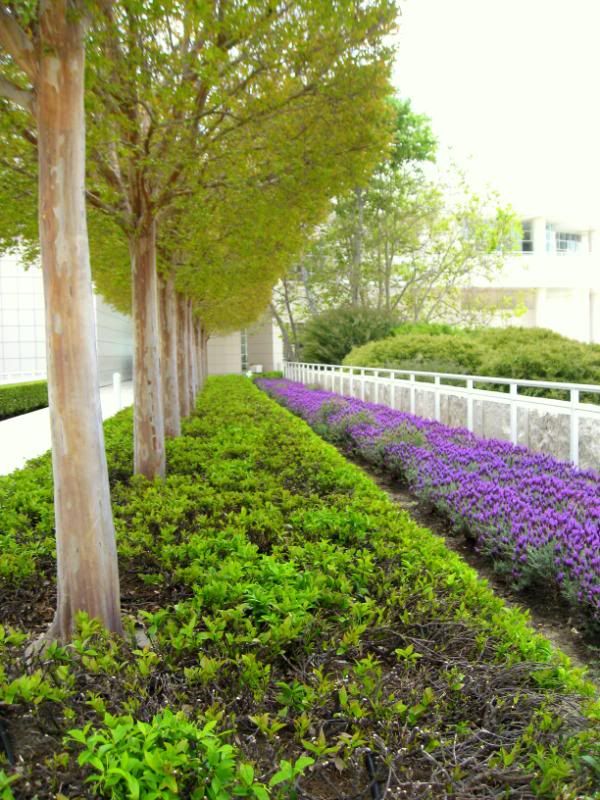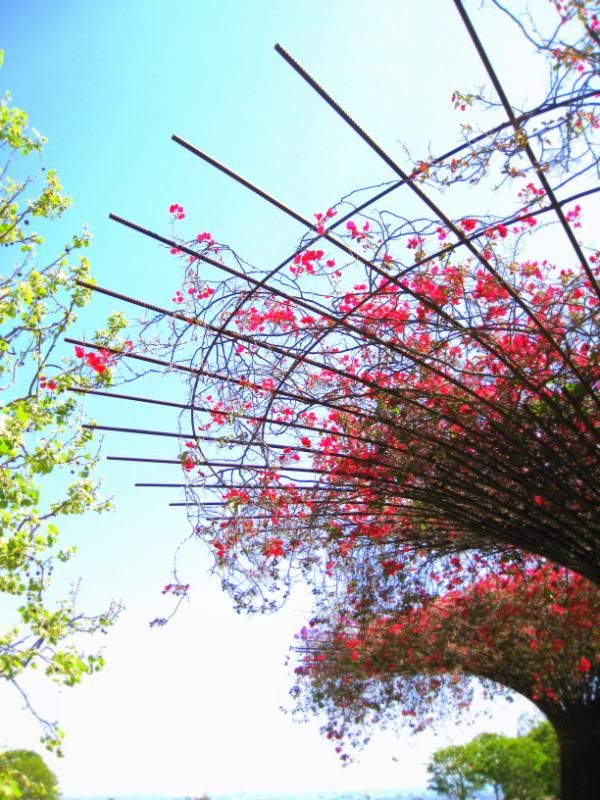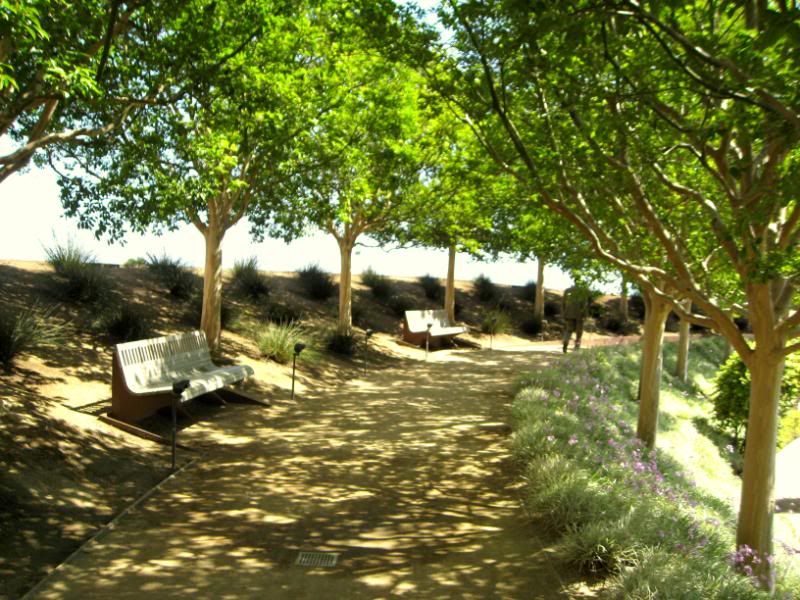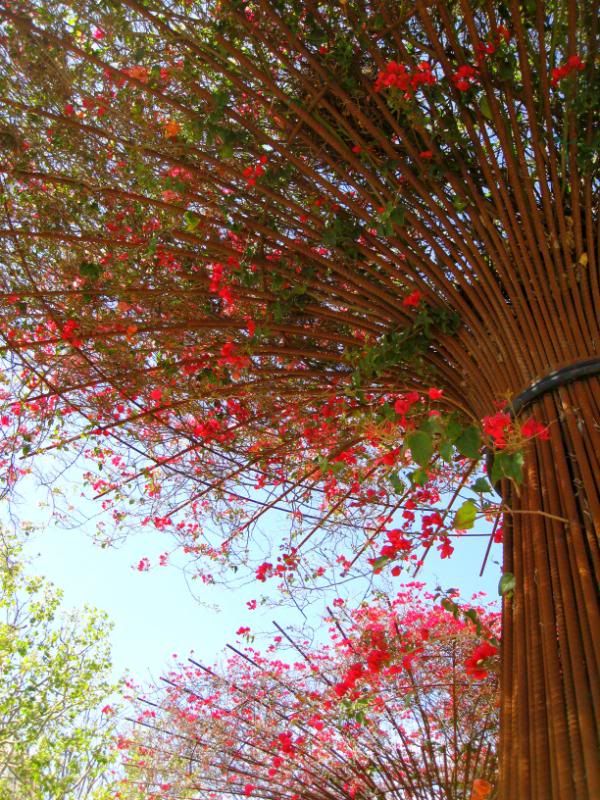 sweet peas! I adore sweet peas.
My girls absolutely loved running up and down the paths and pointing out each new flower.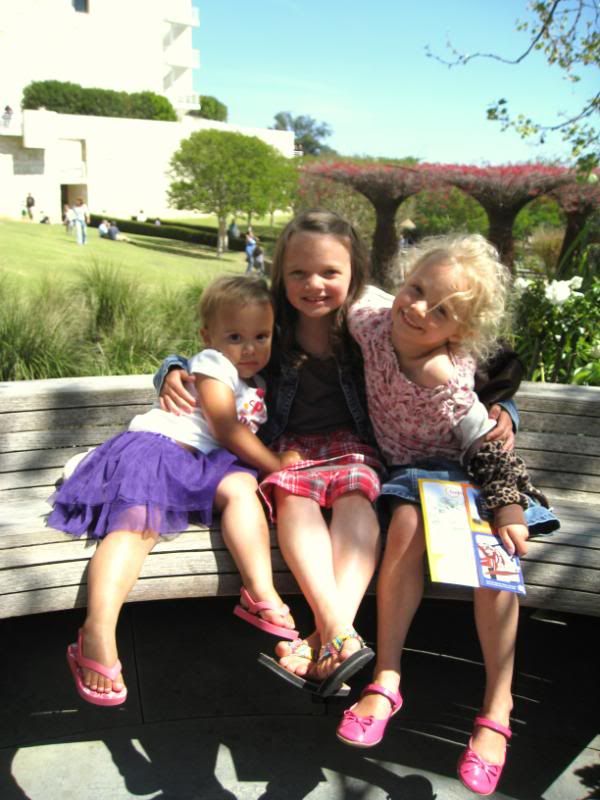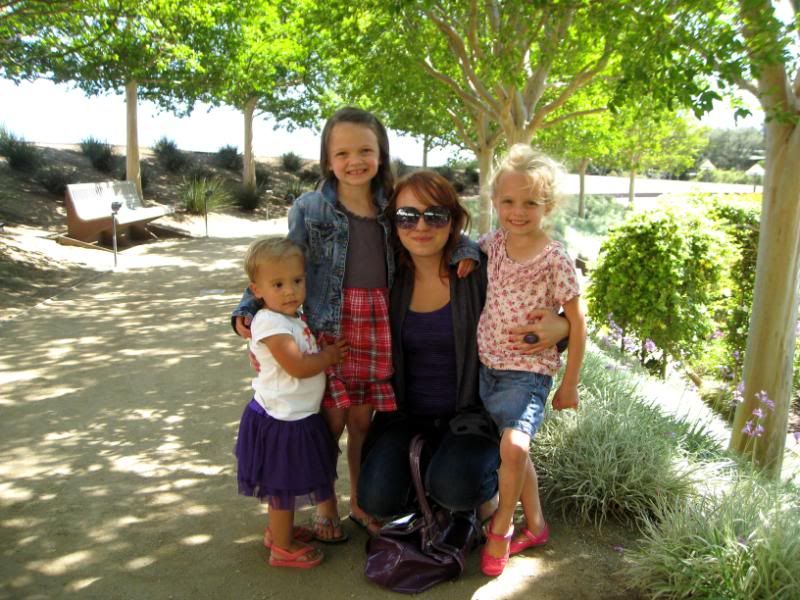 It was so delightful having Lydia there. We always have fun together, and I love that we can so easily go on adventures together now!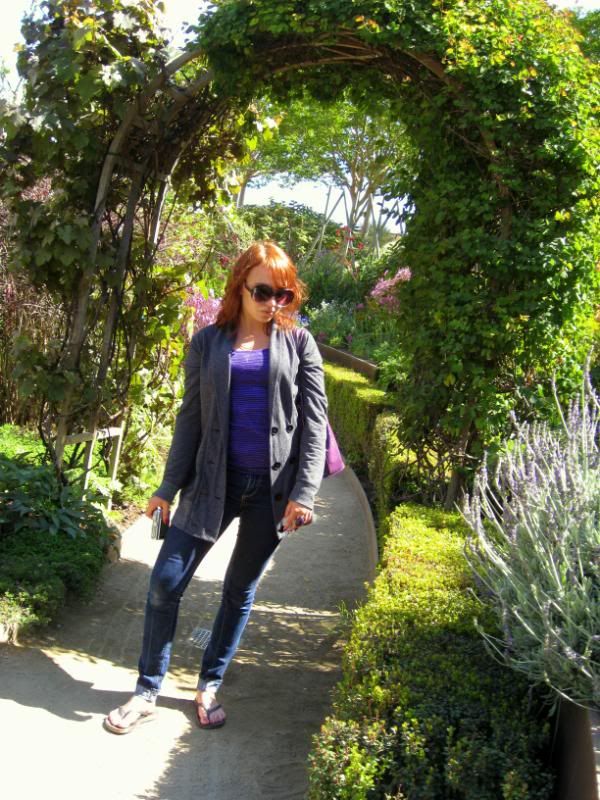 She's very interested in photography and was snapping away constantly at all the gorgeous-ness around us.
One of the buildings has a little family fun center, with all sorts of hands-on acitivites for the kids, based on different displays and pieces throughout the museum. It was the perfect thing to break up our time wandering through the actual displays (which got a little tedious for them, I'm sure).
I think of all the art displays, my favorite was the one of European paintings. They blew me away... I couldn't believe the detail and realism in some of them. There was one that was a huge full-length portrait of a woman in a gorgeous pink dress, standing in an ornate room... and it looked like a photograph that had been taken with a top-of-the-line camera. I stared at it for probably five minutes, it was just so incredible. Someone
painted
that! I couldn't help but think how amazing it is that God actually gives some people that kind of talent and ability. And when we went into the impressionist room, I couldn't help but be a little awed... it was full of Monet, Cezanne, Renoir, Degas, and even a few from Van Gogh. They were paintings that you see prints of all over the place, that practically everyone recognizes... and these were THE paintings. The very ones that the great artists themselves had put a brush to and created out of a blank canvas, many many years ago in a very different place and time. Right there in front of me, close enough to touch
(but don't worry, I didn't!).
Maybe it's silly, but that's how I felt. Anyway, I've definitely discovered a new love for art museums.
We ended our visit by wandering through the French decor exhibits....
OH MY WORD. I was drooling. The colors, the opulence, the gorgeous detailing. I tell you what, those French kings knew what was what when it came to interior design. Simple was not in their vocabulary, and it shows.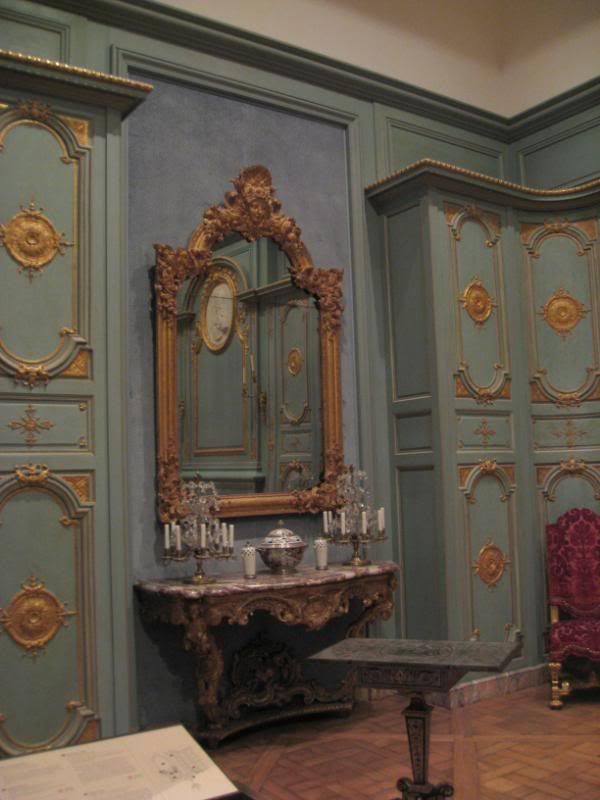 I literally wanted to pluck the chandeliers from the ceiling and take them home with me. Ok, so, maybe that's a bit of an exaggeration, and I'm sure they would have looked terribly out of place in our humble abode (especially considering some of them were practically bigger than our rooms), but, here, look for yourself. Behold! Gloriousness!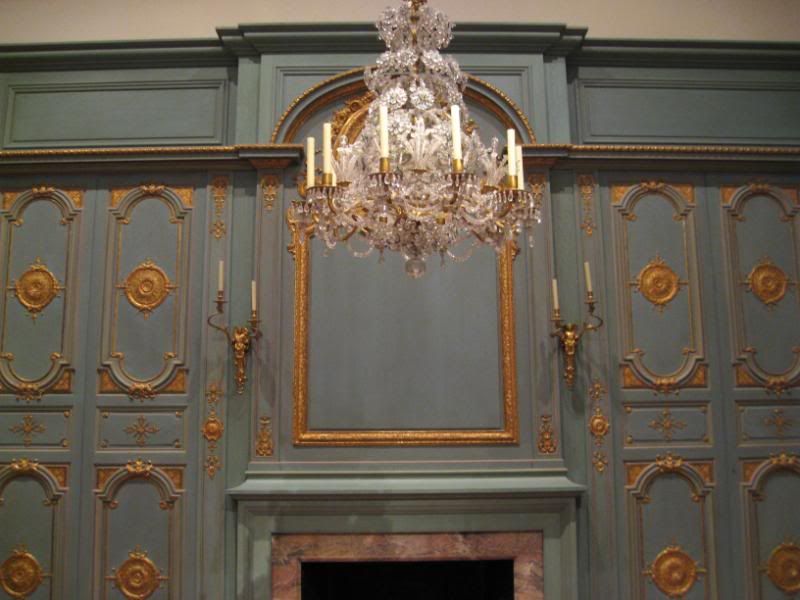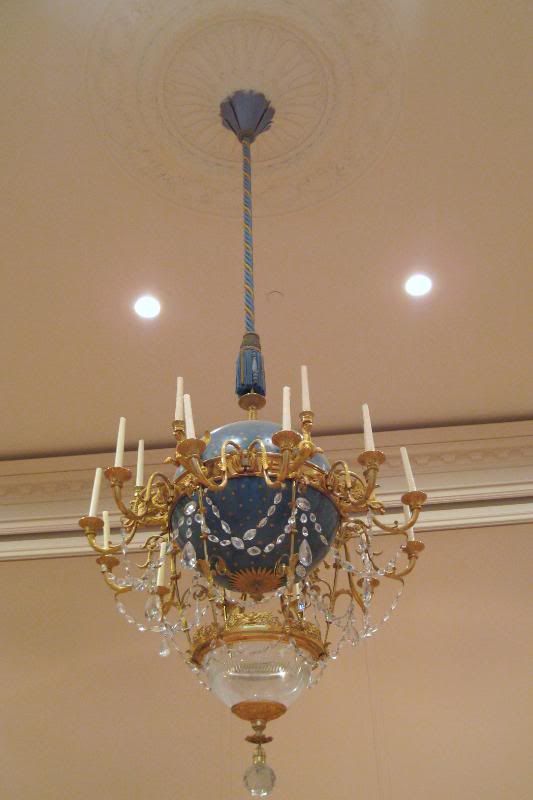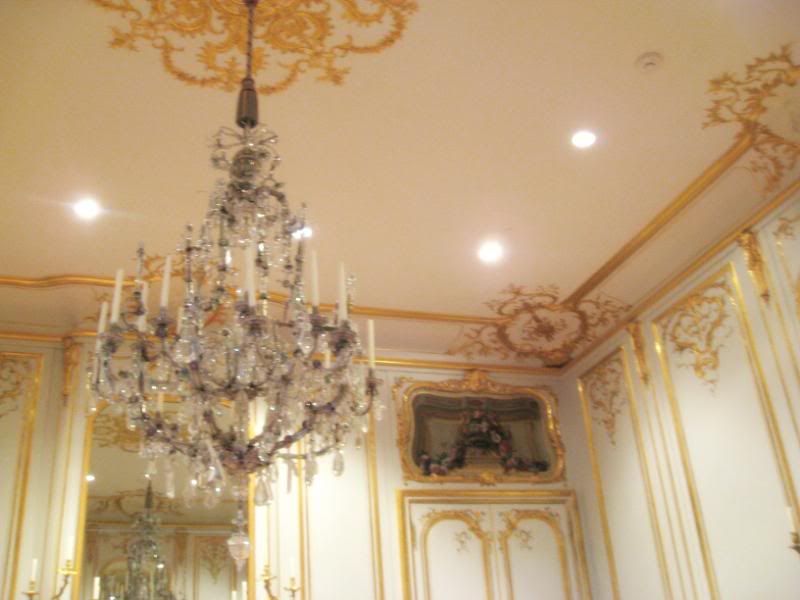 And then there is this...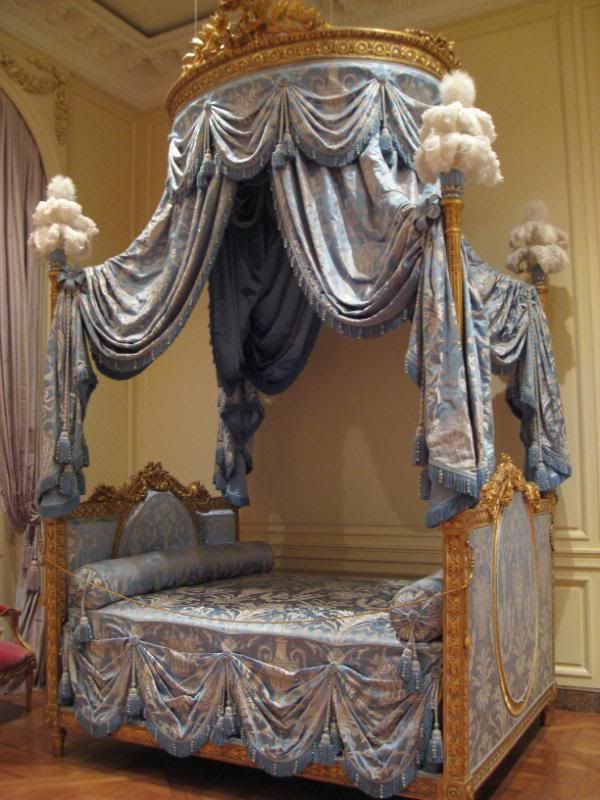 How would you like to cuddle up in that come beddy-by-time? Clearly we all are lacking something from our lives. And it is a bed like this. All you need are 30-foot tall ceilings! I was ooh-ing and aah-ing over it, saying howI wanted to bring it home, and Emma looked at me and said "Um, mommy, it wouldn't FIT in your room." I'm so glad I have such a sensible daughter. She keeps me grounded.
I would also like a pair of doors with plump naked ladies on them. It would add a level of class to our home that has previously been lacking.
(naked lady aside, are these not gorgeous?)
By this time, the museum was closing and the kids were quite ready to leave.
We stopped for one last picture of our little troop in font of an old ornate gilt-franed mirror....
... and then walked out through the spaciousness of the white buildings, to the tram and to the van, wherein miss Rosalie fell fast asleep within five minutes. :)
What a great day at the Getty with all my girls.
I already can't wait to go back and explore some more.
Have any of you ever been? What did you think of it? What was your favorite part?