i woke up to rosalie crying in her crib because she had dropped her stuffed puppy, and the real puppy barking in the kitchen.
then we lingered over breakfast, the sister and I listening to music on my laptop and the girls reading library books.
some schoolwork was done, and someone lovely brought us starbucks iced tea. violet peed on the floor. then she pooped on the floor. the girls argued back and forth, over i know not what.
but then, we all packed up into the van, and we drove to the park, where there was no carpet for the pup to potty on and no reason for my children to fight.
three of my favorite people and i sat in the sun until it was too warm. talking. laughing. eating. enjoying each other while the kids played in the delicious spring weather.
we came home to a nap for a tired rosalie, and five piano students for me. we picked recital songs. i'm excited for may.
rosalie woke up from her nap a grumpy-pants. we sat outside on the patio for a while, with the late afternoon sun hitting our faces just right. cuddling. smooching. me soaking up my baby.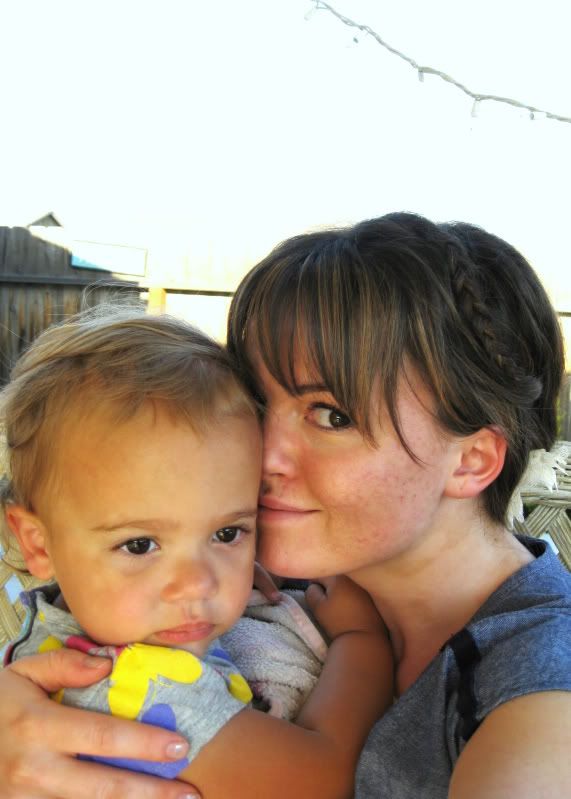 my hair was super frizzy today. i tried to put it up, but it wouldn't stay. strands escaping everywhere. but i gave myself a little braid and decided not to care, and felt cute anyway.
the husband came home. i love when he comes home. dinner was subway sandwiches, and i listened to songs from 500 days of summer while i drove home. i looked at the sun as it was setting, so orange and brilliant and lovely as it slipped into the horizon.
emma and annabelle made paper plate dolls (their idea, not mine) and gave them names. and cute lil' napkin dresses.
meet melinda abigail, and her friend, ella giselle.
i baked butterscotch cookies for the band boys who were making music out in the garage. my dirty, sandy, sun-soaked children needed baths and showers while they were in the oven.
rosalie pooped in the tub. again.
note to self, do NOT give this child a bath unless she's already pooped for the day. there is almost always a floater or two involved. ewwww.
while i waited for the tub to drain so i could clean it out, violet and rosalie, all nakey, chased each other around the house. baby butts are awfully cute. so are happy puppies.
and when i got her out of the tub, for the second time, i discovered that a certain little puppy had pooped in the living room.
i don't like poop.
we hung out in our living room and ate fresh cookies. it was nice to be with friends. and the cookies were pretty good too.
i wrote a blog without using capital letters. i rambled (in case you didn't notice). but sometimes, rambling is really soothing.
not too long ago, i started keeping a thankfulness journal. before i go to bed i write down the things for which i was especially thankful on that day. it's been good for me. because, as i wrote on the first page of that journal, "even the most knock-down, drag-out, rough-and-tumble sort of day has a shiny gem or two to be plucked out of the dust and examined in gratitude and joy. you just have to look for them."
and some days aren't rough and tumble. lots of days aren't. some days aren't exceptionally amazing or stand-out. some days are just sweet.
a string of little events, pleasant or not, that make up the hours and the memories therein. like today.
today was sweet.
i liked today.
and God is good.
always.
:)