oh hello, were you expecting a REAL blog? like one about our actual life? with many cute pictures of everything that's been going on? sorry. today is not your day. maybe some other time. stick around. :)
Not too long ago a wonderful friend of mine had a birthday, and I really wanted to give her something handmade... she's the type who appreciates that sort of thing very much, and it always means a lot to her. And I must say, it was a real delight being creative with her in mind, because she's a poetic soul who loves whimsy and looks at everything in the light of beauty.
I'm sure there's many people who could have made these ten times better than I did, but I most definitely loved making them.
What did I use?
random paint colors I had sitting in my garage
three medium-sized wooden plaques from Michael's, approx. $1 each.
rub-ons I had sitting in my craft drawer
an Anthropolgie catalog
ribbon from my ribbon jar
glue
a brushed-on coat of polyurethane to protect it all and make it nice and shiny
If you're assuming that this entire gift took me all of $3 to put together because I already had everything else on hand... you would be correct. hooray! Sometimes the time and thought that goes into a gift is more important than how much it costs, I think.
(hopefully my friend agrees with me, now that the truth is out, wink wink)
Here's a closeup of each one. The lettering, the birdcage, the key, and the typewriter are all rub-ons, and everything else is cut out of the Anthro catalog. (I had way too much fun going through and cutting out pretty things... now I know why my girls just LOVE to do that with magazines!)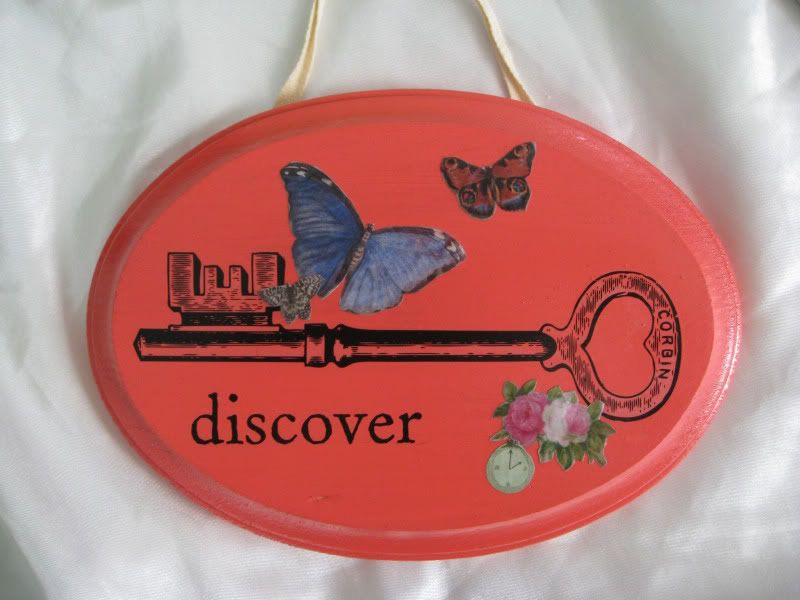 the green one is my favorite, I think. :)
I'm currently working on a few other handmade gifts right now too, for Christmas and such, and I'm loving it. What sort of craftiness and creativity are
you
up to this month? Do tell!