Last night was cold and chilly, the perfect sort of evening for a coffee and a cozy chat with my best friend. I love our coffee dates... they're always so refreshing and encouraging. And a coffee date with her on an autumn evening, when one can wear a cute hat and boots while sipping on spiced cider? Well, it just doesn't get much better than that.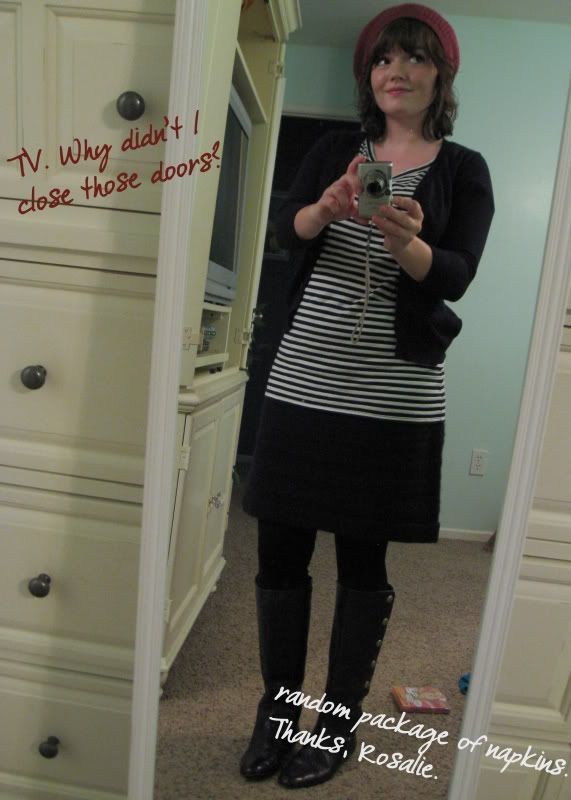 A bit of a photo fail. But you get the idea. :)
hat:

Marshall's clearance, $2
cardigan:

Target, $12
striped t-shirt:

GAP, $14
cable-knit sweater skirt:

Target clearance, $4
leggings:

Ross Dress for Less, $5
boots:

Marshall's clearance, $30
I would just like to take a moment and talk about my boots. I love my boots. For quite some time I had been searching for the perfect boot; something classy and cute, brown, comfortable, and flat on the bottom so I could wear them all day long quite easily if I wanted to. Then, one day, I stumbled across these at Marshall's on clearance. Perfection! It was as if I and the boots were made for each other. I knew they were a good deal, because they were originally $80 there at Marshall's, and the tag on the inside said they were real Italian leather. Into my cart they went. When I got home, just out of curiousity, I looked up the brand online since I'd never heard of it: Migliorini. Imagine my surprise when the exact pair of boots I had just bought popped up on eBay-- selling for $150. And then I found a brand-new pair at some other site selling for close to $300. And I got them for $30?!? To this day I'm still not sure why they were so cheap. I felt I had conquered and won that day, like victory was mine. And my boots and I have been BFF's ever since.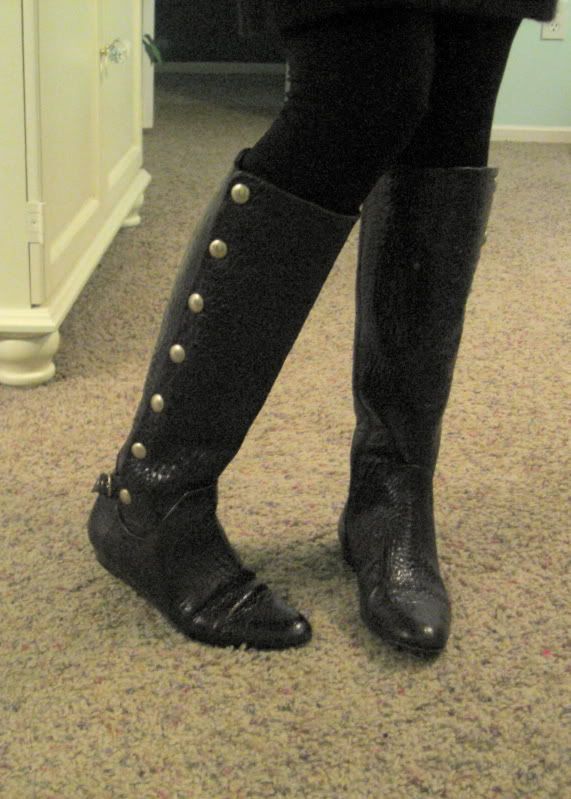 This is not a great picture of them... but they really are lovely. These boots of mine once held up a security line at LAX airport because the lady running the scanner wouldn't give them back to me, she was so intent on admiring them and writing down the brand name so she could buy herself a pair. True story! hehe.
Also, how cute is the detailing on this shirt? This is one of my favorite shirts ever. Thank you, GAP.
day 3 link list
. So much gorgeousness, so much great fashion, so much
fun!
Go have a look. :)