Hi friends! I am quite excited because this week, for the first time ever, I am taking part in "Fall Fashion Week"!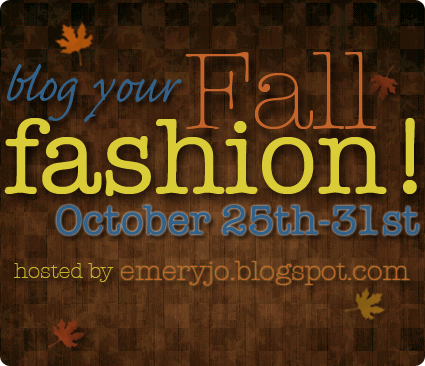 The lovely Emery Jo-- who always looks amazing and has some of the cutest looks I've ever seen, and who is also currently pregnant with baby # 3 and is so adorable it kills me-- has been hosting fashion weeks for some time now... but this is my first time actually taking part in one! whee! 
Before I jump right in, there are three things you should know about me:
1. I'm really not any sort of a fashionista. Creating a look that is unique and flawless, pulled-together just so, like something out of a magazine... well, that usually eludes me. Fashion boggles my mind a little bit, I'm not going to lie. There's just so many choices one must make! So many different looks out there! How do I know which accessory goes with what outfit? What's in and what's not?? Mind-boggling, I tell you. And sometimes, I just don't care. If you knocked on my door on a lazy stay-at-home day or ran into me buying milk at the store, chances are you would find me in my yoga pants, a tank top, and a hoodie, my hair held back with a ponytail and a headband. Just keepin' it real. :)
2. That being said, I do LOVE clothes. I love feeling "put-together" and stylish, and I feel that the older I get, the more I'm finding my
own
style. I'm discovering the things I love and the styles to which I keep coming back. I'm realizing what makes me feel happy and cute when I wear it, and what works for my lifestyle as a busy mom with three young children. And fall clothes?? They're simply the BEST. That's why I was so excited to take part in this fashion week.
3. I am awkward and never know how to pose for pictures. Sorry. hehe.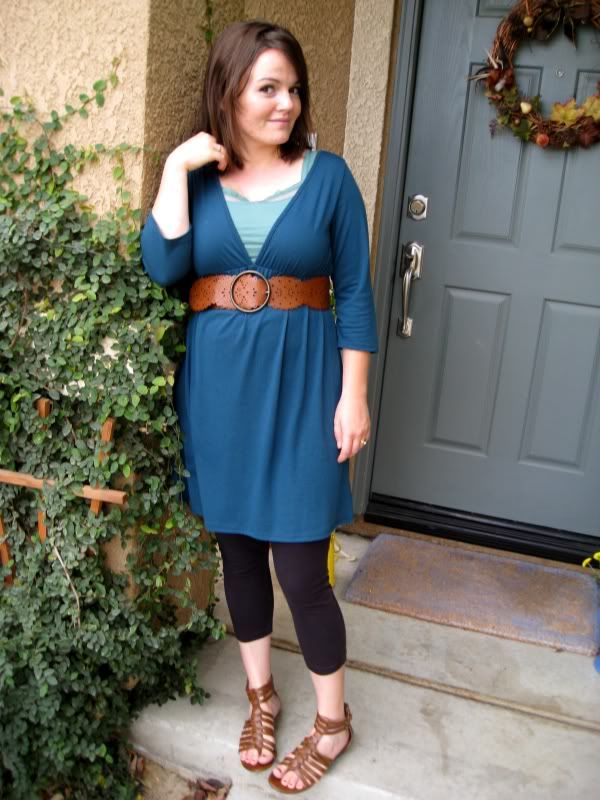 teal dress:

ross dress for less, $6
belt:

thrifted, $2
lacy tank:

kohl's clearance, $2
leggings:

wal-mart, $1.
sandals:

kohl's clearance, $15
Be sure to check out Emery's blog for today's other fabulous participants! There's a lot of them, and I can't wait to click around and see who else is out there, stylin' it up this week. So fun. And... if you'd like to join in, it's never too late!! There's a Forever 21 Gift Card at stake here, my friends. You know you want to.
I'll be back tomorrow for another "look". happy fashion week!! :)