Because that's what I do everytime I look at these pictures and think about our anniversary get-away (which was now over two weeks ago). I sigh. Happily. I'm just going to warn you right now: if you don't like ridiculously cheerful blog posts, then read no further. Because I'm about to get really warm and fuzzy up in here.
I'm just sayin'.
On the morning of our anniversary (April 5), I did what I always like to do on our anniversary. I looked at the clock and thought "Exactly 7 years ago at this time, I was....". It's cheesy. And sappy. But I love to look back on our wedding day and try to recapture those feelings and that excitement again. :) It wasn't hard to capture that excitement this morning, because we were out of there and on the road as soon as we dropped off our kids off at Auntie Jessica's (she's a sweetheart. We love her).
As we drove further and further out of Bakersfield, just the two of us in Jeremy's truck with our bikes bouncing around in the back, the view out the window was making me giddy. Blue skies, huge fluffy clouds, rolling green hills, patches of wildflowers... It was tantalizing.
We arrived in Paso Robles just in time for lunch, which we had at a yummy little cafe downtown. (I really wish I would have taken pictures of all the good food we ate, because oh my yum, I still salivate when I think about it all.) We sat there and just enjoyed our food and each other's good company... I always notice that we so easily and completely slip into "date mode" when we're not with our children. Hand-holding, smooching, talking about everything and anything freely (with no interruptions!), just being a couple. Not parents. Not people with tons of work to do and a million different things going on in their lives. Just two people in love without a care in the world. (see? I warned you. WARM AND FUZZY.)
After lunch we wandered around downtown for a bit, visited an antique store (I'm so grateful to have a husband who shares some of my love for old things), and picked up a few pamphlets on the different wineries in the area so we could make our plan for the afternoon. We knew we wanted to go wine tasting, but the problem was choosing where-- there are SO many wineries around Paso Robles! After much deliberation, we decided to drive out a little way and visit
Justin Vineyards
. I am so glad we did, because it was absolutely beautiful and the wine was amazing-- not to mention they had two adorable doggies who lived there. The basset hound laid himself right at my feet while I sipped my wine.
(this picture is from their website because I am lame and forgot to take any pictures at the actual winery. Boo.)
Apart from the fact that I loved Justin winery, I'm so glad we decided to take that drive out there just for the drive itself. It was... well, it was beyond gorgeous and picturesque. Since it was just a little two-lane road and there weren't too many places to pull over (and even if we had there was barbed wire on both sides of the road), we didn't get any pictures of the actual drive out there. But I can still picture it all in my head, because I was drinking it in the whole time.
Grass that looked like rich green velvet, overshadowed by gracefully aging trees draped in delicate moss. Nooks of dappled sunshine, lacy and dancing through the trees onto the ground below. Fallen logs that used to be trees, trees that must have had a story to tell from their long lives, now reposing on their couches of woodland grass. A creek that meandered alongside the road, its banks dripping with peaceful green, its bed merry and vibrant with water running over its stony bottom... oh, to follow it, and see where it did wander. And then, as we come over a hill, before us are open fields, rolling and sloping, dotted with trees and sprinkled with wildflowers of lavendar and yellow. And behind it all, the mountains, gentle and grand, soft and shadowy in the afternoon sun. They wore a crown of enormously fluffy white clouds, a crown forever changing and moving, drifting lazily along through the blue, blue, blue sky. Perfection. I'm almost positive that the very air itself was scented with sunshine and loveliness, with just a hint of grapes and wild abandon.
When we came out of Justin from tasting our wine, that wild abandon got the best of us and we left our truck in their parking lot, hopped on our bikes, and rode up the road a little ways. Now, the only reason we went only a little ways (because I could have stayed out there for a very long time) was because we were going downhill the whole time. And guess what happens when you're going downhill? At some point, you have to turn around and go UPHILL. The whole way. So, we reigned ourselves in and turned around while we could still make it back alive. But not before we took a few pictures, of course.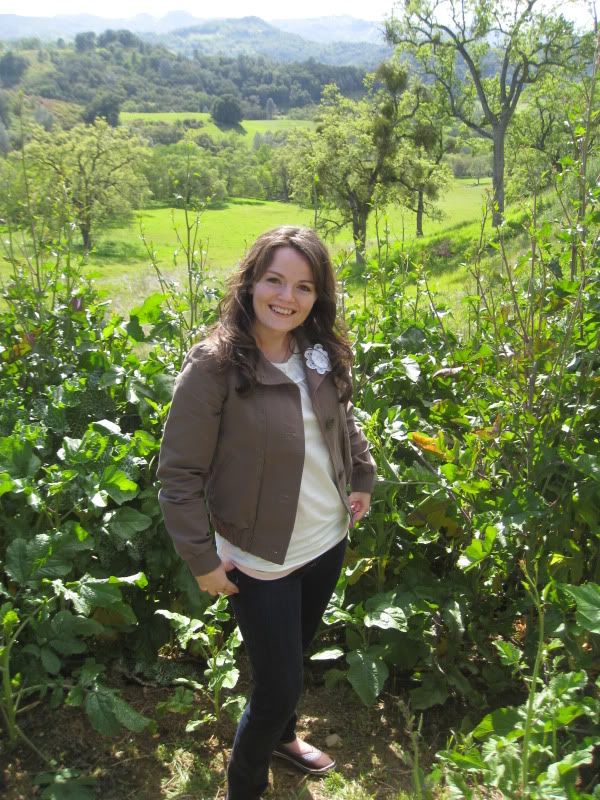 These shots are so cheesy and posed. "Hey, let's stand in those plants over there and take pictures of each other! The background is soooo pretty." What can I say. I love them anyway. :)
Oh, I want to be here again...
The rest of our afternoon was spent driving around from winery to winery, just taking our sweet time. We were able to visit three other places, and it was so incredibly relaxing and wonderful. Of course, all the wine-tasting probably helped with the relaxing... hehe.
When we had reached our fill of wineries, we headed back into Paso so we could check into our hotel and get ready for our "fancy dinner". We've sort of made it a tradition to splurge and go out to a really nice restaurant on our anniversary. I was particularly excited about going out on this night, because I had bought something recently that I'd always wanted: a Little Black Dress. ($30 at Marshall's. Totally worth it.) Also, look! High heels! I NEVER wear heels that high. Two hours later when I couldn't feel my toes I realized why... but again, it was worth it. :)
It was so much fun taking my time and primping for my hot date with my husband.
Why, hello there, stud, can I get your number? *wink*
Our restaurant of choice this time was Matthew's, a tiny little place recommended to us. It was perfect. Soft, glowing, romantic atmoshphere, twinkly lights, cozy seating, long-stemmed roses on the tables, candlelight.... and the food. Oh, the food. It was exquisite and delicious. For example, here is our dessert: espresso creme brulee in a chocolate bowl with chocolate-hazelnut ice cream. This picture does not do it justice, and I couldn't describe to you how good it tasted if I tried. I still dream about it sometimes...
(just kidding. But seriously, SO GOOD.)
Our sweet little waitress (it was her first night there and she was so anxious to do everything just perfectly, so eager to please) was kind enough to take our picture.
When we had dined and talked to our heart's content (we were the last ones there!), it was "home" to our hotel room and to cozy up in bed. We slept in a bit the next morning (oh, bliss), had a delish and hearty cafe breakfast, and then rode our bikes around downtown, visiting another antique store (one of the cutest I've ever seen) and this
amazing craft store/boutique/gallery
.
And then, time to go home.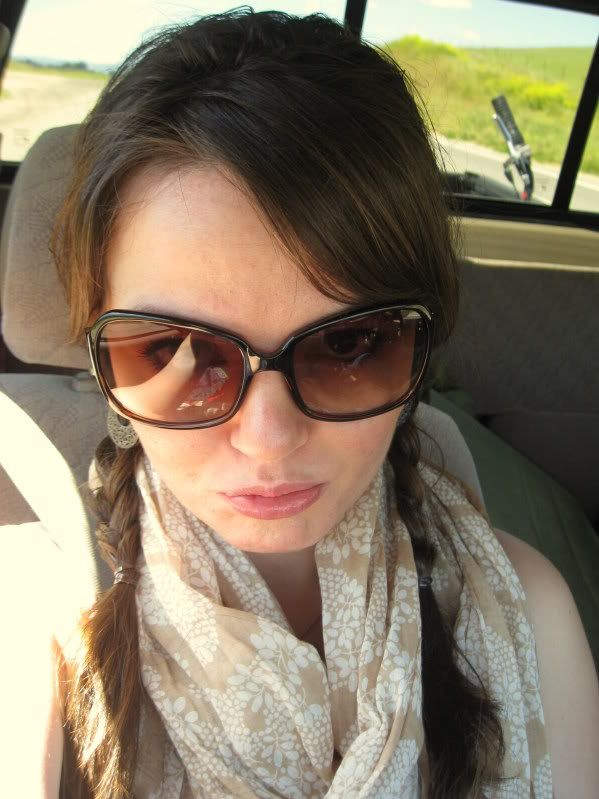 I pouted.
But, I was excited to go home and see our girls, and I couldn't have been more thankful for the lovely time away we had. It was so needed, so appreciated, such a blessing, and so absolutely perfect for the two of us. Adventures with Jeremy are always some of my favorite things... and I already can't wait for the next one I get to have with him, whatever it may be.
I had to end with the bend in the road... I find a bend in the road so wondrous and mystifying, so alluring...