In case you haven't noticed, I have issues when it comes to posting about events that happen in my life. Quite often months and months will go by before I get around to doing it. (I'm sure that if you've read this blog for any length of time, you probably have noticed many of my faults, this one included. What's that? You thought I was perfect? Oh, bless your heart... but no... no, I'm not.)
Anyway, since I've simply come to realize that this is the way it is and I'm probably not going to change that habit anytime soon, I've decided to start a new little feature here: "let's reminisce". It'll give me the opportunity to post about anything that has come and gone... be it one month ago or years and years. And, "let's reminisce" sounds so much nicer than "I'm a procrastinator and it takes me forever to get around to doing things."
So! Let's reminisce! I would love to tell you all about my trip to visit my family in Colorado, which was about two months ago now, in February. You'll notice in these pictures that Jeremy is completely absent... because he did not come with us. He had to stay behind and work, and we missed him very much indeed! (guess who flew with three children all by herself? Moi! And you know what? Although we had our moments, it wasn't half bad. People are so nice and take pity when you have your hands full with two kids and a baby. :))
It was so lovely to be with our family again, to see Mom and Dad and Jerusha, Lydia, and Josiah... and this time, we had a special treat because my sweet grandma (on my mom's side) was also visiting from Minnesota! I hadn't seen her since Emma was about 9 months old, over 5 years ago. It was SO wonderful to see her again and watch my girls get to know her. She'd never even met Annabelle and Rosalie, and I could tell that it really delighted her to be around them. My grandma is someone I treasure; famous for her home-baked cookies and pinochle-playing skills, with a cozy little home and a love for cats. I have so many sweet memories of spending time at her house as I grew up. I miss that, and I miss her. I'm SO glad we got to spend time with her on this trip!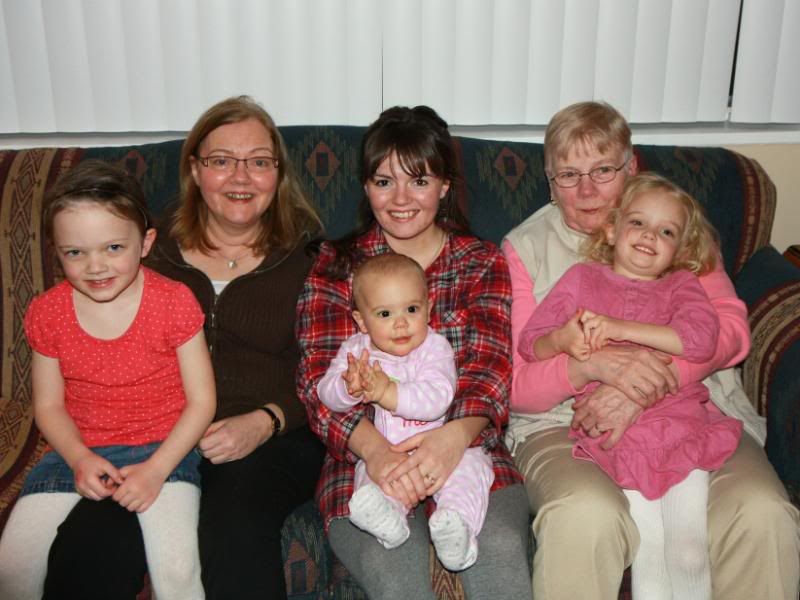 Four generations!! and, I might add, some of my most favorite ladies ever.
We were there for a whole week, and we really didn't DO much-- which was just perfect. It was very laid-back and relaxing, and nice to simply spend time together at home.
Emma and Annabelle were thrilled that it snowed while we were there, and they spent lots of time playing outside in the fresh-fallen snow, building snowmen with Uncle Josiah (who is a wonderful and willing playmate) and making him pull them around on the sled.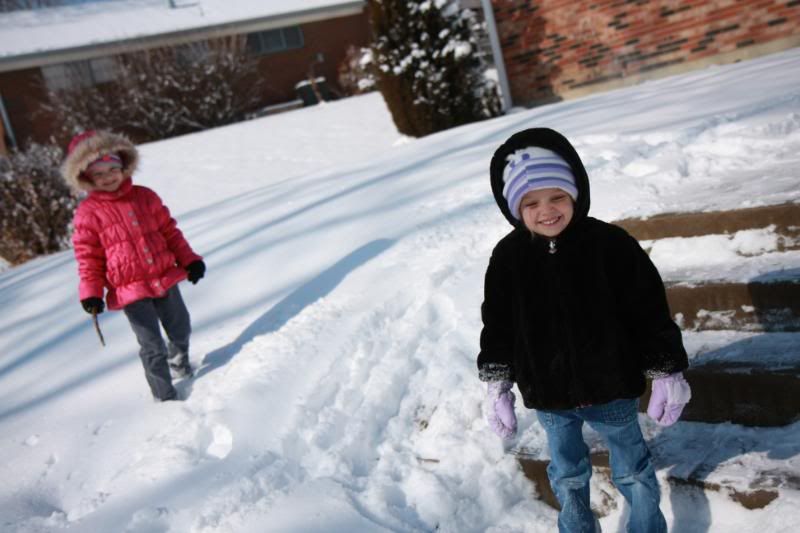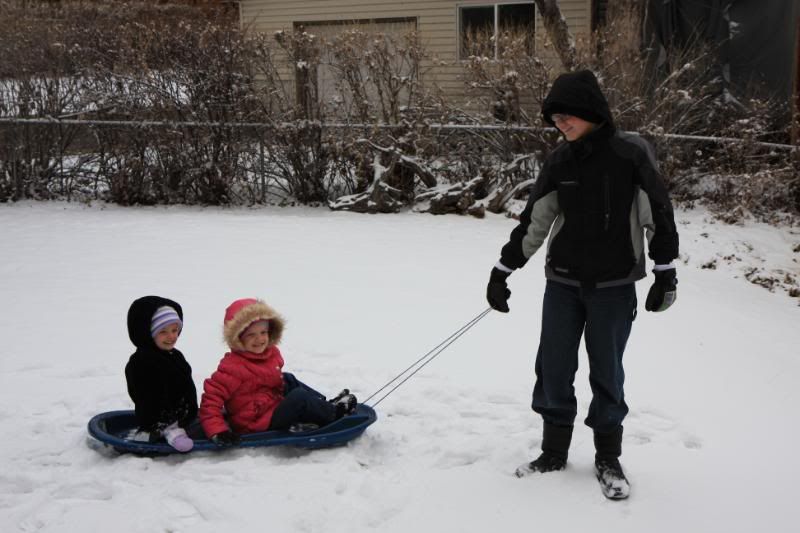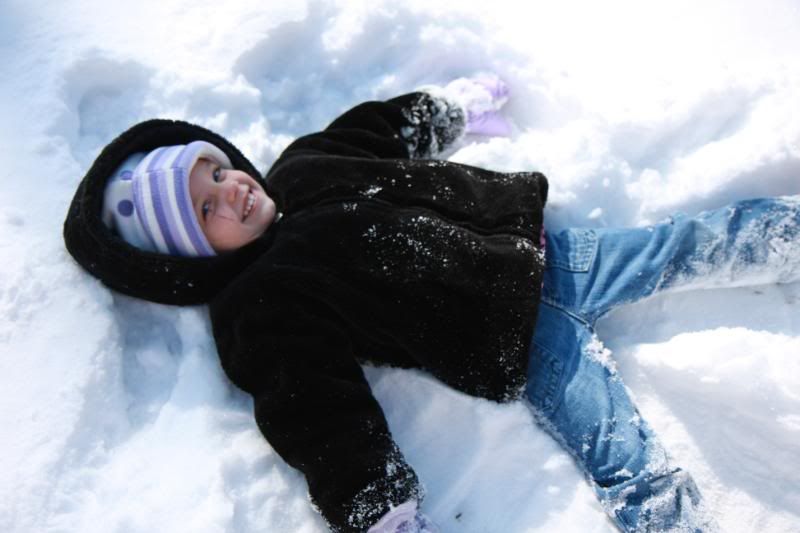 There was plenty of time to cuddle with Rosalie-roo... she's quite a wonderful little cuddle-bug, you know.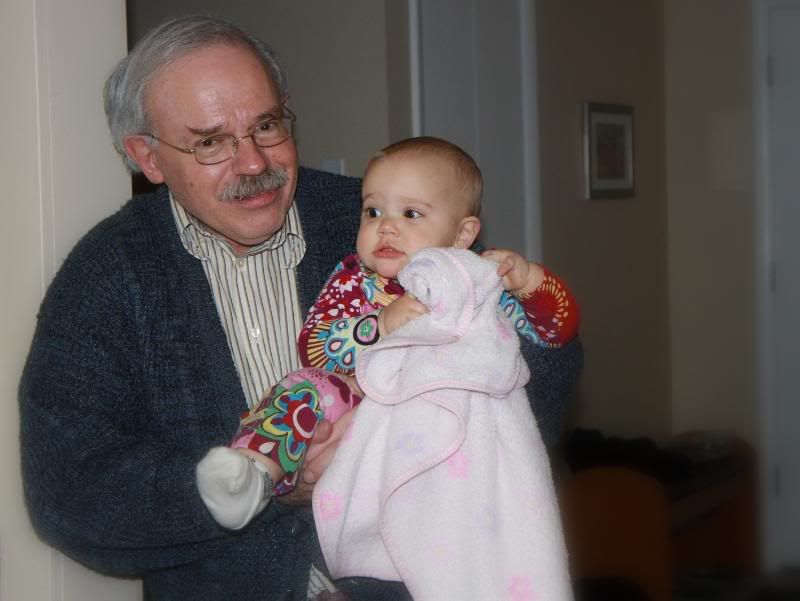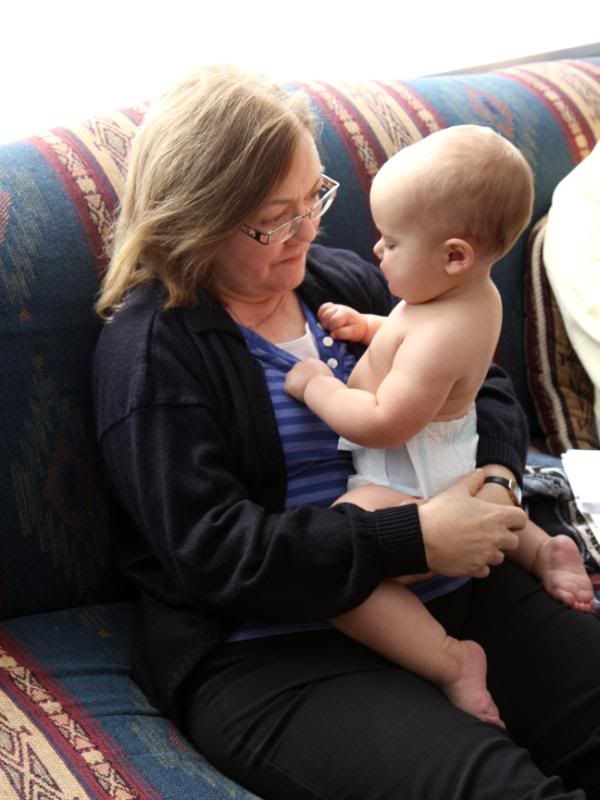 This is quite possibly one of the sweetest pictures ever, and I simply adore it.
Speaking of Rosalie, she had quite the adventuresome week, discovering a love for bravely following the family cat around (and only suffering one little scratch because of it)... and learning how to climb the stairs.
Once she figured out how to do that my week was pretty much spent retrieving her from said stairs. hehe.
My mom has always loved reading books to Emma and Annabelle and doing fun things like baking with them. It's a special thing that the girls love doing with Grandma, and this visit was no exception. Mom read them stories that had little activities to go along with them. It was so cute. They especially adored these little paper chain dolls.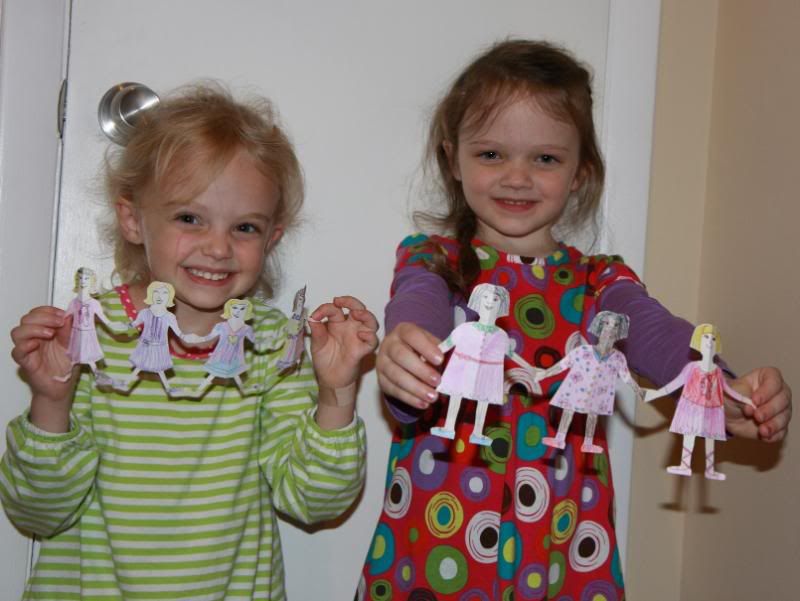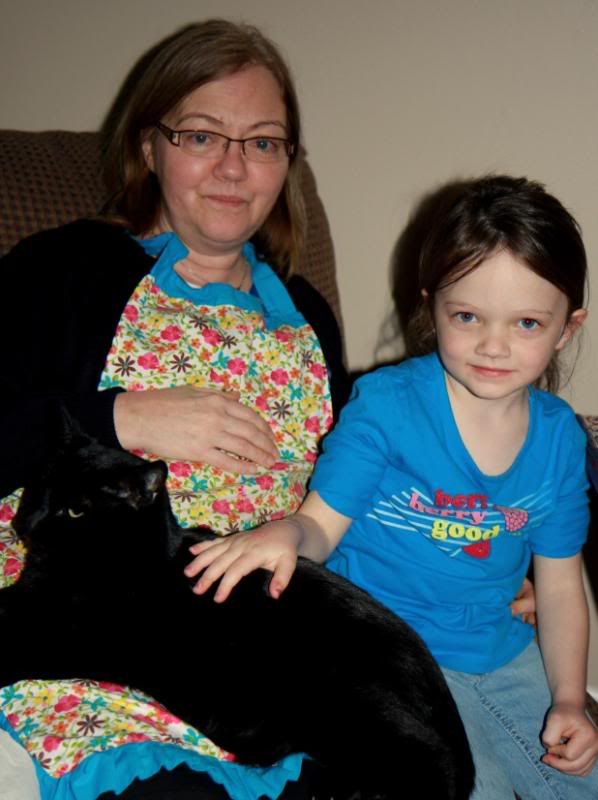 You can't see it in this picture, but Annabelle got quite a nasty and huge scratch from the kitty, down her cheek right below her eye. It was traumatizing, but books and cuddles with Grandma made it all better.
Dad took lots of pictures. It's what he does. :)
And of course there was plenty of time for silliness and goofing around. Always.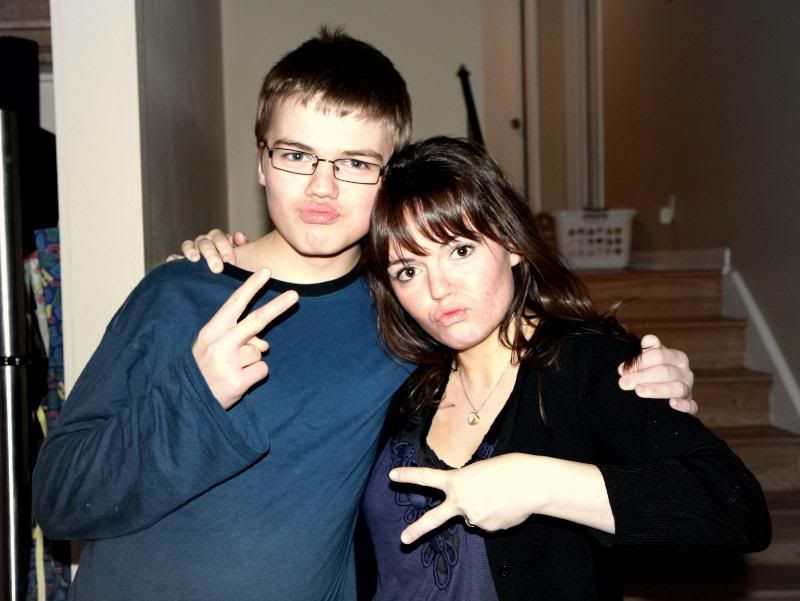 Side note: When did my "littlest" brother, the baby of our family, get so much taller than me? Gah!
My mom, Jerusha, Lydia, and I went out for lunch one day, to Olive Garden. (mmmmmm, breadsticks.) You know, I honestly could spend all day long with these ladies of mine. We've always been close, but I feel we've grown even closer in a really special way since everything that has happened in these past months. They're amazing and beautiful, and I can't get enough of them. We had a lovely time together, eating way too much, helping Lydia flirt with the cute young waiter (not that she needs our help, but it was entirely too much fun), taking pictures, and yes, even drinking a bit. ;)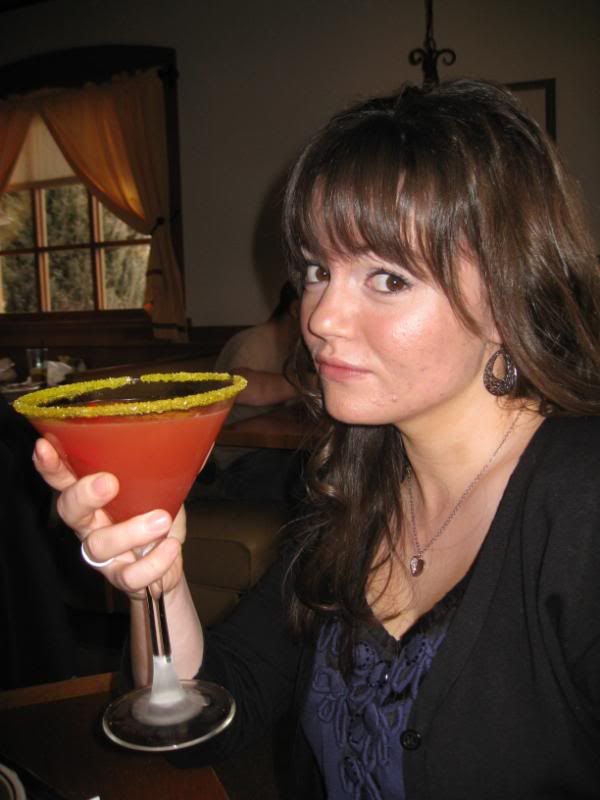 I have really pretty sisters.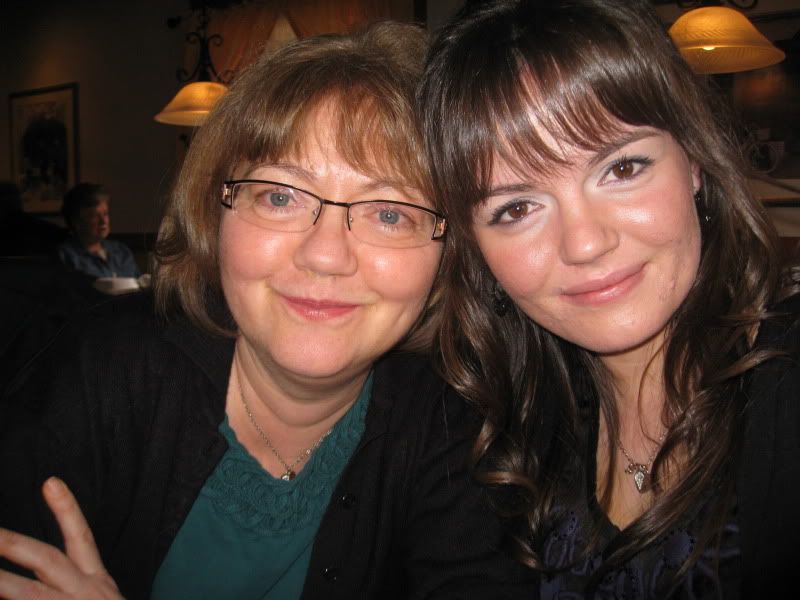 And a really pretty mother too.
The week went by quickly, as it always does when one is having fun and spending time with dear ones, but this time I was really looking forward to going home to my husband! Even still, it was sad to say goodbye again and leave my family.
However... I get to end this post on a very happy note, because two weeks from now, at this time, I will be spending time with my mom and sisters again since they are coming here to stay for a few weeks!
I think this fact calls for a happy dance and a "whee!"
Whee!!