...glad to be home.
....laughing at myself, because as of right now I have 4 other major events that I've been meaning and wanting to blog. But instead of writing any of those, I'm doing this silly little one. Hey, it's my blog. I'll write what I want, when I want. hehe. (even though Lydia is probably very upset with me right now. loveyousister)
... absolutely in love with my garden. Roses are blooming profusely, watsonia are coming out in glorious bunches, the smell of jasmine fills the backyard, my clematis is about to burst forth in bigger and better blooms than ever, and the camellia bush has given me lovely and luxurious pink flowers. Ah, little garden, you make me happy.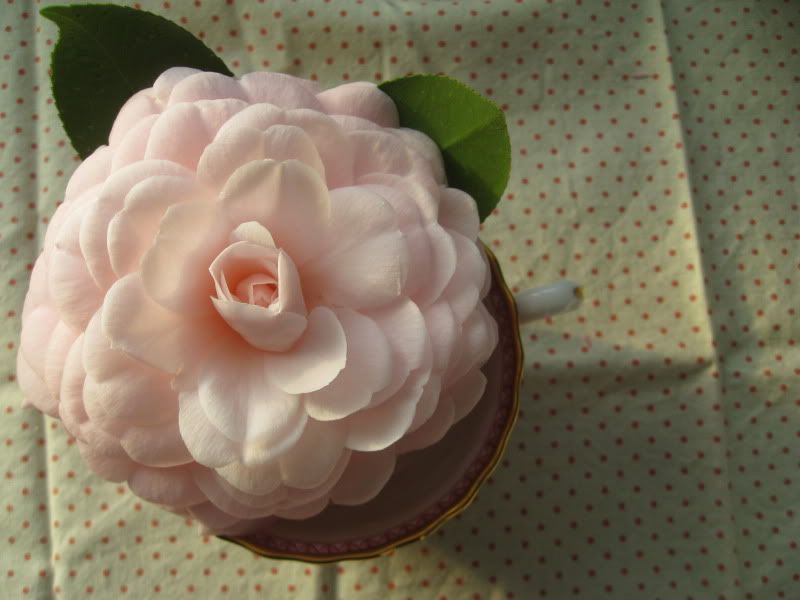 ... feeling rather sick. My head, it hurts. My throat, it is on fire. (can someone please bring me a super-duper sized milkshake? Minus the 1,000 calories? Thanks.) Today was supposed to be a day of actually going to the gym, lots of schoolwork and piano students, AWANA and errands. Instead, we are napping and watching movies while I do a load of laundry here and there and try to prevent my house from falling into complete and utter disarray. Which it has a special knack of doing whenever I am the least bit ill. hmmm.
....so glad that my Emma, who started us off on our sickie day this morning by throwing up, seems to be feeling MUCH better now.
... relishing the peace and quiet that fills my little house right now. It's a rare thing, and thus very treasured.
... wondering if/how/when I should chop off my hair....!
...missing my husband. If only he could come home
right now
and snuggle with me while we watch Sherlock Holmes and Glee (two things I've been waiting very patiently to see). But I suppose I am quite thankful for the fact that he has a job at which to be.... Yes, I am. ;)
... extremely beyond-words thankful for the fact that Mom has been doing so well with her radiation treatments. Today is #15 out of 25, and so far the bad side effects have been minimal. PRAISE GOD.
... listening to the sound of my dishwasher running. It doesn't matter how messy the rest of the house may be or what other chores have yet to be done; when the dishwasher is humming merrily along I can't help but feel so accomplished and industrious. Such a nice little boost! (am I the only one who feels this way? am I weird?)
... incredibly excited and happy because my mom and sisters will be flying into California on May 6, and they will be here for at least 2 weeks. I will finally get to pamper and take care of my mom to my heart's content, the girls will get to enjoy grandma and aunties... it will be SO wonderful. Also: sister-time!! Not to mention,
Dean and Sam
are coming too. Hoo boy oh boy! (yes, that's right: Supernatural. I blame my sisters for my falling in love with the Winchesters.)
... done rambling at you all, and going to go do some of this myself now.
(isn't she so sweet? I simply had to include this picture, taken yesterday when Annabelle was quite tuckered out.)
Happy Wednesday to you all, my lovelies! xoxo