Saturday, January 9, 2010: good morning, dear birthday girl!! You're six!!
SIX! Cliche' as it is, time really
does
fly... SO very quickly. I could hardly believe that my firstborn was six years old.
We started the day with some birthday pancakes, and Emma's smile was just as big as the whipped cream one on her food.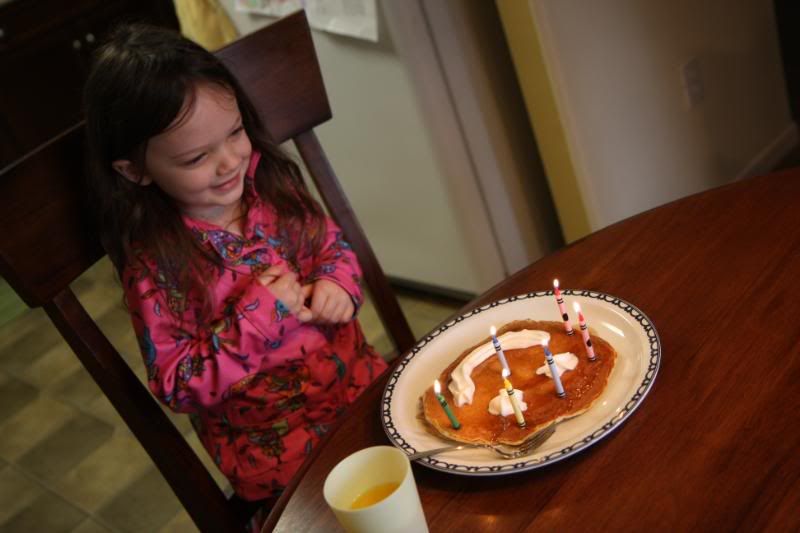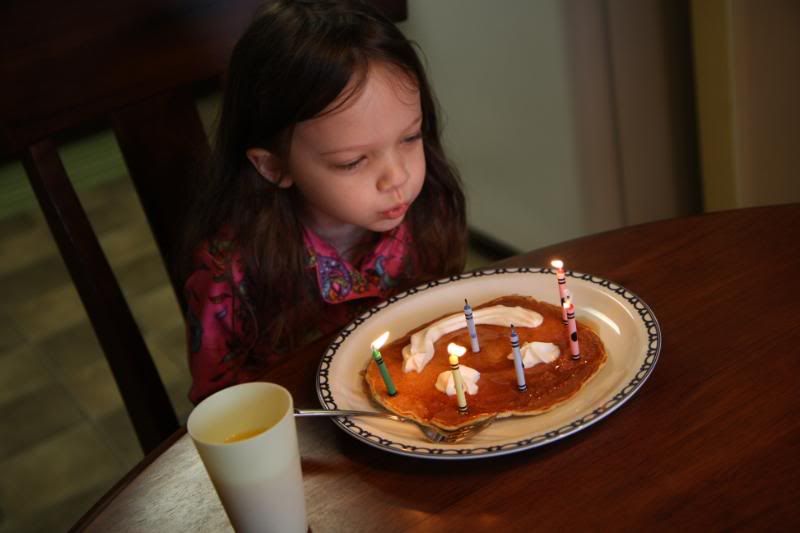 The fun thing about birthdays on a Saturday is that Daddy gets to be home all day. It was lovely to sit there and eat breakfast together, talking about our plans for the day and quizzing Emma on whether she felt older or not. "Well, I AM six now, so I'm pretty big. I
might
be taller."
And then it was time for the traditional opening of the birthday dress. She was thrilled to see the very one she had loved so much when we were shopping a few weeks ago. "This is like a big girl dress, because see? It's SILKY!"
Once we were all showered and ready for the day we headed out for a birthday lunch at BJ's with Uncle Luke, Auntie Jessica, cousins Faith and Jason, Grandma Netnet and Grandpa Randy, and Great-grandma Pat.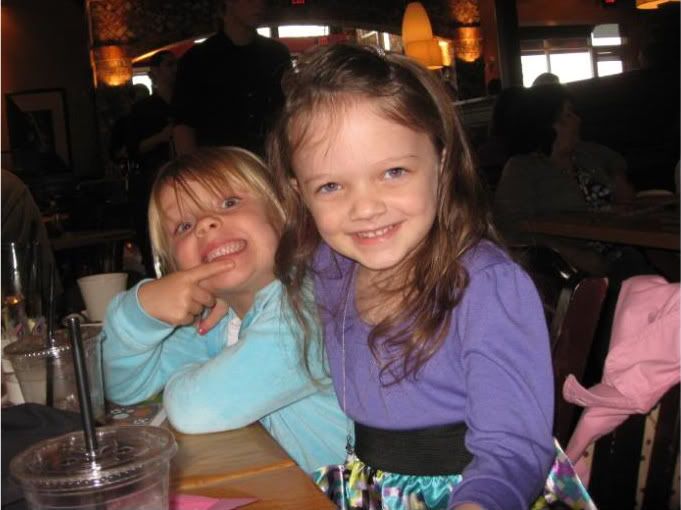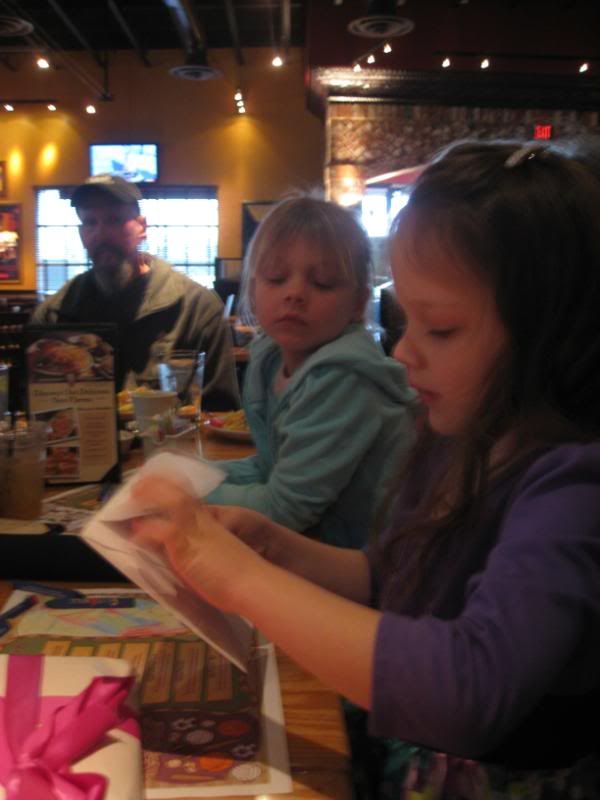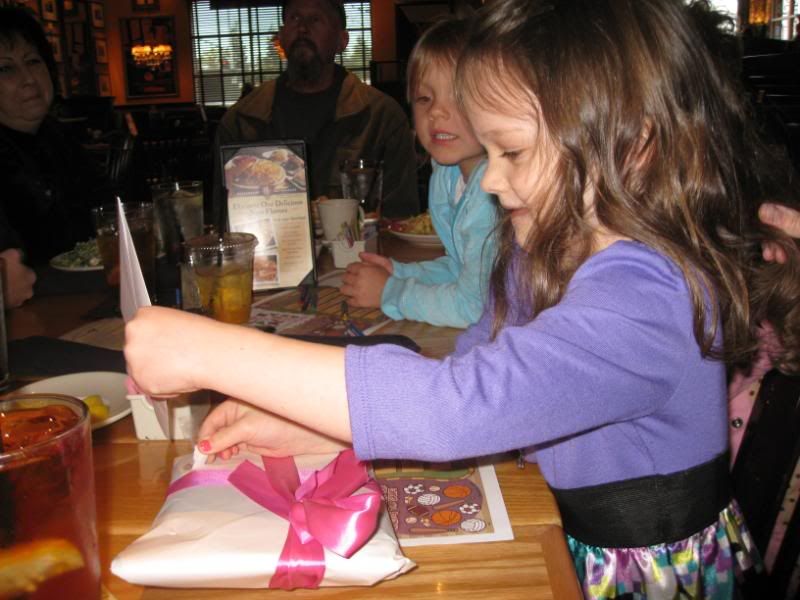 Emma chose BJ's because you get a free birthday Pizookie. It made for a rather easy decision. (who wouldn't want one of those??)
One of the things Emma received that she was most excited about was a new scooter. She'd wanted one ever since Annabelle got one last year for Christmas, and this one, with it's hot pink handles and TWO wheels (which of course makes it a big girl scooter) was like a dream come true.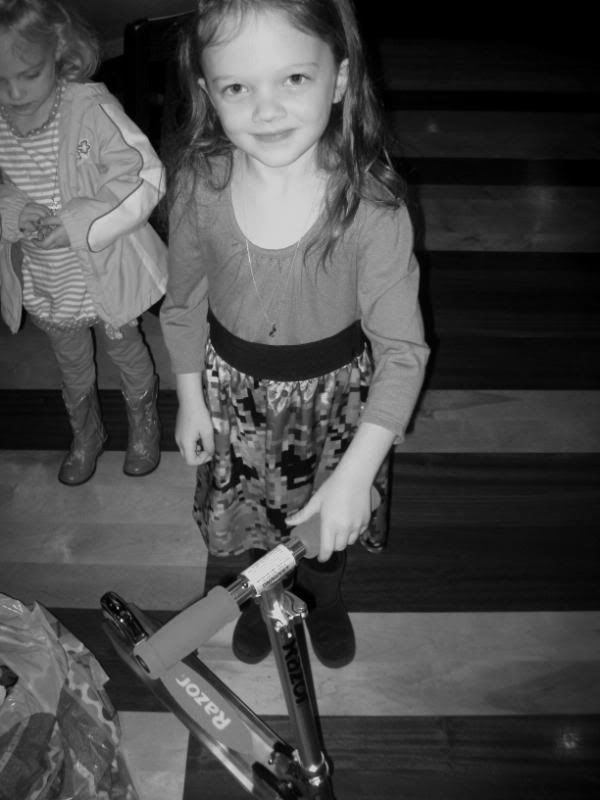 But, I am quite happy to say, that there was one other present she was just as excited to receive from us: her very own, very first "grownup" Bible. Now that she has become such a good little reader, Jeremy and I thought it was time for her to have her own Bible, so she can learn to read it and love it over the years, so it will be there for her to turn the pages every single day and discover new joy and truths from within. This is something we truly pray for our children, that they will learn to love the Word of God and believe it with all their hearts. And getting Emma her very own Bible at a young age seemed like a great way to encourage this and allow it to happen. Right now I think she loves it more for the pretty blue color and flowers on the front, and the fact that her name is embossed in shiny silver script in the corner (of course)... but I hope and trust that through the years she will come to realize that what is inside is the real treasure.
After lunch, Annabelle and I took the birthday girl to the movie theater so we could all see "The Princess and the Frog" together. While I'm still not sure how much they, or I, loved the movie, it was so much fun to sit together and watch it. We rarely take our kids to the movie theater (too expensive), so it was a real birthday treat-- for all three of us!
The rest of the day was spent in fairly normal activities. (Laundry has no respect for birthdays of any importance, unfortunately. Stinky ol' laundry.) But I think our Emma Joy had a very happy sixth birthday indeed!
It just does not seem possible that we welcomed our first child into our lives six years ago already... and yet, on the other hand, it seems like this girl has always been here, always existed as our daughter. It's been such a complete joy to watch her go from a wee bitty baby, to a toddler with an astounding vocabulary, to a big sister of one and then a best friend of that same sister, to a "big girl" with ideas and imaginings I delight to see, to "the oldest child" and tender-hearted caretaker to our newest baby, to a kindergartener with a mind like a sponge, who reads and writes and tells me that 4+3 is 7. Just look at that chubby little roly-poly funny-faced baby! Who knew she would grow up so fast and change so much?? I didn't. She was my first, and I think no new mother truly realizes how
quickly
those baby days will whizz right on by.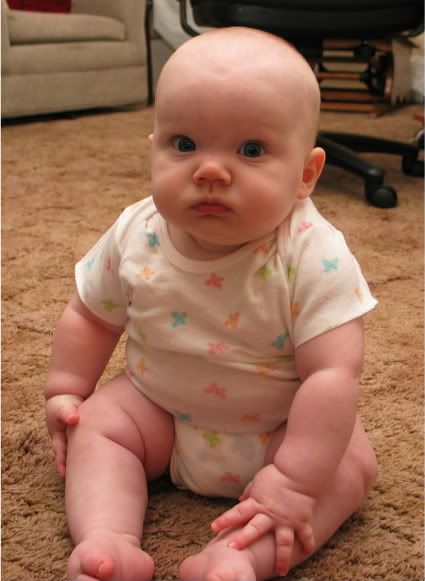 seriously, this picture.... I can't stop looking at it and laughing.... love it!!
Oddly enough, although Emma has been an "easy" child in many ways, it is sometimes hardest for me to be patient with her, out of all my girls. I'm not sure if this is simply because she's my oldest, or because I see SO much of myself in her sometimes, but I do know that even when I find myself impatient or frustrated with her I still feel so very privileged to be her mommy. And as she gets older, I find myself looking forward with so much anticipation to the closeness we will share as mother and daughter as she grows up. I'm catching little glimpses of it now, in some of the conversations we have, in the ways she likes to help out and do things with me, in the moments when she asks me questions that show me her thoughts. Yes, I am
incredibly
blessed and privileged.
Oh, Emma Joy.
Our practical and particular perfectionist.
The bossy yet incredibly sweet big sister.
Our surprisingly silly goofball who loves nothing more than to make someone laugh.
The thinker who can ask a million questions in a day about anything and everything, the artist who has a pencil or crayon in her hand at any given time.
Our beautiful firstborn.
happy sixth birthday, darling!! We love you more than we can say!!