Sometimes, a husband and a wife just need to have a day. Away from children. Away from home and work. Away from normal life and all its busy-ness and stresses.
Jeremy and I were feeling it... we were most definitely at that point where we needed each other all to ourselves. And so, this past Friday, Jeremy's oh-so-sweet mom came over at 7 in the morning to watch our darling daughters until Saturday... and away we went.
Where did we go? why, only to the happiest place on earth. (some say that slogan may be a bit extreme... YOU try not grinning from ear to ear like a little kid the minute you set foot on Main Street USA in Disneyland. One can't help it. Happiness abounds.)
The weather was perfect and beautiful, the park was not overly crowded, and the whole day lay before us, shiny and sparkling with carefree fun, hand-holding and smooching, rides and good food, sunshine and cheery sights. All to be enjoyed
together
. Oh, it was perfect. It was just what we needed, just what we had been craving. God is so good to give us just what we need, right when we need it most. It was a true blessing, in so many ways.
Some random pictures and snippets from our day:
As we sat here in New Orleans square and ate our gumbo, we watched a couple of birds building a nest up in the eaves of one of the "houses". This led to a conversation about how if we were birds we would totally want to live in Disneyland too, and some speculation about where the best spot might be to build one's nest. Random topics like these are my favorite. And I love that I have a husband who doesn't mind delving into and discussing such things with me. :)
Also: YUM.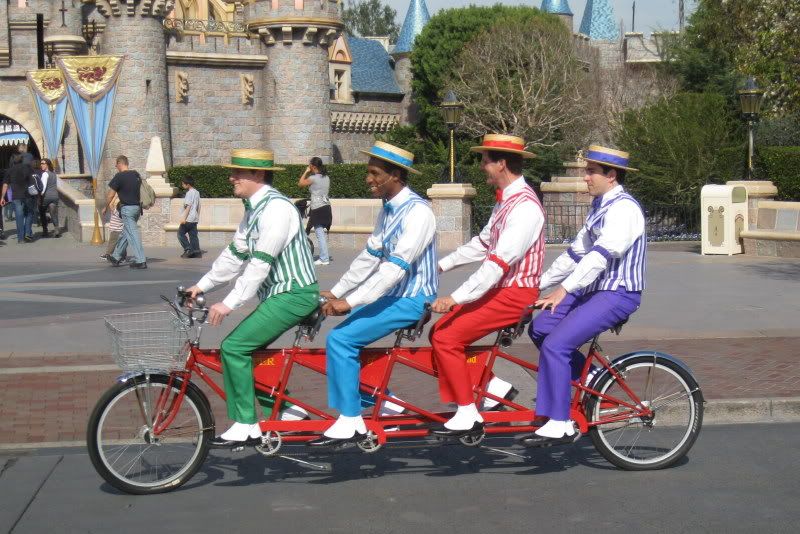 I've decided I really want one of these bikes. Think of the possibilities! Doubles dates with other bike-riding couples! Family-style bike rides! Our very own traveling barbershop quartet!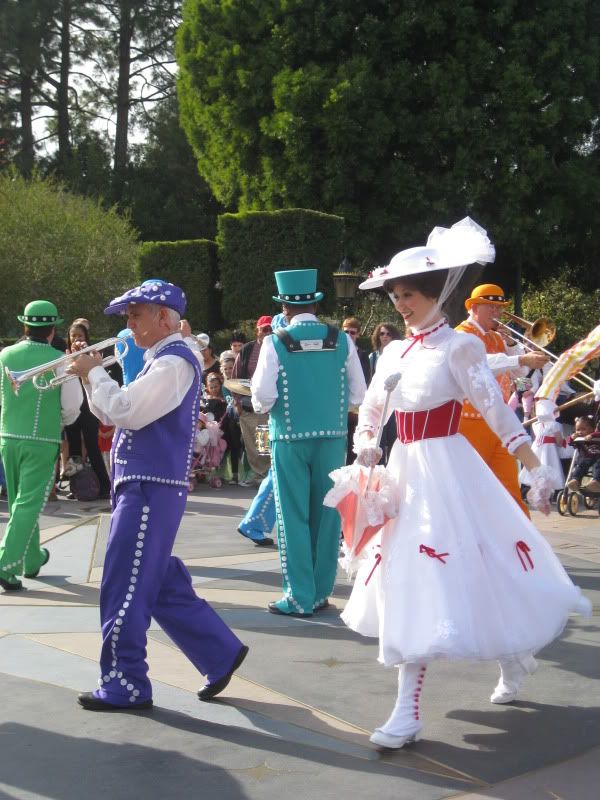 Supercalifragilisticexpialadocious! We saw Mary Poppins and Bert. I adore this outfit of hers in the movie... so fresh and pretty.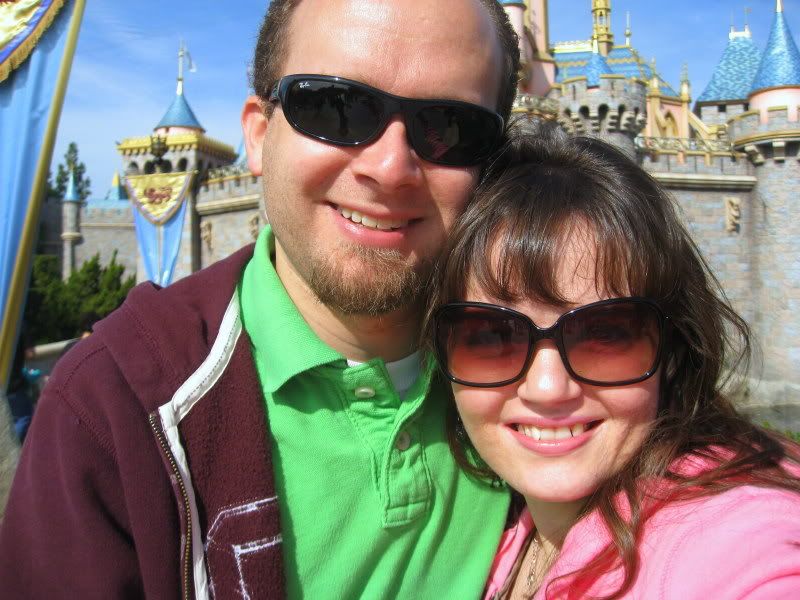 Sigh. Happy. Content. Sigh again.
For the first time ever, we rode the Storybook Land canal boats. I must say, I just adored the petite villages, they were so quaint and cute. This setting was one of my favorites. I'd move in if I could! Oh, wait, here's a thought! This would be a GREAT place to build a nest. Birds of Disneyland, take note.
Waiting in line (something we didn't really have to do a lot of, thankfully).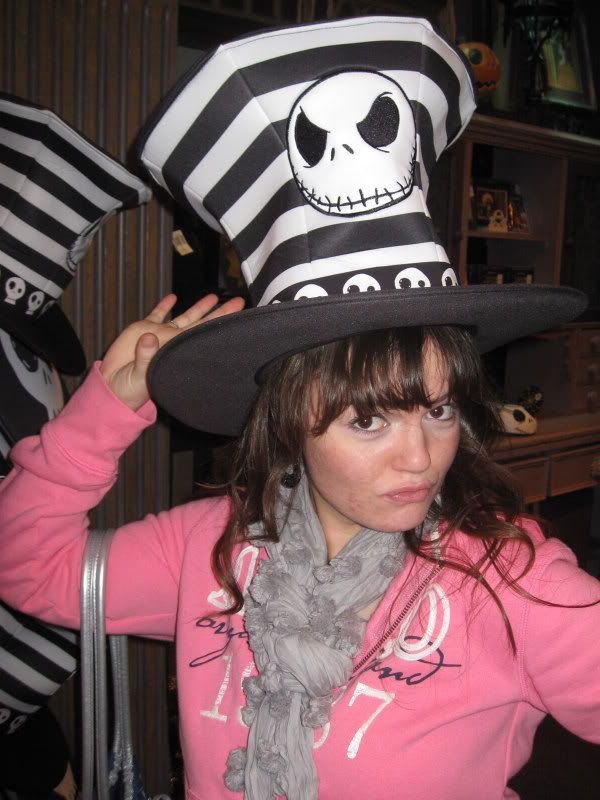 There are no words. Only laughter.
I love the castle all lit up at night.
waiting for the fireworks show to begin. He was playing games on his cell phone, so I paid him back by taking lots of ridiculous pictures. (we were bored.)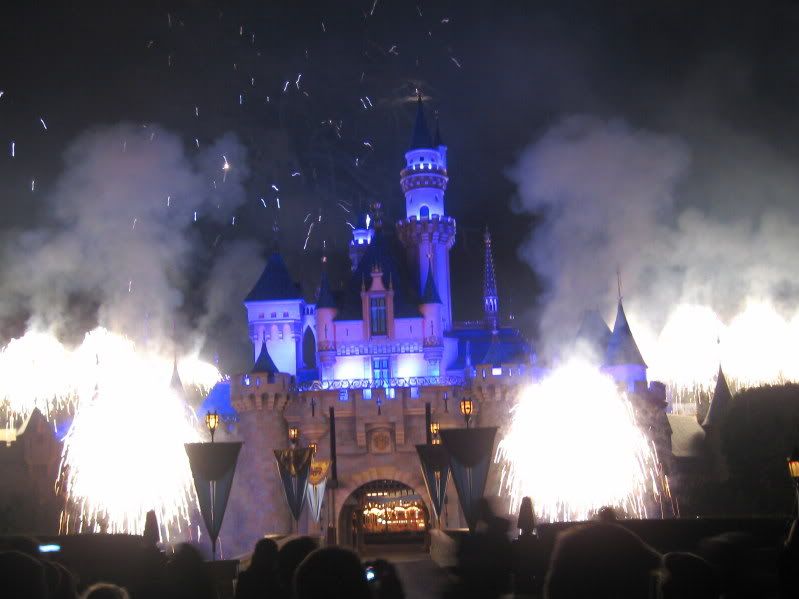 Oh, Disney, you really do know how to put on a show. The fireworks were AMAZING. One of my favorite things all day.
One last picture before we left the park and headed off to our hotel to rest our tired feet and fall fast asleep knowing we would not be woken up by children in the morning. If you are a parent, you no doubt know that when a rare occasion like this comes along it leaves you quite giddy. If you are not yet a parent, please refrain from telling me about how you sleep in till 9 or 10 every Saturday. Thank you. (hehe, just kidding)
please pardon my end-of-day theme-park hair in these pictures. Some people manage to look cute and perfectly put together no matter if they just stepped out of the salon or spent an entire day being whipped to and fro. I am not one of those people. Obviously.
So, to sum up: we had a wonderful time. Yes, Disneyland is a great place to be and we so enjoyed every bit of it from the rides and the atmosphere to the ice cream and goodies we ate while soaking up the afternoon sun on Main Street... but for me, all those things were just an added bonus to the day. The
real
thrill of the day, the
real
happiness and joy was simply in being with my husband, realizing all over again just why he's my best friend and the man I love with all my heart.