Hey, so, do you all remember back in the day when
"tasty tuesdays" was something I did on this blog
?? Wasn't that, like, eons ago??? :)
Obviously, that little feature fell by the wayside, due to pregnancy, a new baby, and laziness on my part in both cooking and posting. And I don't think I'd neccesarily do a great job keeping up even still, if I were to start it up again. But, I do miss it. I miss the motivation it gave me to seek out great recipes, and how fun it was to share them all with you and get feedback and opinions.
So!! I've decided to bring tasty tuesdays back, only not as tasty tuesdays. Instead, I'm going to call this feature "simply scrumptious" and just post a recipe whenever I have one I want to share, rather than committing to a specific day each week. Now THAT, I can handle.
To begin again, I give you a recipe for something any and all people love( right?):
COOKIES.
My brother Elijah is here visiting us right now (he helped me re-name tasty tuesdays!), and these are some of his favorites, which is why I had to bake them. And the hubby certainly didn't mind either...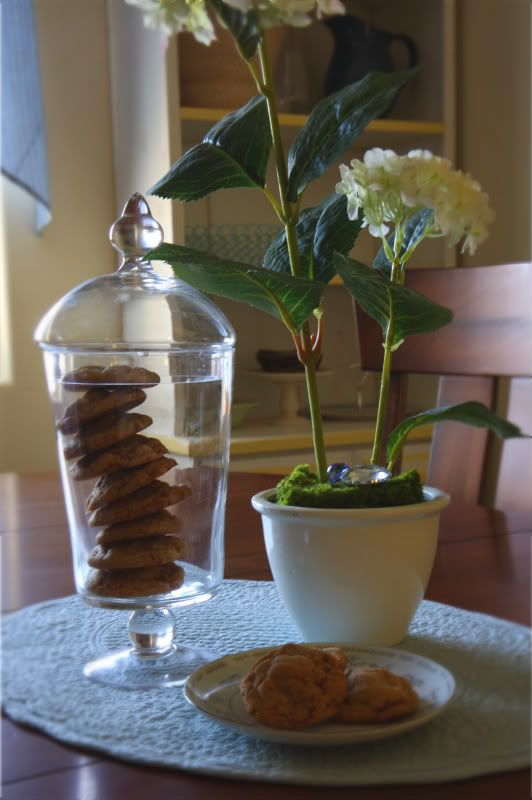 Butterfinger Cookies
1/2 cup butter (no substitutes), softened
3/4 cup sugar
2/3 cup packed brown sugar
2 egg whites
1 1/4 cups peanut butter
1 1/2 teaspoons vanilla extract
1 cup all-purpose flour
1/2 tsp baking soda
1/4 tsp salt
5 Butterfinger candy bars (2.1 oz each), coarsely chopped
In a mixing bowl, cream butter and sugars. Add egg whites. beat well. Blend in peanut butter and vanilla. Combine flour, baking soda, and salt; add to creamed mixture and mix well. Stir in candy bars. Shape into 1 1/2 inch balls; place on greased baking sheets. Bake at 350 for 10-12 minutes or until golden brown. Cool on wire racks.
Chewy. Peanut-buttery. Chocolatey. SO YUM. You may want to plan a trip to the gym after you make these... I had to. :)