No, I'm not talking about the weather.
I'm referring to the personality of my beloved middle child, our Annabelle.
Sometimes, she is pure sunshine and rainbows, full of laughter and smiles that would delight even the hardest of hearts.
Other times... NOT SO MUCH.
She can somehow manage to be the best and worst part of my day. Brings me to tears and frustration like no other and then, only moments later, melts my heart into a puddle of love.
She's our little walking conundrum, a 29-lb. paradox with fluffy blonde curls and big blue eyes.
I'll be honest, there are days when I simply don't know what to do with her anymore... I find myself wondering what I'm doing wrong (or NOT doing right). I wonder when she's going to learn how much pain and trouble she causes herself (and therefore, me as well) by throwing her tantrums about the silliest of things. Something still hasn't quite
clicked
within her when it comes to what behavior is acceptable and what is most definitely not.
But, she's three. She's strong-willed and incredibly passionate-- qualities that will be a wonderful trait someday even if they are sometimes misplaced now. I know it will take time for her to learn. Time, LOTS of prayer, and much (oh, SO much) patience as we try to guide and instruct her. The Lord is definitely using this child of mine to teach ME some lessons as well. I've seen my own shortcomings as a parent so much more clearly with Annabelle, and I know that I've got a long ways to go too. Together, we're growing, slowly but surely.
In the meanwhile, I'll choose my battles carefully with this daughter of mine. I will celebrate the little victories. Even if it's only that she went potty
without crying
when I asked her to.
And I will delight in everything else that my little girl has to offer. Her laughter, which is simply the best-- it is so infectious that you can't help but laugh too. Her smiles, which are so genuine and huge that they wrinkle up her nose and light up her eyes.
Her obvious delight in even the littlest things as she claps her hands and dances around on her very tippiest of toes. Her sweet voice, and the funny way she says things, turning words and phrases around as only a child can. Her wonderful imagination-- she can play for hours at all sorts of pretend games, and she certainly has a knack for "dressing up".
She is an adoring sister. I can see how much she looks up to Emma and wants to be just like her, not even wanting to be apart for a minute.
It's amazing to see her as a big sister. She can hardly go five minutes without talking to Rosalie or loving on her in some way. Annabelle has a special voice reserved just for her baby sister, and it's the cutest thing ever. When we go somewhere, Annabelle always says, without fail "We need to bring Rosalie!" I look at her and marvel, very aware of the special place she holds in our family as both little sister AND big sister.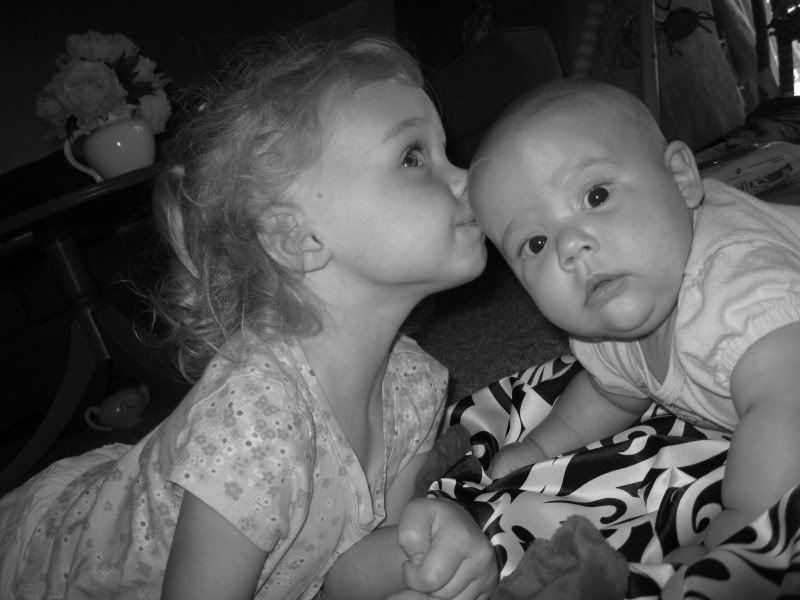 Let's not forget about her hair. Yes, really, her hair. It is seriously one of the joys in my life, and it makes me smile. When I greet her first thing in the morning or after a nap I know I will see this: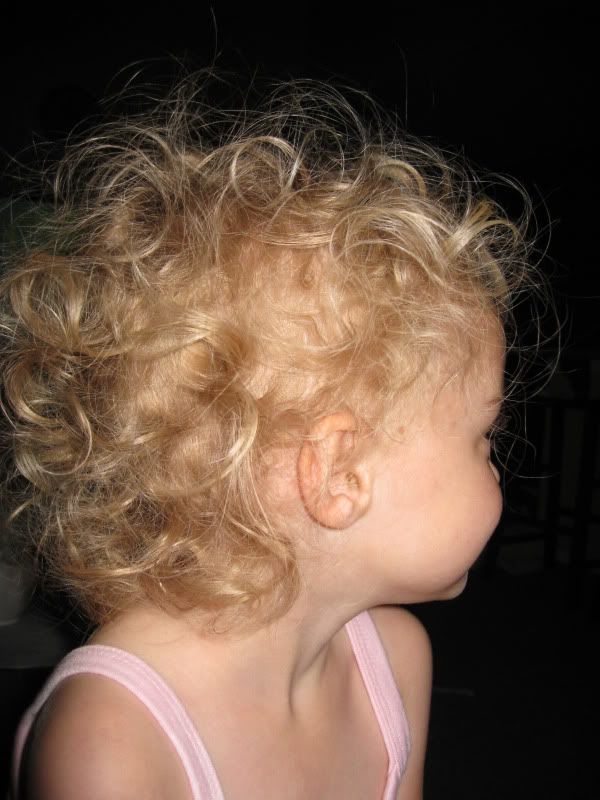 It always looks like this after she sleeps, a wild halo of unruly golden curls. We call her "Annabelle Fluffyhead", which she always protests (with a huge smile... I think she secretly likes her nickname).
If you have ever been around Annabelle for any length of time, you might notice something about her: she doesn't really walk. She runs, she jumps, she dances. Always, always on her tippy-toes, no matter where she goes. When I watch her flit from room to room the word "blithe" comes to mind.
There is no one quite like our Annabellesie-boo. God never gives us more than we can handle, and although there are some days when I rather feel as if He DID when He gave us this girl, I simply can't imagine life without her. Whether she is driving us to frustration with her stormy side or lighting up our life with her sunny spirit, we love her. Oh, SO dearly.