"Gardening is about enjoying the smell of things growing in the soil, getting dirty without feeling guilty, and generally taking the time to soak up a little peace and serenity."
"There can be no other occupation like gardening in which, if you were to creep up behind someone at their work, you would find them smiling."
"My green thumb came only as a result of the mistakes I made while learning to see things from the plant's point of view. "
"When one of my plants dies, I die a little inside, too."
"Half the interest of a garden is the constant exercise of the imagination."
"One of the most delightful things about a garden is the anticipation it provides."
Truer words were never spoken! (thank you Google, for a wealth of wonderful garden quotes) Gardening makes me smile. It brings me joy. I love the smell and feel of dirt, and even the way it looks as I dig it up to place something new into the ground. It is one my favorite things to visit my plants in the morning or the evening, when the light is just right for loving the outdoors, to see how they have grown and whisper encouragement to their green leaves. It fascinates me to watch the slow unfurling of fresh new tendrils on a vine as it winds its way up a trellis. I want to jump up and down and clap my hands when I find a new bud about to burst forth in flower on my rose bushes. (sometimes, I do. Don't judge me.) Gardening is therapeutic to me. I pray when I garden. I think. I imagine. It's peaceful.
Thus far my gardening progress has been much trial and error. I've found several plants that thrive (hello, lavendar bush that has grown to gargantuan proportions), and some that simply gave up and died for whatever reason (goodbye, beautiful bouganvillea, I know not what happened to turn you into a bunch of dry sticks, but I shall miss you). But that's the fun of it all! It's like the unfolding of some exciting story, just waiting to find out what is around the bend. And when one of my little green friends, planted with such love and hope, survives and thrives, it makes me as happy as a great ending to a wonderful story. I'm learning as I go along... and I wouldn't have it any other way.
This gorgeous weather we've been having has made me want to do nothing else but garden. And so I have been! My newest green endeavors include ferns...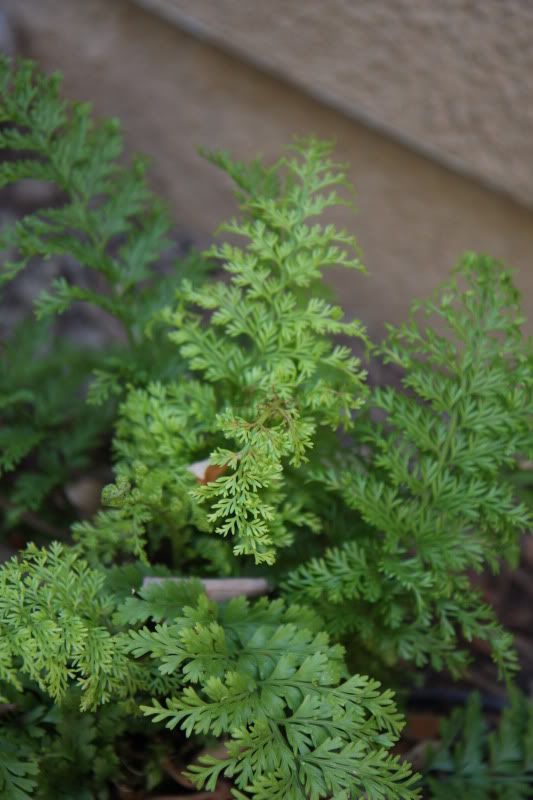 (Disclaimer: I'm pretty sure my focus is kind of off in most of these pictures... these were all taken with my husband's camera, which I am trying to learn to use)

impatiens...
a couple of hydrangea bushes-- oh how I do LOVE hydrangeas (this one is looking a tad crunchy, but I'm hoping it makes a strong comeback!)...
creeping fig (climb, little vine, and cover my front stoop with glorious green-ness! Make my house look like an English cottage!)...
a trumpet vine...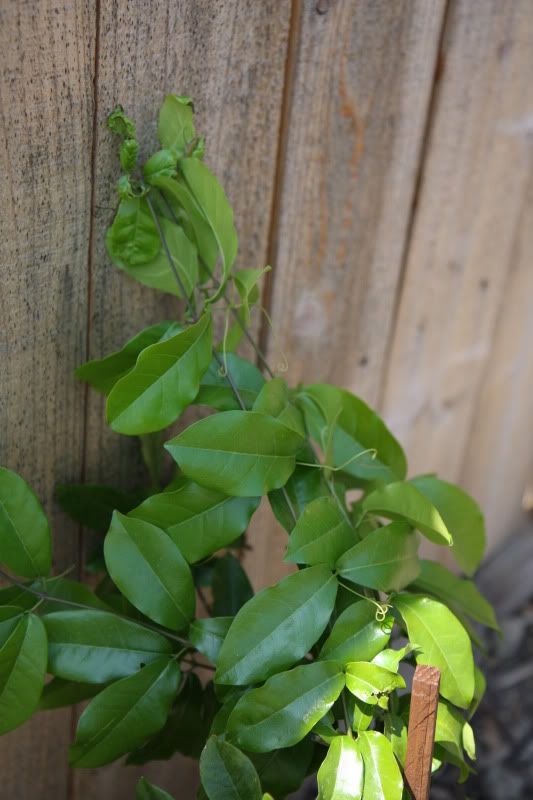 and an orange tree (I am so excited at the thought of eating oranges from our own backyard)...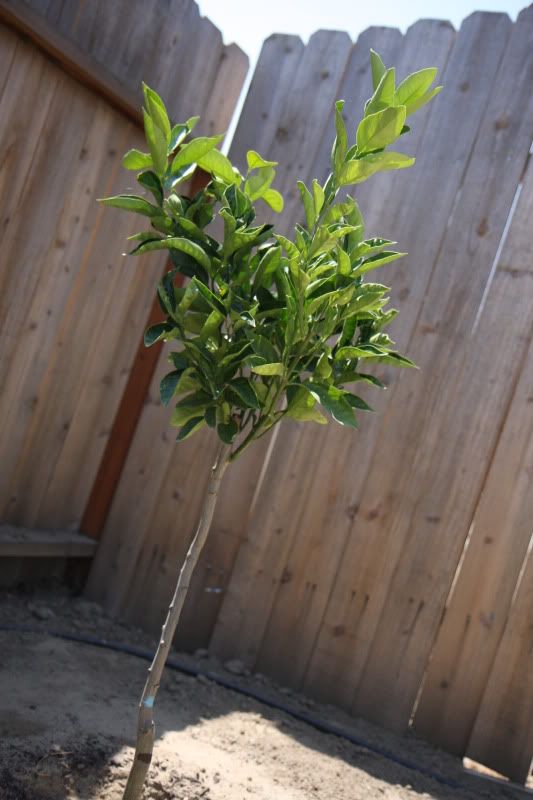 I've also planted jasmine, as well as some morning glory seeds along our back fence. Now I'm simply waiting for the day when I see those first snippets of green poking their heads out of the soil.
Also, remember that honeysuckle vine I planted
in front of Rosalie's window
? It's HUGE now. I'm definitely a fan of honeysuckle!
Just look at the roses on this bush, which is planted outside our front window. The colors are so gorgeous and varied, and the blooms are profuse. I LOVE this rosebush...
...and judging from the loveliness it has shown me so far, I'm pretty sure it loves me back.