hello world!!
I'm poking my head out of my little hole finally, to say hi to all you lovely people and let you all know that yes, I am indeed still alive! Just slightly preoccupied, that's all. :)
If I'm being honest, life these past two weeks has been a little bit overwhelming (although wonderful), and I just now am starting to feel a little bit more like myself again. Rosalie is the sweetest, dearest, belovedest (that totally should be a word) baby in the world... but she isn't exactly what I would call "easy". She hasn't been sleeping much at night, which means I've been getting on average about 2-3 hours of good sleep a night. And we've definitely had some difficulties with nursing. On top of this, Emma and Annabelle both got sick with awful coughs and colds the week after she was born, adding to the sleeplessness.... naps are hard to take when you have two other children needing your attention... laundry is a never-ending chore... it's no fun being sore and stiff all over and in certain sensitive places...
I know, I sound like a whiny complainer, don't I? But you know what? I really don't mind all of this. Yes, I am more tired than I've ever been in my life, but, the good news is, I am extremely happy and content. I have a husband who is super sweet and caring and is always there for me, my sister Lydia has been a huge help and helped keep me sane (she's stayed up with me until 1 and 2 in the morning many times!), the girls are simply adorable with their little sister, and we've been SO blessed by so many others. Our church family has brought delicious meals and little gifts, encouragement has come in the form of mornings at the park and long talks on the phone or sweet and thoughtful text messages, family has stopped by to say hi and help where they can... I am so grateful. And then there are all of you, of course, with your sweet comments and thoughts and prayers as we adjust to this new little person in our lives. Blessings galore. God is good!
(also, with the third child comes perspective! I know, from past experience, that this is a relatively short season of our lives, and she will be sleeping through the night and all that good stuff before we know it. This too shall pass-- I can handle it!)
And the greatest blessing of all, the one thing that really makes every sleepless night and everything else totally and completely worth it?
Every time I see her smile in her sleep and look at her little round face, whenever I cuddle her tiny body up to my chest and feel her soft head resting underneath my chin, each time she wraps her itty-bitty fingers around one of mine, whenever I stroke her adorable face with my fingertips or coo and talk to her while she is wide-awake and looking up at me, every time I watch her rest contentedly in the arms of someone I love... oh yes, I'll gladly take every little "hardship" that may come too. I LOVE this tiny person more than I can say already.
some pictures of Rosalie's life with us so far: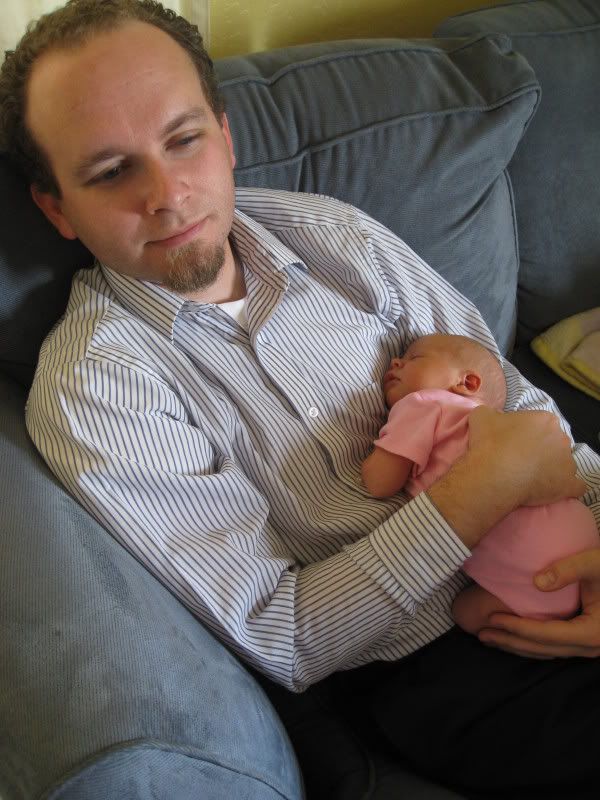 She loves cuddling with Daddy when he gets home from work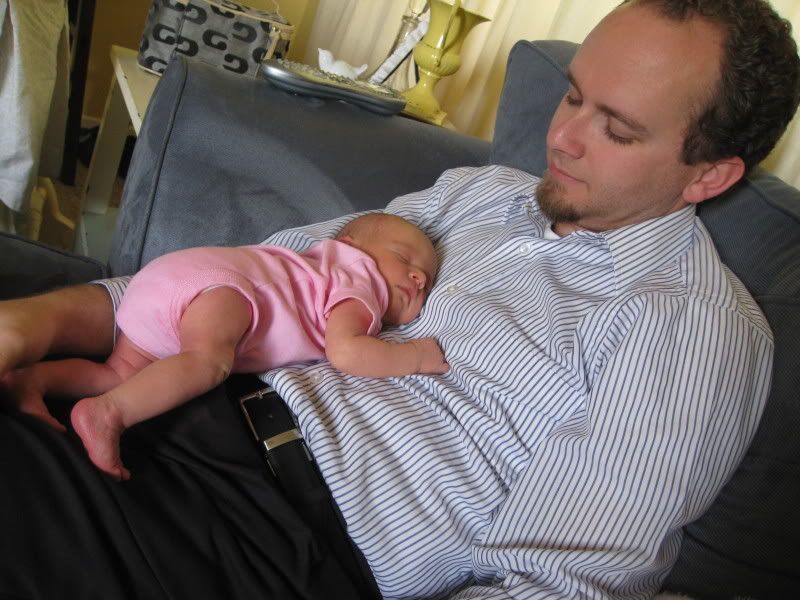 Grandma NetNet with her newest little darling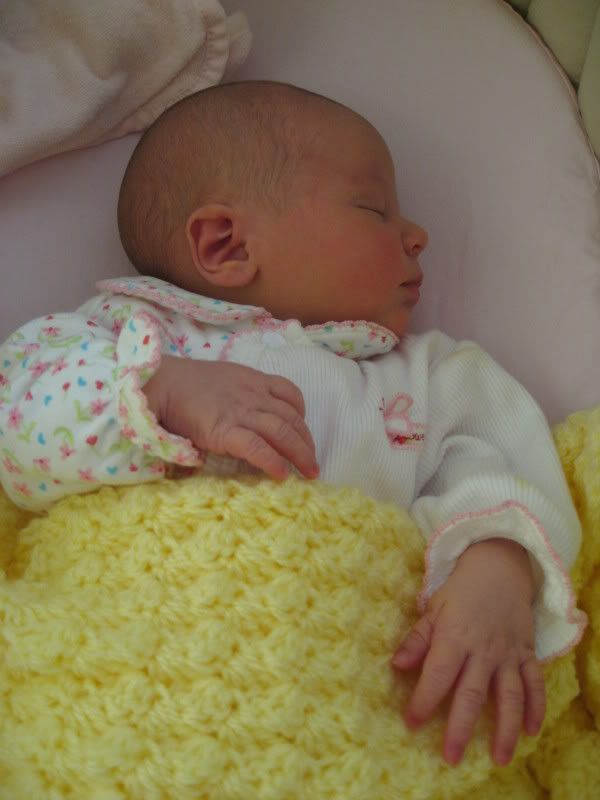 Auntie Lydia getting in some baby-cuddles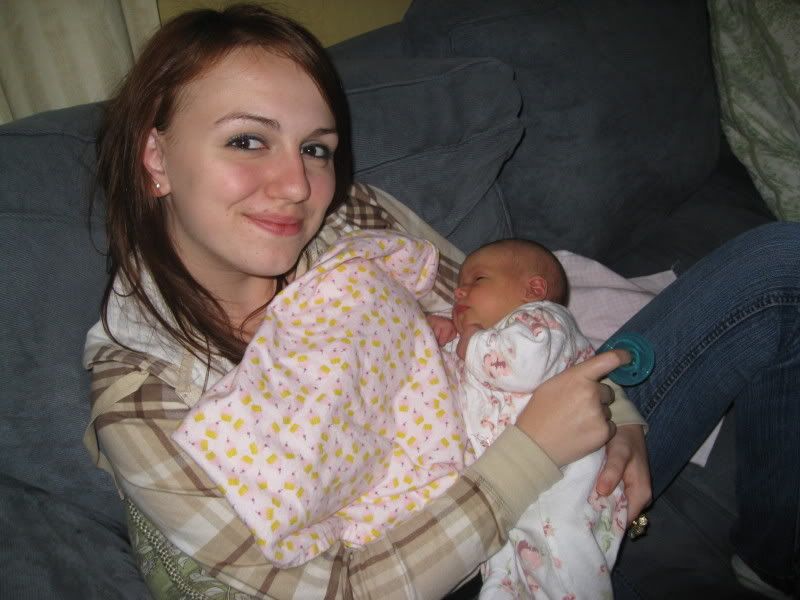 This is her favorite way to cuddle-- mine too!
Two of my beautiful sisters with their little niece-- incidentally, this was Rosalie's first real outing: a girly tea at Auntie Jessica's. Her first time in a big bow too!
Miss Genevieve checking out her newest future BFF
"Angry Rosalie" (this kid can REALLY cry-- she's surprisingly loud for such a tiny thing!)
From screaming mad to peacefully cute in a matter of seconds.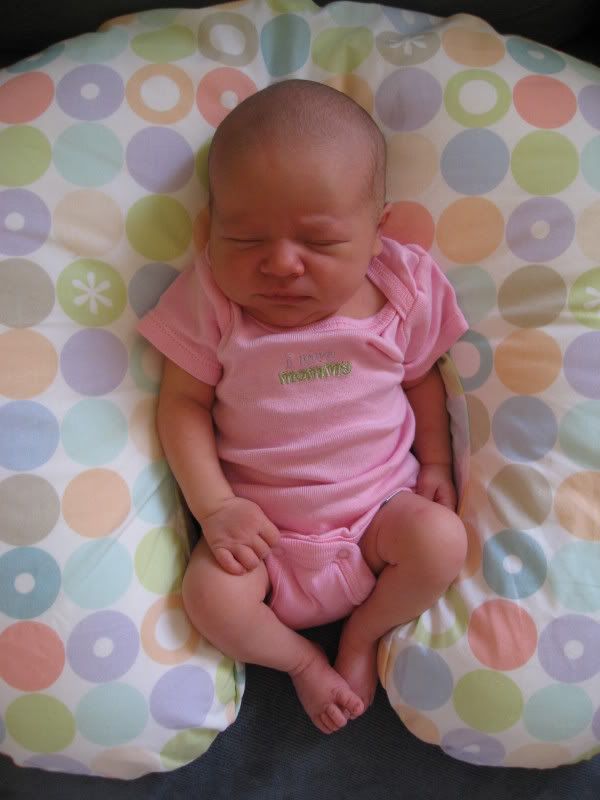 Sister-lovin'!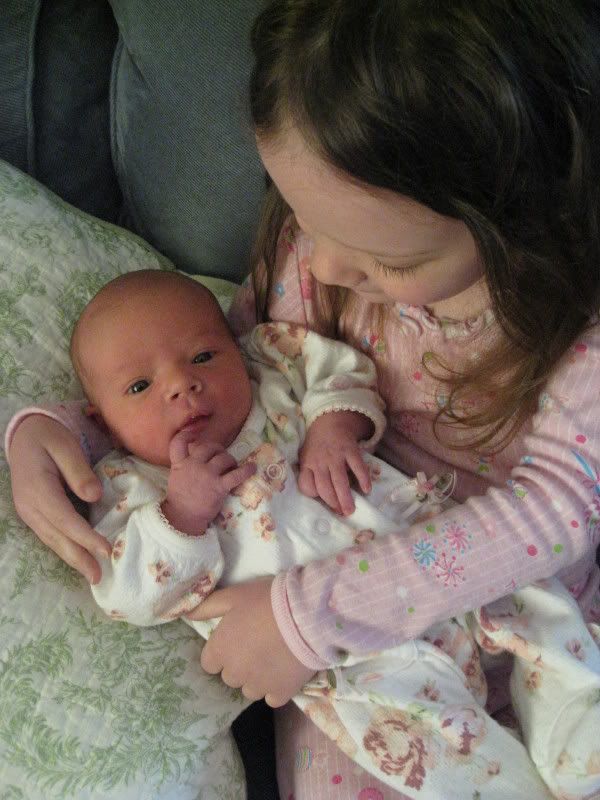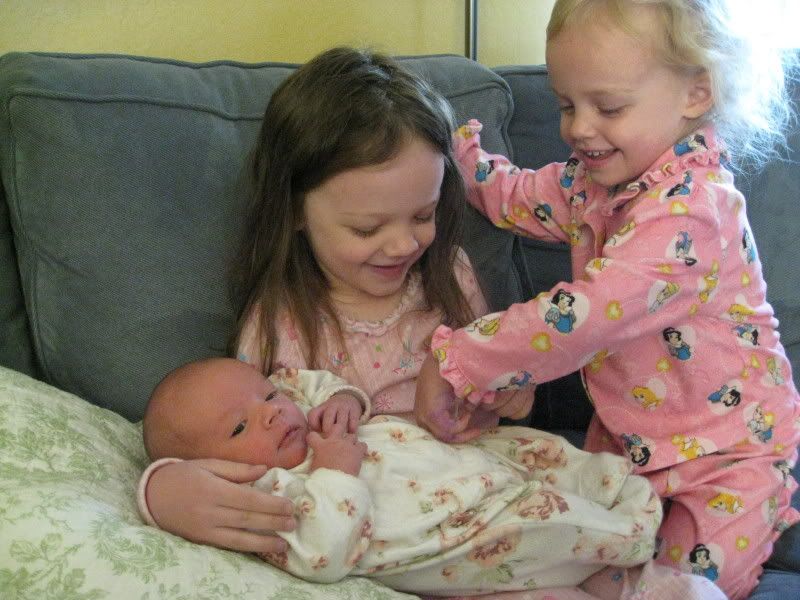 All my precious girls together-- my heart is melting at an alarming rate.
She's so cute I can hardly stand it...
And that, my friends, is my life right now. When there is all this delicious baby goodness right here in my very own lap, I'm sure you can see why blogging must take a back seat for now.
I hope you're all doing well-- I'll be popping by again soon, I'm sure!