Since this is a day late, I decided to make it up to you by posting not one but TWO recipes!! Good things come to those who wait, yes indeed.
I was quite happy yesterday because I got to bring dinner to my good friend Stacie whose third child was born a week ago. It was a great excuse not only to spend the afternoon cooking and enveloping my house in delicious smells, but also to hold her little daughter Lucy again, who just so happens to be one of the most adorable babies ever and positively makes me ga-ga.
As you all know, fall has been occupying my mind lately, so of course I picked two recipes that, to me, are very fall-ish. This first one has been a favorite of mine for some time, and I could simply eat these until I pop.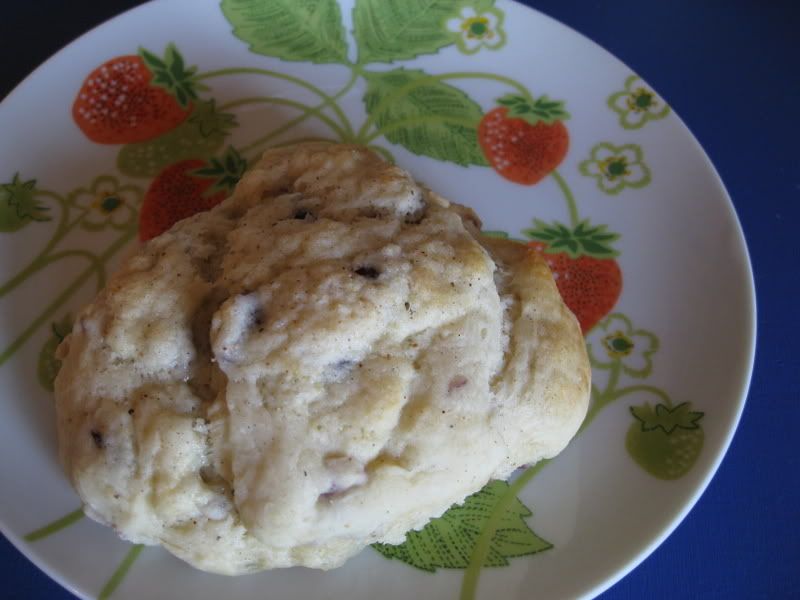 Cranberry-Nutmeg Scones
1 cup dried cranberries
1/3 cup warm water
3 cups all-purpose flour
1/3 cup granulated sugar-- plus 2 tsp sugar
2 1/2 tsp baking powder
3/4 tsp nutmeg, divided
1/2 tsp baking soda
1/4 tsp salt
1/2 cup butter, chilled, cut into 8 pieces
3/4 cup buttermilk (I always use this instead)
1/2 cup sour cream
2 tsp milk
Preheat oven to 400 degrees; grease baking sheets. Combine the cranberries and water in a small bowl; set aside.
Place the flour, 1/3 cup sugar, baking powder, 1/2 tsp nutmeg, baking soda, and salt in a mixer bowl.
Drain the cranberries and add to the flour mixture. Turn mixer to low speed and mix for about 15 seconds until the cranberries are coated with the flour mixture. Add the butter pieces. Continuing on low speed, mix for about 30 seconds, or until the butter is the size of peas. Stop and scrape the bowl.
Add the buttermilk and sour cream. Continuing on low speed, mix for about 30 seconds, or until a soft dough forms (it will be sticky).
Turn dough out onto a lightly floured surface and knead 4-5 times, using enough flour so it doesn't stick to your hands. Flatten dough out (I just use my hands) into a 1/2 inch thick circles.
Cut the dough with a 2-inch round cutter. Place the scones two inches apart on the baking sheets. Combine the remaining 2 tsp sugar and 1/4 tsp nutmeg; mix well. Brush the tops of the scones with milk and sprinkle with the sugar mixture.
Bake for 12-15 minutes, or until light golden brown. Delicious served slightly warm. Makes approximately 12 scones.
Note: if desired, pat all of the dough into a 9-inch round on a greased baking sheet. Using a floured knife, cut the dough all the way through into 8 wedges; do not separate the wedges. Brush with milk and sprinkle with the sugar mixtures. Bake at 400 for 20-30 minutes or until light golden brown. (this makes for some very LARGE scones, so I prefer the previous method, even though this one is a bit less labor.)
Breakfast this morning: one leftover scone, warmed slightly, with a steaming hot cup of vanilla chai tea. Ahhhh, perfect, especially when enjoyed with my morning devotions, in peace and quiet as my girls played outside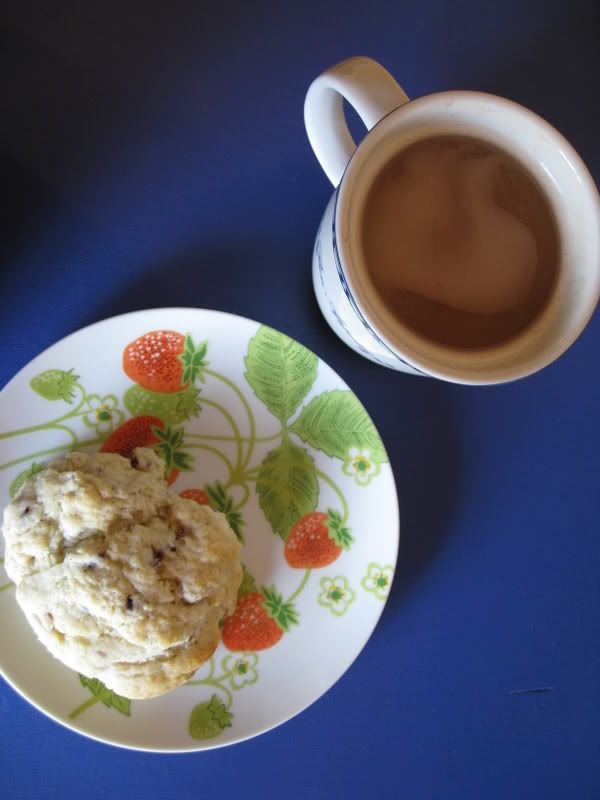 And now for the second recipe. Unfortunately, like a bad blogger, I forgot to take a picture of this before making my meal delivery, but I can tell you that it is one of my most favorite soups ever, and it is ridiculously easy to make.
Tortellini Meatball Soup
2 tablespoons butter
1 small onion, diced
2 cloves garlic, minced
salt and pepper
4 cups water
2 bouillon cubes
2 carrots, peeled and diced
1 1/2 to 2 cups dry tortellini pasta
1 can diced tomatoes, undrained
thyme and basil
12-16 frozen meatballs
shredded parmesan or mozzarella cheese
In large pot over medium heat, melt butter. Add onions and cook for several minutes before tossing in garlic. Season with salt and pepper (you can always add more later) and stir frequently while you let the garlic cook. Pour water into pot and turn heat to med-high. Bring to a light boil. Stir in bouillon cubes and carrots. Allow carrots to become semi-tender before adding tortellini. Immediately add can of diced tomatoes and season with thyme and basil. Reduce heat to medium. Allow soup to simmer, stirring occasionally, until tortellini is almost done (it's easy to overcook tortellini, so keep a close watch on it).
Meanwhile, prepare frozen meatballs in oven as according to package directions. Stir these in at the very last, when the soup has simmered for a little while and the tortellini is done.
Once you have ladled the soup into individual serving bowls, top with desired amount of shredded cheese.
This makes a good-sized pot of soup that is about 6 hearty servings.
Note: This is kind of a made-up, do-it-how-you-like-it recipe (from my mother-in-law), so as with most soups there is a lot of freedom as to what you can put in it. I've found that leaf spinach is a delicious addition, for example. Also, the way I make it, it tends to be low on broth and thick with all the other good things. If you prefer a "broth-ier" soup, you can simply use less tortellini and meatballs, or add more water. (you can also substitute chicken broth for the water and bouillon cubes)
What are some of YOUR favorite autumn recipes, all you comfort-food-loving cooks??