Fall Fashion Week!!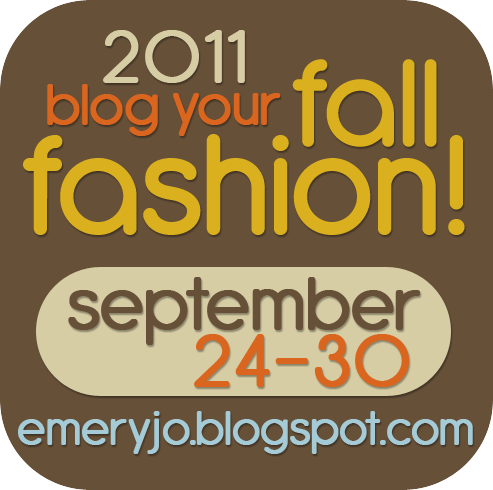 that's right folks, it's back. I've been eagerly looking forward to the lovely and always-fashionable
Emery
hosting this again. because I love fall. and I love fall clothes!
I'll be honest, I debated back and forth so much on whether to do it this year or not... but when it came right down to it, I simply couldn't miss out on the fun, and I'm going to give it my best shot. Sometime this week though, I'm going to need to go shopping. Because my fall clothes are almost NOTHING right now. I blame the fact that it has literally been 100 degrees this week and one cannot wear anything remotely fall-ish. ONE HUNDRED DEGREES. sigh. it's just not right.
hurry, fall weather. HURRY!
because of our weather, today's look is more summery than fall-ish. I am hoping and praying that sometime in this next week I will get to wear a scarf or two. some sweaters, maybe. boots. ohhh, scarves and sweaters and boots. how I miss thee.
all right, I'm done bemoaning our weather. However, if you do happen to live somewhere cool, please send some of it our way?? :) Here's my first outfit:
teal knit dress: Ross Dress for Less
metallic striped camisole: Wal-mart
skinny belt: Target clearance
green stone necklace: Plato's Closet
gladiator sandals: Kohl's clearance
please excuse the poor cell phone picture. and the horribly messy mirror. this was snapped as I was literally out the door with my three girls to go buy a ridiculous amount of groceries in under two hours. (this is no small feat.)
by the way, hello to anyone who is new to my little corner of the internet! I'm delighted to have you! yay for fashion week! :)
day one links
. (oh, so much fashion goodness.)