I'm just going to be honest and upfront about this:
I LOVE SCONES. If I could have a warm scone every morning for breakfast, I would. If I could order a scone every time I set in foot in Starbucks, I would. However, common sense dictates to me that if I did that, I would be fat. And so, I restrain myself.
However, a girl has got to have her scone every once in a while. And these... well, these are pure heaven, is what these are. I first made them on New Years Day for a treat while my family was visiting, and since then I've made them several more times, they're just so good.
(just for the record, I gave them away as gifts... I did not eat them all myself. See? Restraint.)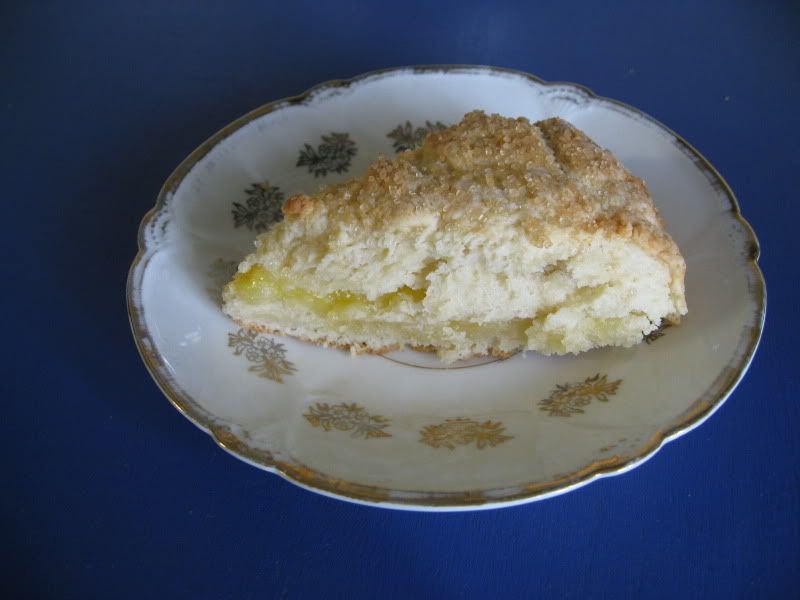 Gingered Lemon Scones
2 cups all-purpose flour
1/4 cup granulated sugar
1 Tbsp. baking powder
1/4 tsp. salt
1/3 cup butter
3/4 cup buttermilk (I always just use soured milk)
1 Tbsp. grated fresh ginger
1/4 cup lemon curd*
Coarse or granulated sugar
Preheat oven to 375. Lightly grease a baking sheet; set aside. In a medium bowl stir together the flour, 1/4 cup sugar, baking powder, and salt. Using a pastry blender, cut in butter until mixture resembles coarse crumbs. Set aside. In a small bowl stir together the buttermilk and the ginger. Make a well in the center of the flour mixture and pour in the buttermilk. Stir with a fork just until moistened.
Turn dough out onto a lightly floured surface. knead dough by gently folding 10 to 12 times or until nearly smooth. Divide the dough in half and pat or lightly roll each half into an 8-inch circle. Place one half on baking sheet and spread it with the lemon curd to within 1/2 inch of the adges. Place remaining dough half on top of the lemon curd and pinch edges to seal. Sprinkle top with coarse or granulated sugar. Using a sharp knife, score the top of the dough into 8 wedges, cutting only about 1/4 inch deep.
Bake for 30-35 minutes or until golden brown. Cool 15 minutes on baking sheet, then remove to plate and cut into wedges. Serve warm if possible.
*Lemon curd. It's like eating sunshine. You can buy it at most grocery stores... or, if you're like me, you can put it on your grocery list on three separate occasions, forget it each and EVERY time, get fed up with yourself and your ridiculous forgetfulness, and just decide to make your own, because heaven help you, you are NOT going back to the dang grocery store AGAIN!
Homemade is better anyway, right? :)
Here's the recipe I used:
Classic Lemon Curd
3/4 cup fresh lemon juice
1 tablespoon grated lemon zest
3/4 cup sugar
3 eggs
1/2 cup unsalted butter, cubed
In a 2 quart saucepan, combine lemon juice, lemon zest, sugar, eggs, and butter. Cook over medium-low heat until thick enough to hold marks from whisk, and first bubble appears on surface, about 6 minutes.
Note: it says 6 minutes, but it took much longer than that for it to get thick enough. And it's very important that you get it the right consistency (it should spread like a jam). Just be prepared to stand there and stir it for more than 6 minutes! but oh, it's so delicious. And, as a bonus, you will have lots left over after making the scones.
Enjoy! Trust me, you will. :)