Today's date: July 7.
holy moly.
This summer is literally
flying
right on by. Like, summer started packing it bags, bought a one-way ticket to autumn and cheerfully began saying its goodbyes so it could make the flight on time. I knew it would probably seem to go by quickly, but this seems
too fast.
My "summer project list" should probably be renamed "Talia's unrealistic and wishful thinking list", as so many of those little boxes remain sadly unchecked. My house is a perpetual mess, no matter how hard I work to keep it clean. The closets and cupboards are even worse. (Would you like to have a good cry? Come look at my closet. Because yes, it will make you weep.) Organization needs to happen around here, and soon. Laundry is always sitting in baskets, either waiting to be folded, or put away, or washed again. I have yet to make my final decisions and purchase school things for this fall. Somehow I seem to be always busy and always trying, but cannot seem to get caught up with anything at all. This all makes me feel a bit stressed and overwhelmed as the summer speeds onward. Please tell me I'm not the only one.
But. BUT! There is a bright side to this post! (I promise to always have a bright side, if at all possible. hehe.)
We are having fun!
No, our summer fun list isn't getting checked off quite as speedily as I thought it might, but it IS getting checked off. There has been lots of swimming, reading, watching of movies, sleeping in, good eating, playing in the backyard, time with family and friends, dancing, outings, listening to great music, and just general summer-timey goodness, wonderful and warm, soaked through with happy memories and sunshine.
A chubby Rosalie in her bikini. I die.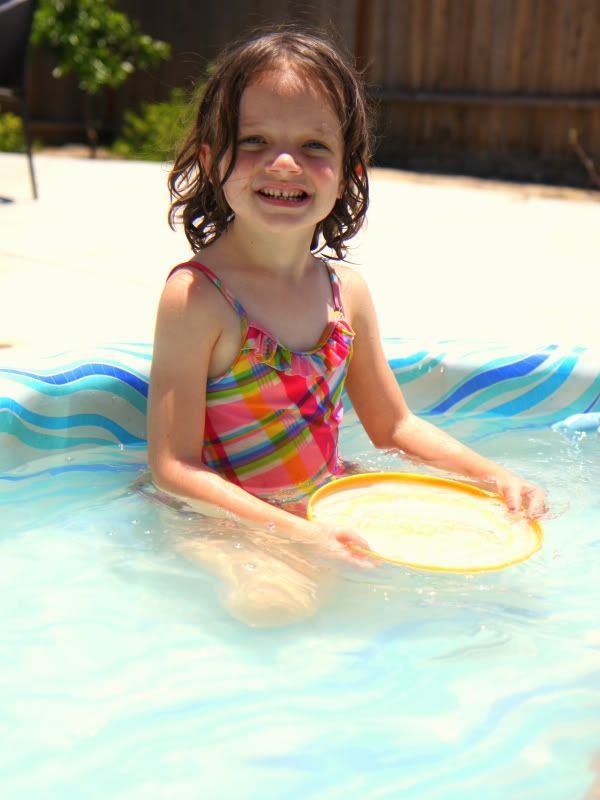 All aglow from the sun, happy in our little backyard pool.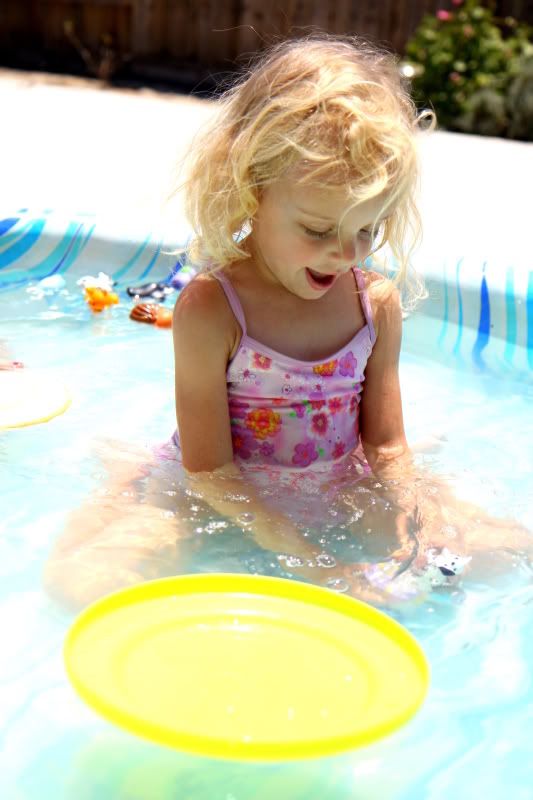 They have delightful adventures in that little pool.
On Monday, since Jeremy was off work, we took the kids to see Toy Story 3. We weren't going to see it in 3D, since it's more expensive and I wasn't sure if the kids would really enjoy it enough to make it worth while. But since the 3D was the only one not sold out, we went for it, and I'm glad we did. The girls looked SO cute in their little 3D glasses! It really thrilled them. Annabelle kept reaching forward, trying to touch the images, the biggest grin on her face.
We LOVED Toy Story 3. So heart-warming and touching, funny and delightful. I laughed so much (and cried, too). We're those people who almost never go see movies in the theater, but I'm glad we didn't wait for this one to come out on DVD. Go see it if you haven't already!
We love you, summer! (and if you promise to slow down a bit from here on out, we'll love you even
more
. Pretty please?)