I wasn't really planning on writing a post about
our trip to Rock Springs
(I posted all my pictures to facebook... that's good enough, right?), but then it occurred to me that in not doing so, I would neglect to mention some news here on my blog.
News of a very lovely and wonderful sort!
You see, while we were there (on Friday afternoon, June 25, to be exact) THIS happened: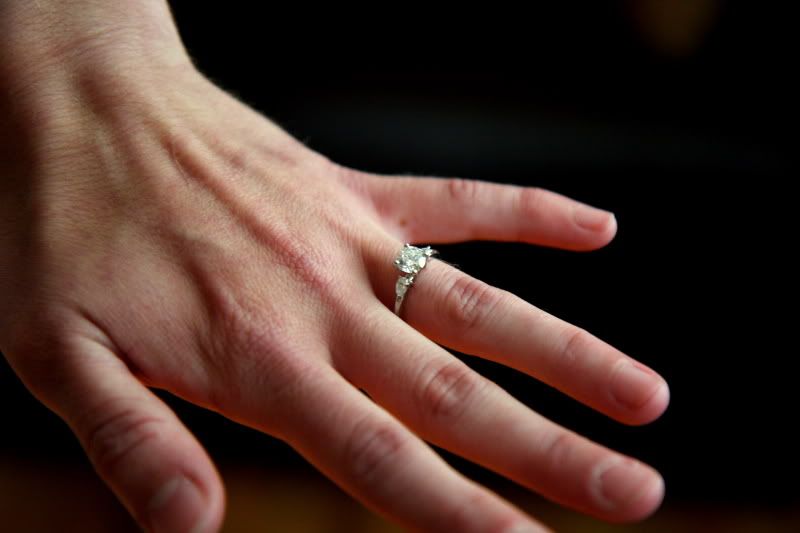 Yes, that is an engagement ring on my little sister Jerusha's finger! Her boyfriend, Christopher, proposed! (These pictures were taken after the fact. Since none of us were in the room for the actual proposal, they were kind enough to re-enact it for us. hehe)
I was SO happy and absolutely thrilled that it all took place while we were there. The hard part about being far away from family is not getting to be there for some of the biggest moments, the times when you just want to cry or jump and down together, hug and squeal and see the smiles shining on everyone's faces. So the fact that I was able to be there to celebrate with my sister and everyone else only moments after she had said "Yes!" was nothing short of amazing.
My other sister Lydia and I were in cahoots with Chris all day Friday, helping him to surprise Jerusha and getting everything in place for the big moment. It was so much fun, and we discovered that we are both very adept at lying. (but don't worry, we promise not to use this talent for any ill or evil purposes.) She had NO CLUE this was all happening, which it made it that much more wonderful.
Chris' proposal to her was sweet and simple and meaningful, involving hand-made storybooks he wrote and the romantic set-up in the first picture. I'm sure Jerusha will remember it for always. He made it perfect.
And how about that ring?! Gorgeous!! Good job, Chris!
Lovely sister, I am so happy for you and pray for God's biggest blessings on this time before your marriage, as you get ready to be a wife to the man you love.
Congratulations, Chris and Jerusha, you happy adorable couple, you.
(I can hardly wait for your wedding. Whee!!)
props to my honey for the great pictures. :)