Is it just me, or is the month of June completely and totally whizzing right on by with very little regard to any wishes for a lazy and laid-back summer?? Oh, June. So inconsiderate.
But, I won't let June, or any of these summer months, actually, get the best of me. When I start to feel a wee bit desperate and overwhelmed, I know exactly what to do: make a list, of course.
I know these types of lists have been floating around the blogosphere lately, but I first saw one over at
Jimaie's blog
(and let me tell you, here is a girl who knows how to have fun. She's a great mommy, and I very much admire her fun-having abilities). Now that I go look at her list again, it's funny how many of our ideas are the same. Great minds, they really do think alike. hehe. Anyway, I loved the idea, and you know what? as soon as the girls and I sat down and made out our summer fun list, I felt so relieved. Like maybe June and all its haste won't get the best of me after all.
Summer, you are going to be refreshing and relaxing and wonderful and memory-filled and FUN! And that's that!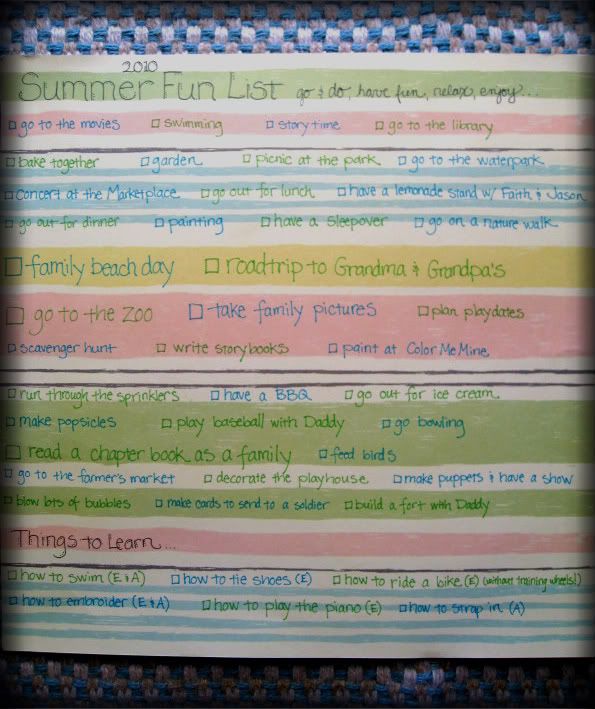 And then, because I love lists so much, I made one just for me too:
Apparently, judging by the size of these two lists, I think summer is 6 months long and that all housework, laundry, and other duties will be performed by the magical elves who live under my bed.
Happy summer to you all, darlings. :)