Around here, we have birthdays and holidays one right on top of the other. Annabelle gets us started on Dec. 23rd, followed of course by Christmas, then my father-in-law's birthday on Dec. 30th, then New Years, my brother's birthday on January 2nd, my brother-in-law's birthday on the 4th, Emma's birthday on the 9th, and then finally, wrapping it all up, my birthday on the 11th. Whew. (this is why I hardly ever do anything for my birthday... I'm usually pooped out by then. hehe.)
Anyway, it is quite high time that I get back into blogging and caught up on the birthday happenings of me and my girls.
Annabelle woke up on the 24th and came dancing on her tippy-toes into my room, waking me up with a delighted "Mommy, mommy, today I'm FOUR!!" Her excitement simply could not be contained and she literally danced through the day. Meanwhile, I was in shock that our little Annabellesie-boo was really four. Three still seems like a toddler, a little babyish child, but there is something about FOUR, something that seems so much
older
.
We started the day off with lots of hugs and kisses and jumping up and down, and of course, a present to open. Last year I began the tradition of getting each girl a new dress for them to wear on their birthday.... usually it's just something from Target that caught their eye and I sneak back later to buy, but it makes them incredibly happy to put on their "birthday dress" and go around looking fancy all day.
After donning her birthday finery, we headed off for cupcakes at Sweet Surrender with Auntie Jessica and cousins Faith and Jason. Nothing makes a birthday girl happier than frosting and sprinkles!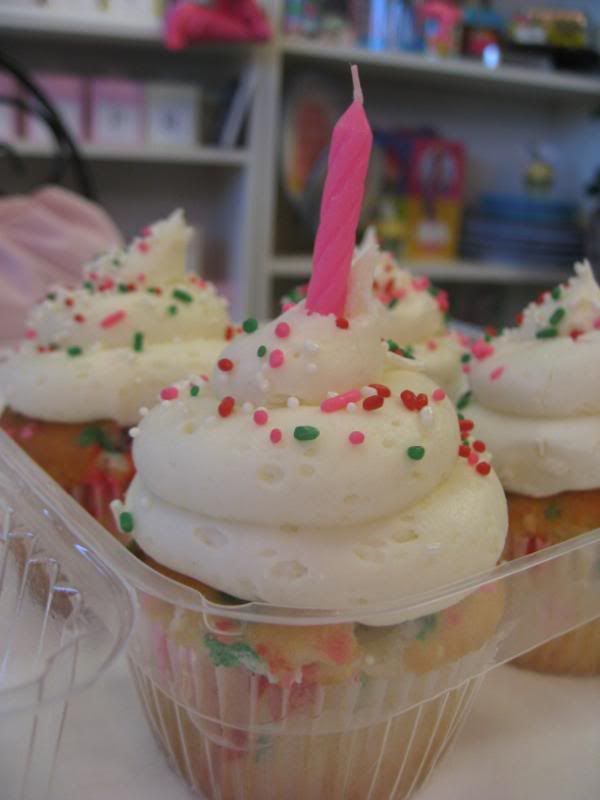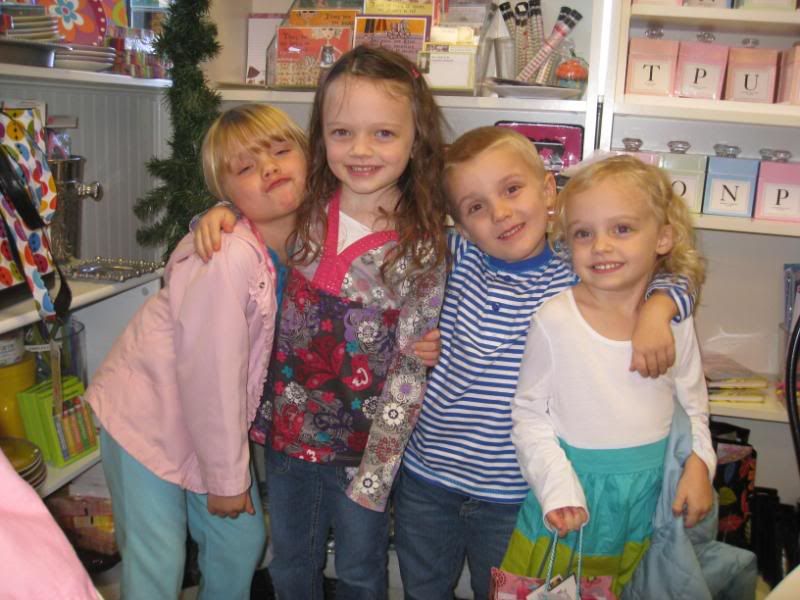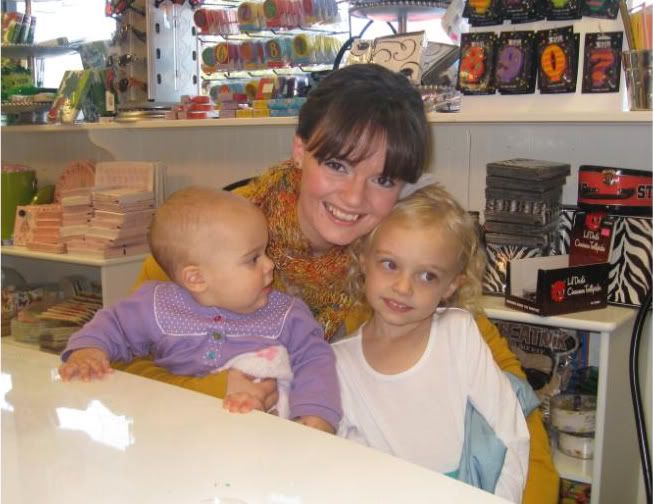 oh, and don't forget about the silly birthday glasses. Always stylish. Teehee!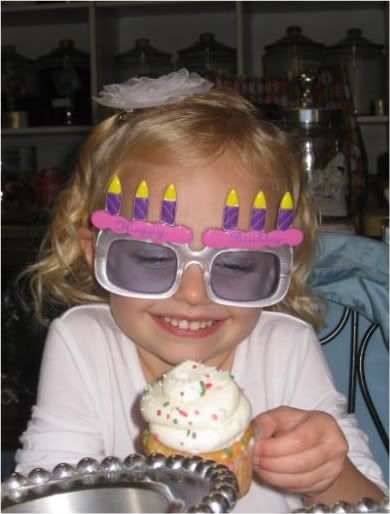 That evening, when Daddy walked in the door with four big balloons, she was beyond excited... but even with those balloons to distract her, only one thing was on her mind: "is it time to open the rest of my presents now??" They had sat on top of the blue dresser all day long, just teasiing her with their pretty ribbons and promises of fun things. So, FINALLY (at least in her mind) we sat down and she got to tear into them.
Now, call me a horrible mother if you will, but I literally had nothing planned for that night. I was clueless as to what we were going to do, if anything. And since I didn't want the evening to pass without some celebration, we simply asked Annabelle what SHE wanted to do. Turns out that she had it all planned out in her little head. "I want to go to Johnny Rocket's and eat dinner!" So that is precisely what we did. And it was perfect. (I may never plan another birthday again... I'll just ask my kids to do it for me. ha!)
The great thing about having a birthday so close to Christmas is that there are lots of lovely things to do and see at that time of year. After dinner we headed over to Starbucks and got hot chocolate in red cups. Then, hot drinks warming our hands and Josh Groban serenading us with Christmas carols in the van, we drove around and looked at Christmas lights. Perfection. I think our four-year-old had a very merry and lovely birthday, and that makes me so happy.
It really is amazing how much this daughter of ours has grown and changed in four short years. She is our child that likes to rock the boat (we'll be sailing along just as smooth as you please and then BOOM! meltdown of epic proportions), and while she continues to give us many parenting challenges, keeping us on our toes and humbling us daily, we are always surprised and delighted at the facets of her personality. Annabelle Grace is our giggler who expresses her glee with every inch of herself, our dancer always on her tippy-toes, our jumping bean, our songbird who warbles all day long, our fluffy-headed blondie, our skinny little munchkin... a true blessing in our group of girls, this middle child who steals hearts and never gives them back.
Just a few of my favorite things about her at this age right now:
*the way she shrieks and squeals and squirms when you tickle her. And by tickle I mean hardly touch her. It's rather ridiculous... but so much fun!
*her love of "doing school" with Emma and me. If I try to send her away for a bit to play, it's as if I'm punishing her. She wants to be right there with us, doing her workbooks.
*her klutziness. I know, maybe I shouldn't love this, but it's just so HER. This is the girl who literally RAN into a door frame on Christmas Eve (giving her quite the bump on her noggin) and falls off her chair when she's simply sitting there. Sigh.
*the high-pitched voice she uses to talk to Rosalie. It may very well be one of the cutest things ever.
*Her extreme love of Emma. They are literally inseparable.
*The way her curly head looks when she wakes up in the morning. We don't call her "Annabelle Fluffyhead" for nothing.
*The way her nose wrinkles up when she laughs.
*Her sweet little voice, and the way she pronounces and emphasizes certain words. "God woved us and sent HEES Son." melt.
She is growing every day, changing all the time, and I'm soaking her up as much as I can.
From this little baby (around 4 or 5 months old, and so much skinnier than any of my other babies have ever been!)
to this beautiful little girl
she has been a joy and a blessing in our lives. Happy fourth birthday, sweet Annabelle, we love you so and pray you will only continue to grow more and more beautiful and lovely in our Lord as the years go by.
And oh goodness do those years go by quickly. Don't grow up TOO fast, little daughter!