Christmas came and went all too quickly this year, in my opinion. I felt like I was playing catch-up all of December, especially after our unplanned trip to CO (which I would not have missed for anything), and trying so hard to get everything done... and then
whoosh
, all of a sudden everything WAS done and Christmas was done! And I can't help but feel like maybe I missed something, maybe it wasn't exactly what I hoped for. It was Rosalie's first Christmas. Our first Christmas as a family of five! Did I make it special enough? Did I soak it all up like I needed to? Will I truly remember and cherish the things that made it wonderful?
Well, it may not have been EXACTLY what I had in mind, and I'm sure that there are plenty of things I could have done differently, but one thing for sure is that I most definitely WILL remember and cherish it. It was simple, low-key, and merry in just the right kind of way.
On Christmas Eve we had a lovely little gathering here at our house with our family on Jeremy's side. It had been a while since we'd all been together, and it was so wonderful to see them all and just hang out while we ate large amounts of food and opened quite a few gifts. I simply love having our home filled with family!
Jeremy's mom (Grandma NetNet) and her husband Randy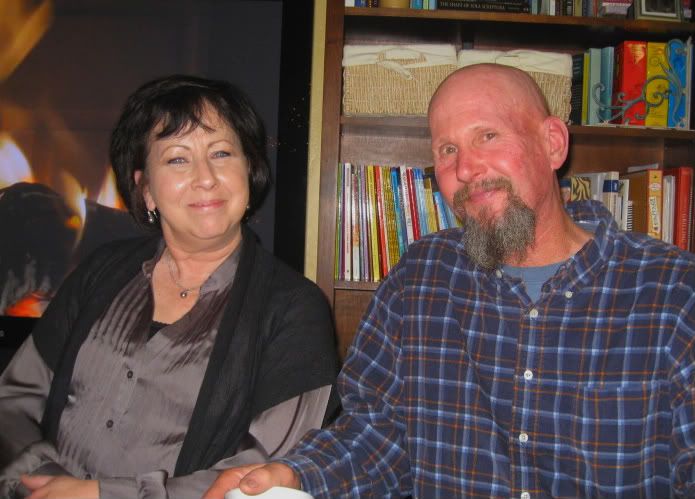 Thomas and Caitlyn looking all cute, Brent hiding quite conveniently behind his knees, Steph giving Cale a rather quizzical look as he comically attempts to undo the ridiculous packaging on Emma's doll. I love this picture. :)

Rosalie and Brent. what a great pair.

On Christmas morning we always go to church, so we wait and do presents once we get home. However, we did manage to squeeze in time to open our stockings, all of us in our pj's. Even Rosalie got excited about the stockings, and she quickly fell in love with her new little dolly.
Unfortunately, pictures of our kids opening stockings and presents are sadly lacking from this year. But I did take a few videos here and there. This one is from right after we did stockings.
Nothing too groundbreaking, but at least my girls are cute and you get a glimpse of Jeremy's bright blue Wii pj's. Whee! :)

Christmas Morning 2009 from Talia Bridgman on Vimeo.
After stockings we all got dressed up in our Christmas finery (per Emma and Annabelle's request), and Daddy took some pictures while Mommy rushed around trying to finish getting herself ready.
I literally squealed when I put this hat on Rosalie. Can you see why??
Cheeeeeeeeeeese. (but they sure do look pretty)

We enjoyed a joyous service with our church family, and by this time Emma and Annabelle were absolutely DYING to get to the presents. But first, I made us all take some more pictures while we were still dressed up. Mostly, because I wanted to give up being cute for the rest of the day, since we were going to be home, and change into my yoga pants and a sweatshirt. (which is exactly what I did.)
My loves. So much wonderful in one picture!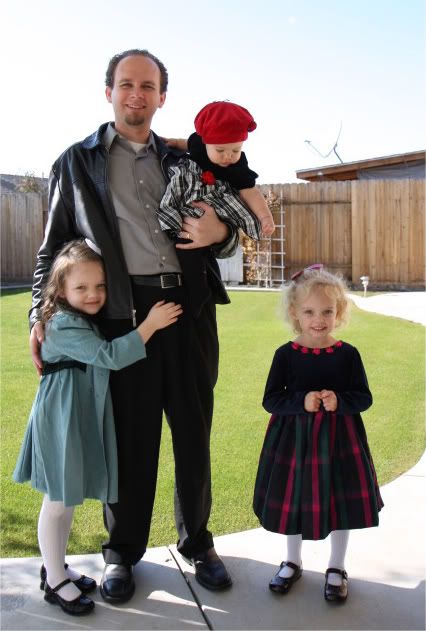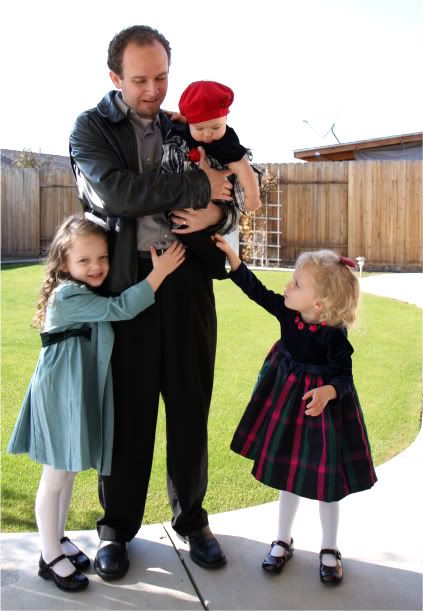 A rare picture of me with all THREE of my girls!
A bit of silliness. Always a good thing!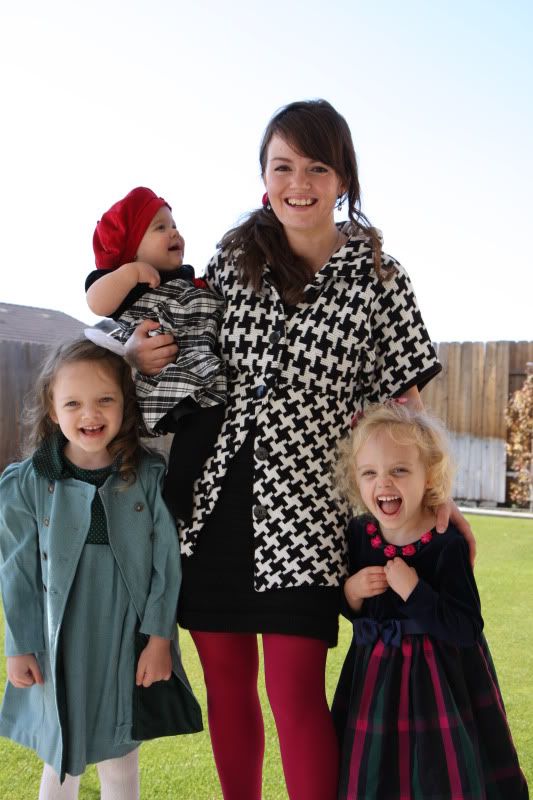 And that is pretty much how we spent the rest of our Christmas-- being lazy and relaxed, simply enjoying our time at home. Opening presents, having a few family members drop by to our delight, watching movies, playing with new games and toys, coloring, napping, spending time on the phone with all of our family in Colorado (whom we missed oh-so-VERY-much), and eating more than our fair share of fudge and other goodies. It was lovely.
Emma was thrilled with her new Polly Pockets and paper dolls, and Annabelle received a plethora of Tinkerbell things which made her little self quite happy. And Rosalie crawled in and out among all the wrapping and new things most determinedly and curiously, creating trouble as well as smiles from the rest of us. And that night as we got ready to tuck them into bed, we talked about the very best present of all: that of Jesus, God's Son. I am so glad that they can begin to understand this wonderful truth.
It is so comforting to know that no matter what each Christmas may bring, or with whom we may or may not get to spend it, it is still always about the JOY of that truth. JOY is always present and alive. JOY to the world, the Lord is come!!
JOY. An abundance of it!