These brownies will definitely fill your craving for something sweet, chocolatey, rich, and gooey. And, there's good news! I found this recipe in a Cooking Light magazine... so, hey, they're practically good for you! Health food! Right... right??
okay, so maybe not, but they're so decadent and yummy you won't actually care.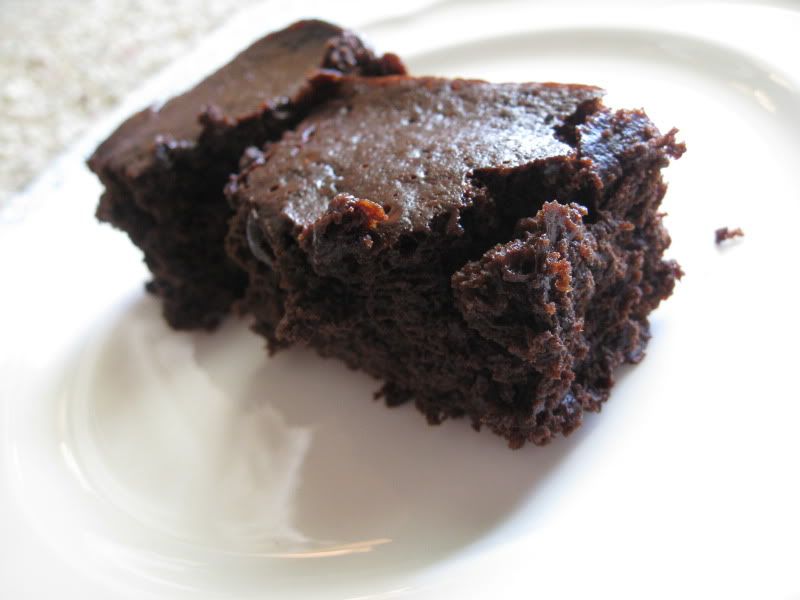 Dark Chocolate Cherry Brownies
3/4 cup flour
1 cup sugar
3/4 cup unsweetened cocoa
1 tsp baking powder
3/4 tsp salt
1/3 cup cherry preserves*
1/3 cup water
5 tbsp butter
1 large egg, lightly beaten
1 large egg white
1/3 cup semisweet chocolate chips
powdered sugar (optional)
Preheat oven to 350 degrees. Line a 9-inch square baking pan with parchment paper and coat with cooking spray (or, simply grease the pan really well-- I didn't use parchment paper and it was ok).
Combine flour, sugar, cocoa, baking powder and salt in a large bowl; stir with a whisk. Combine preserves, water, and butter in a small saucepan; bring to a boil. Add preserves mixture to flour mixture; stir well. Add egg and egg white. Stir until smooth. Stir in chocolate chips. Scrape batter into prepared pan and bake at 350 for 20-25 minutes or until a toothpick inserted in center comes out with a few moist crumbs. Cool in pan on wire rack. Sprinkle with powdered sugar, if desired.
*you can actually use any preserves you would like. I didn't have any cherry preserves on hand, but I did have blackberry, so I put that in instead. It was so good! I really want to try these with orange marmalade or raspberry... mmmm.
And while we're on the subject of things that are simply scrumptious, I would have to say that a blonde little girl in Pippi-like braids definitely falls into that category.
This was the first time I'd tried doing her hair in "pigtail braids"... I immediately fell in LOVE with how they stick out.
That's it for now! In my opinion, you should all go make some brownies. Because, you know, that's pretty much always a good thing.