So. I've been rather absent this week, due to several different things. And this, my friends, is not even a REAL blog post. Nope, I'm just going to play a bit of catch-up and use the ever-wonderful bullet point. (wait a minute, I don't know HOW to do a bullet point. Shh, don't laugh at me. I'll use dashes instead.)
-THE MOST IMPORTANT THING: On Sunday, we leave for Denver to visit my family!! And we're driving, which we've never done before. I have mixed feelings about this... excited to be on the road and seeing all the beautiful scenery, spending time as a family, but rather apprehensive about how it will go with a baby who has never been on a LONG car ride (about 16 hours total, although we're doing it over two days). It'll definitely be different. Hopefully, it will be a very fun different, rather than an oh-my-gosh-why-did-we-do-this different. :) Either way, we simply cannot WAIT to get there and see everyone and have a lovely week full of all the fun family things we love best. Please pray that we will have a safe and uneventful drive.
-On Tuesday I got sick with the flu and did some major throwing up. It's now Friday and my tummy is still not completely back to normal. However, because of this, I've lost 7 pounds this week. And while I'd rather not have been sick (especially THIS week), I certainly won't complain about that part of it. :)
-
Miss Alyssa
recently started hosting her crafty challenges again (can I get a yay? yay!), and I was so happy to see that this time
it was jewelry
. I'd been wanting to try my hand at making a cute necklace for some time, so this was the perfect excuse. I had grand plans to go to Michaels and pick up some super cute supplies this week, but what with the puking and the million things I already had to do, that just didn't happen. Oddly enough, I'm glad, because it forced me to look around at the things I already had and see what I could come up with. And this is what I ended up making:
Cost: $0. Just a chain from a necklace I didn't wear anymore, some old buttons from my jar, and a bit of good glue. I think I really like it! Thanks, Alyssa, for inspiring us to get creative!
-It's been what feels like ages and ages since I went to coffee or had some sort of good girly time with my sister (in-law, to avoid confusion) Jessica. I'm having withdrawals.
-Today, one of the girls that I used to babysit (old family friends) is getting married. Yes, I do feel a bit old, but mostly I am just excited and glad and happy that God blessed this lovely young woman with a wonderful man who is perfect for her and I wish them all the best. I also wish I could be there for her wedding, because my two sisters Jerusha and Lydia are both bridesmaids, and I'm pretty sure they are going to be absolutely drop-dead gorgeous. Can't wait to see pictures of it all (taken by my very own dad, who incidentally gets to be the wedding photographer)!
-I really love this picture of me and my sweet honey-bunches.(taken on our birthday date last Saturday-- a happy and wonderful time was had by all. And by all, I mean US)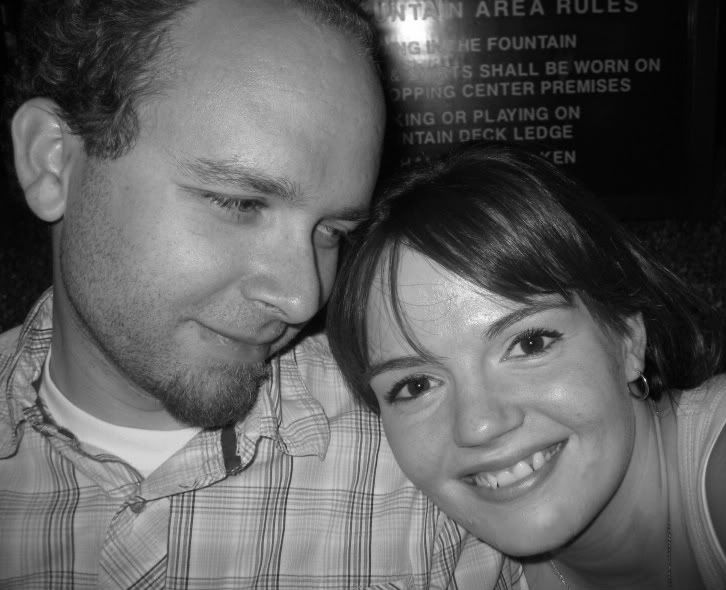 -And I really really love this picture of Rosalie-roo!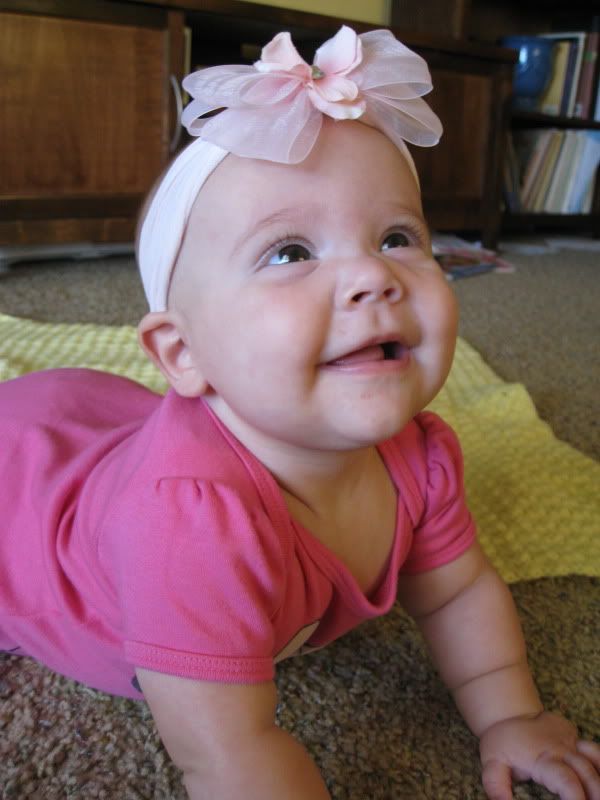 She is 5 months on Saturday, can you believe it? Me neither. I of course plan to write a 5-month blog post and show you many more adorable pictures, but that will have to wait until we get back home.
That's about it for now, darlings. I shall be back again in a week or so to regale you with stories and pictures galore! I hope all of you have a delightful weekend/week ahead of you...
xoxo.