Yes, indeed, I have lots to catch up on! Where did this week go? It just flew right on by...
First things first: I've been so excited to pick my winner for the gender guess give-away! You all were so sweet to comment and leave your guesses, and like I already said, I loved hearing what everyone thought-- now, here is your due reward for all of that careful thought you put into those guesses.
Aaaaaand, actually, I know I said only those of you who guessed
right
would be getting a prize, but I just couldn't leave all you other people out. See how much I LOVE you all?? So yes, those of you who guessed "BOY" (15 total) were entered into a little drawing all your own! Let's start with that one.
the names go carefully into a bowl....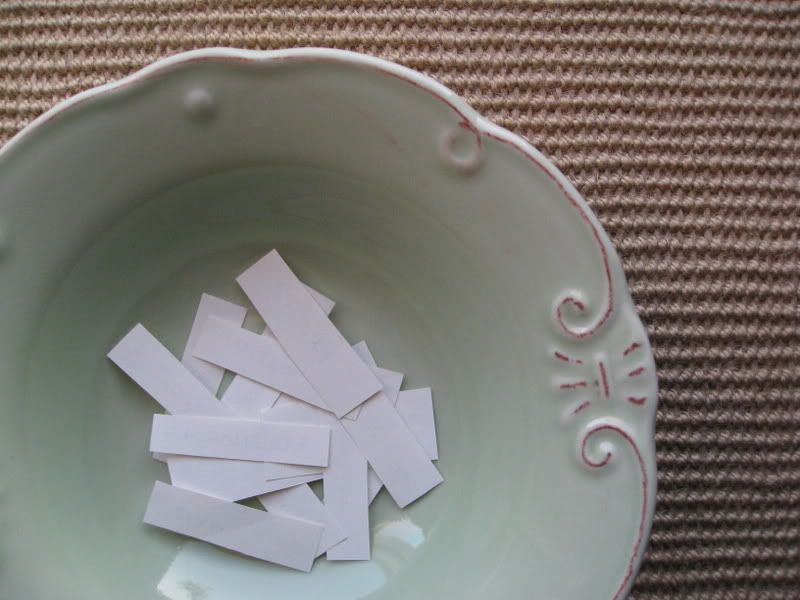 I screw my eyes shut tight (no pictures of that, it's no-make-up day), mix 'em up real good, and pull out a name:
And yay, it's the lovely Morgan, from over at
Mrs. Priss
! Here is your little prize, courtesy of the all-too-addictive-and-fun Etsy:
A sweet set of blue-bird notecards
(actually, on this particular prize, I was completely torn. Would you rather have this instead?? I think I'll leave it up to you...)
Just e-mail me your address, my dear, and I will have it shipped directly to you.
And now for the 10 of you who guessed (correctly, yay!) "GIRL".
A different set of names.... same bowl. But see, you can tell these are the "girl" names, because the bowl is wearing a cut lil' bow this time!
Eyes shut tight again and another name is drawn, and this time, it's...
Sweet Karen, from over at
ThatMom.com
(has a nice ring to it, doesn't it)! Hooray! How fun! And here's what you've won, also found on Etsy (or, The Place of Treasures Untold):
A lovely little pink birdie dish

I believe I already have your address, having asked your lovely daughter-in-law for it at some point, so your little giftie will be on its way quite soon.
Thank you, everyone, for playing along. You're all darlings!
Now that we have the prizes taken care of, it's time to post another belly shot. Here is my 21-week belly, taken on Sunday when I looked nice and presentable :)
I feel quite large lately, in all honesty, but that's ok; it means our little girl (whee, I love being able to say that) is growing healthy and strong. Of course, that doesn't account for the extra padding on my bottom and thighs, but I've chosen to ignore that part of my body until after the baby arrives. No problem, right?
Last but not least, I know I didn't post a Tasty Tuesday YET AGAIN, but I actually did have a recipe I really wanted to share this week! So I'm just going to go ahead and do it two days late. You'll be glad I did, trust me, when you taste this a.maz.ing bread. I think I ate a whole mini-loaf myself (hmm, come to think of it, THAT could account for the butt and thighs...).
Pumpkin Streusel Bread
1 2/3 cups all-purpose flour
1/4 tsp baking powder
1 tsp baking soda
1/8 tsp salt
1/2 tsp cinnamon
1/2 tsp nutmeg
1/3 cup butter, softened
1 1/3 cups granulated sugar
1/2 tsp vanilla
2 eggs
1 cup pumpkin puree
1/3 cup sherry
Streusel Topping:
2/3 cup brown sugar, packed
2 Tbsp butter, slightly softened
3 1/2 Tbsp flour
1/2 tsp ground ginger
1/4 cup chopped walnuts
Sift together dry ingredients. Set aside. Cream butter with sugar until light and fluffy. Add vanilla, eggs, and pumpkin puree. Beat well.
Mix pumpkin mixture with flour mixture and sherry. Blend just until ingredients are combined.
Pour into a greased and floured 9x5 inch loaf pan.
For streusel, cream butter with sugar. Add flour and ginger. Blend with hands to form small crumbles. Add walnuts.
Sprinkle streusel topping evenly over batter.
Bake at 350 degrees for 50-60 minutes, until toothpick inserted comes out clean. Cool on rack for 10 minutes, then remove from pan and allow to finish cooling.
Just look at that beautiful orange batter. It stays this lovely color when baked too.

As you can see, I actually like to bake mine in mini-loaf pans (found in the foil pan section of any grocery store) because the little loaves make such perfect and fun gifts to pass out. Also, I doubled the recipe (it uses up one whole smaller can of pumpkin that way), which makes 5 mini-loaves. Just remember to set your bake time for less, since they will get done faster!!
And, enjoy. This recipe is one my mom made for one of her amazing Christmas Open Houses, years ago, and it has been a favorite of mine ever since. Whether you want to keep it and eat every single crumb by yourself (and I wouldn't judge you if you did), or tie a pretty bow around it and make someone else's day with some home-baked goods...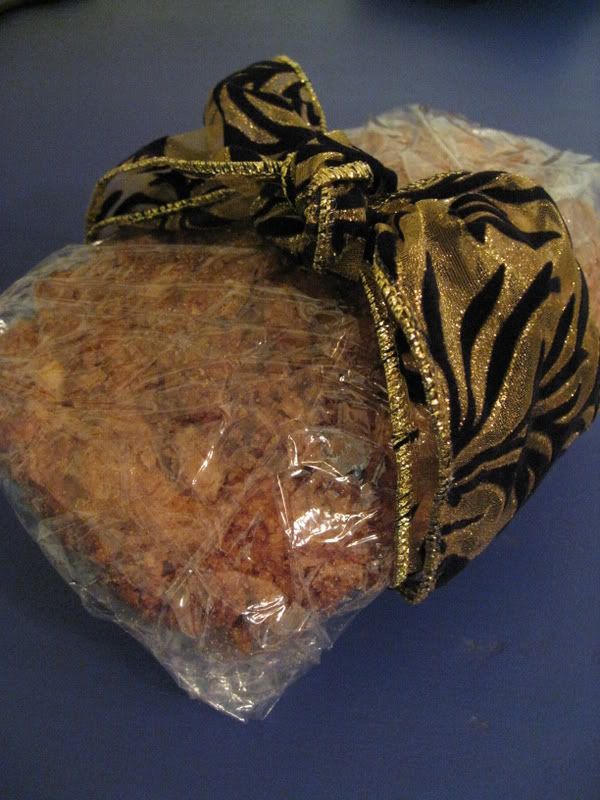 ... you will find that this is a perfect fall/holiday recipe too yummy to make only once.
Whew! That's enough for one day. Don't worry, those Disneyland pictures are still coming, as well as a blog about the Amazing and Wonderful week of adoption festivities...
just not today. :)
P.S. Look at what I saw in our paper this morning as I was flipping through the "Go and Do" section!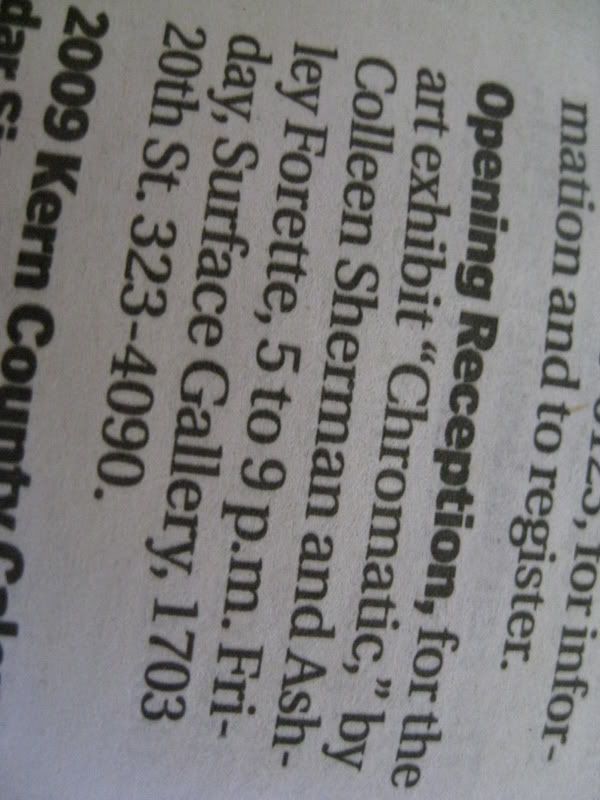 So exciting to see some names I know!!
Ashley
and
Colleen
are both such amazing photographers, and I couldn't be happier for them. Congratulations, girls! Do go and check out their show if you get a chance.