This little fairy not only looks stunning, she dances too!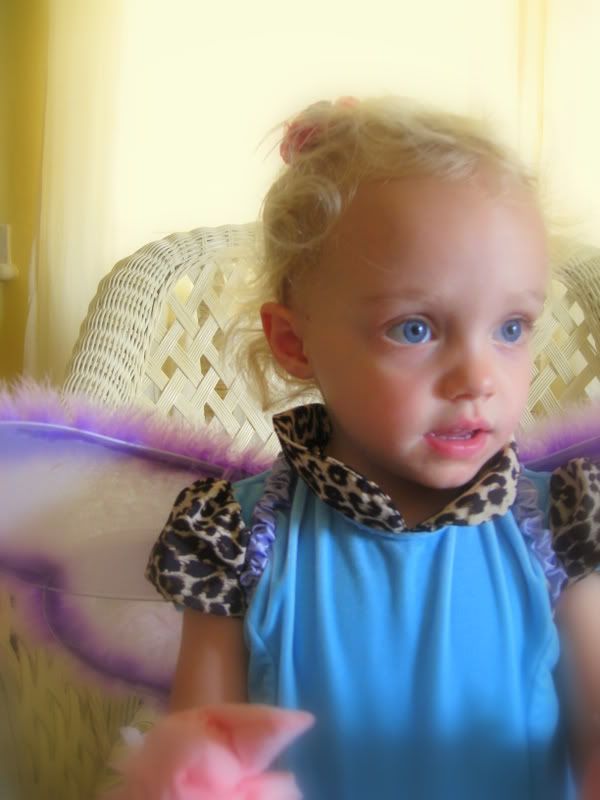 And her blue eyes could melt any heart. It's one of her powers.

To achieve this look, all one needs is a pair of one-size-too-big church shoes, gray knit leggings, a crazy blue leopard print dress, pink satin gloves, purple feathery wings, and of course, the finishing touch... a Christmas bow.
I am loving how much Annabelle has gotten into things like dress-up, fairies, and anything having to do with princesses. Yesterday afternoon she arrayed herself in this get-up and spent the next few hours being adorably cute. So much girly fun!
Tonight, the Sugar Booger is living up to her name in that she has a nasty little cold. She and I have spent a quiet evening at home while Daddy and Emma went to our usual Wednesday night activities. (Normally, we drop the girls off to play with their cousins and spend some time at my mother-in-law's, with Grandma Net and Granpa Randy, while Jeremy and I sing our little hearts out and be silly for an hour at church choir.) Annabellesie and I had a grand ol' time.... she watched Charlie and Lola on our bed while I did some much-needed organizing in our room, we colored and stuck tons of princess stickers on the pages, we ate marshmallows, we talked to Grandma (both of them!) and we had bath time after which we made sure to put on our girliest-smelling lotion.
While I certainly hope she feels better tomorrow (and that she sleeps MUCH better tonight than she did last night, please Lord), I am so glad for the evening we got to spend together. One-on-one time is so precious.