Ah, summertime-- the time of year when temperatures soar to over 100 degrees and leaving your air-conditioned house is such a big deal that you actually debate whether those groceries are a true necessity or not. About this point in the Bakersfield summers, when it feels like it's been hot outside for ever, I have to begin to remind myself of all the things there are to look forward to come cooler weather. That cooler weather is only around the corner, after all. The summer is, for the most part, flying by, and before too long I will be once again enjoying my jeans and sweaters... cups of hot tea and cocoa in the evening... cool, gray days of cloudiness and refreshing rain... long walks in pleasant temperatures and breezes... steaming-hot yummy soups for dinner... a clear view of the beautiful mountains which surround us... nice big blankets on our beds... the kids playing outside anytime they want, without roasting... actually ordering a HOT drink at Starbucks and enjoying it cozily with a friend... and so many other things that have become but a distant memory in this unwavering summer heat.
Meanwhile, we have managed to find some activities that help to keep us cool and pass the time. This past Sunday afternoon, we did this:
.... for at least a couple hours. Of course, this picture was after I got up, but trust me, I was right in there amongst all those pillows, snoozing away for quite some time. It was glorious.
There's been lots of running through sprinklers in the backyard, along with some dancing thrown in by Miss Emma.
Thoroughly wet and enjoying herself very much, here is fairy Annabelle and her dinosaur sidekick. Rawr.
After our kitty-cat popped our last pool (a nice inflatable one), we finally went to the store and got a replacement-- one that does NOT contain air. The sprinklers are great fun, but when all is said and done, nothing is cooler or more fun than some swimming. As you can see, Emma LOVES it.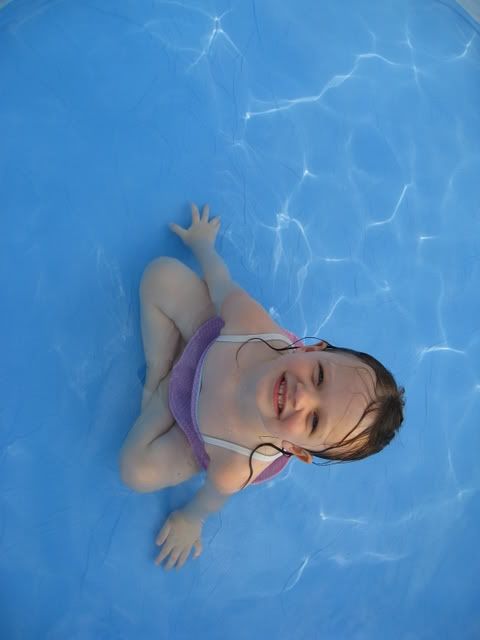 Such cute swimming sisters. They could spend hours in that pool... and they sometimes do! Mommy is quite happy about this. :)
So, you see, summer
is
bearable after all! It's not my favorite season, but each time of year has its fun and blessings. I'm learning that, even while I look forward so much to the coming of fall.
Ah, October....