This was a fun little project I did this morning. It's cheap, easy, and cute. And if you ask me, those three things are the crafting trifecta.
I snatched this up at Goodwill for $1.50 on one of my thrifting trips:
But the problem was, I wasn't exactly sure what I wanted to do with it. I knew it had potential to be
something
, but I just wasn't quite sure what. So, it sat in my closet for about two months, getting even dustier than it already was (sad).
I've learned not to rush into projects until I really know what I want them to be, from past experiences (hello. I've painted my coffee table three times now in as many years. I'm indecisive.), and I'm so glad I waited to do something with it until I actually had a good idea.
A good cleaning, a coat of primer, a couple coats of spray paint, some stressing, hot glue, and a package of sheet moss turned that ugly dirty thing into this:
A mossy tray, to be used for creating woodland scapes or whatever your little creative heart desires.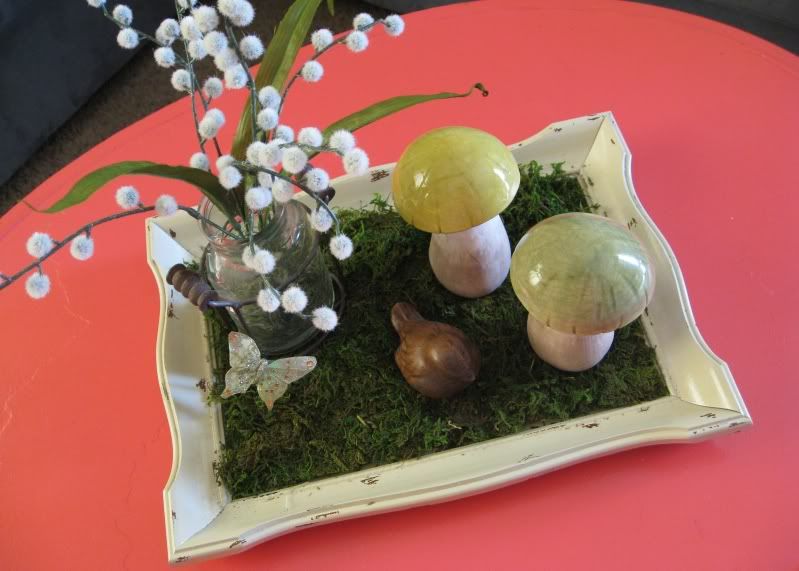 Ideally, if I would have had the time, I would have loved to have turned this into an actual mini landscape-- sort of like a terrarium on a tray. Someday I think I will. But, as I was short on time, I just used a few things I either had sitting around the house or that I had recently bought to simply set on there and make it look "natural-ish" and sort of woodsy. I'm so taken by natural and botanical things of all sorts, lately. Perhaps it's because of all this sunshine and spring-like weather we're having. Or, perhaps it's simply because, when it comes to beauty, you can't top the things we find all around us in creation. I love things that mimic that beauty in my home.
I found these adorable ceramic mushrooms on sale at Michael's. Mushrooms are delightfully quirky, I think. This little brown birdie has been a friend of mine for some time now, and he was more than happy to be put to new use.
Michael's also had lots of beautiful butterflies and spring flowers on sale. I should not be allowed in that place. TOO MUCH GOODNESS.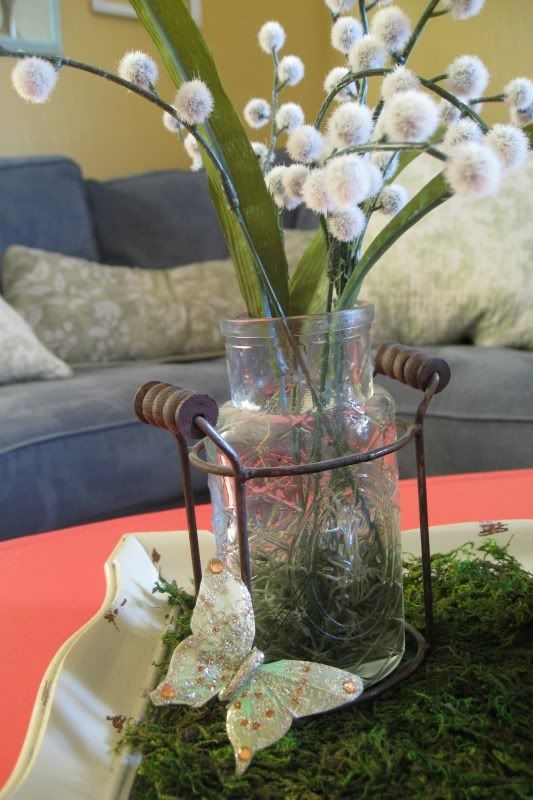 This latest project of mine now cheerfully resides on our coffee table, and it's just what the living room needed.
(and now, join me in hoping that a certain little toddler can leave my mushrooms alone.)