First off, I would just like to say that I realize what a horrid blogger I've been. I realize how INCREDIBLY behind I am on posting things and on reading everyone else's blogs. I realize it has been AGES since I've done a proper post on my children and about 193,648 other things that are probably much more fun to read about than my coffee table. But. I've been sick this week. And I'm behind in everything else as well. So, this is what you get: an entire post dedicated to a piece of furniture. I'm ok with it. I hope you are too. Don't leeeaaaaaave me!! don't give up on me yet, dear readers!!! :)
If you have read my blog for any length or time or happen to know me personally, you must know that I like to paint things. I paint anything and everything that can be painted, sometimes more than once... as is the case with our coffee table.
It all began not long after we moved into our house, when I began the search for the perfect coffee table. I wanted it to be round, I wanted it on the smaller side, and I didn't want to spend a fortune on it (ie. over $50 dollars. I'm cheap.)
I searched high and low, in every goodwill and thrift store I could think of, at Target and Walmart, even in furniture stores (which of course, was pointless). Nothing. Meanwhile, we continued to drag the piano bench over in front of the couch whenever we needed a place to set drinks or rest our feet. Those were dark days indeed (haaa).
And then, one Saturday I headed downtown to The Five and Dime Antique store (Woolworths, as you Bakersfieldians know it) just to browse. At this point I had given up on my search and was simply waiting for a table to fall into my lap. Wouldn't you know, that was almost what happened. I turned a corner and saw, sitting there, piled high with old books and dishes, a little oval coffee table. It was very shabby and dingy and old-looking, painted an ugly flat white. It was dirty and dusty... and it was perfect. I cleared off all the other junk, grabbed it and took it up front where I paid $40 to bring it home and love it.
Obviously, it needed paint. I was only too happy to oblige, and I spray-painted it blue.
November, 2007
See, the thing was, this was before I had really found my decorating legs, so to speak. I didn't have the "feel" of our home and my own style pinned down yet. Not to mention that this sort of thing is always evolving anyway... so, it was only a matter of time before I started to bemoan my blue coffee table and want to paint it again. I wanted something different, something fun that would pop.
Enter sister-in-law Jessica, who supplied me with a can of brilliant green paint.
YES.
and our coffee table was reborn yet again!
June 2009
I'll be honest, I LOVED this color. I still do. And if it wasn't for the fact that this paint, for whatever reason, started to chip quite badly and peel off in places, our coffee table might still be green.
But, since it NEEDED to be painted, well, who was I to refuse?
I knew exactly what color I wanted it to be: coral. I've fallen in love with coral as of late. It's so pretty and warm, and just the right amount of girly without offending the male sensibilities.
I also knew that this time I wanted to do things right and really prep the table so this paint job would last. A great idea, right?? I thought so too. However, 5 hours into the SECOND day of prep-work, as I continued to scrape and work in the hot sun, after my fingertips were tender from grasping and peeling back miniscule bits of paint and I had cut my wrist on the scraper, as I was pouring down sweat and muttering "kill me now" under my breath... NOT SO MUCH. I finally gave up, having only gotten a little further than this with the tabletop: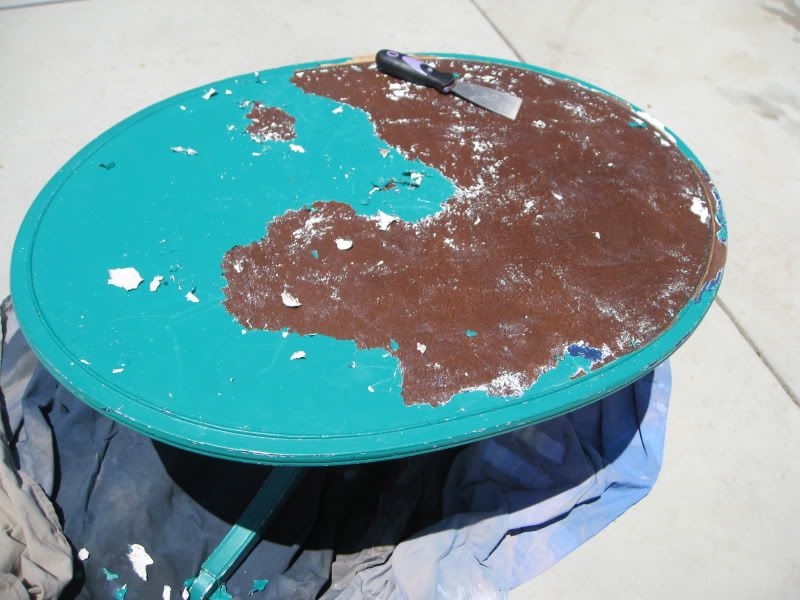 Never again. There's a reason I'm a slap-a-coat-of-primer-on-and-then-paint kind of girl. I sanded the whole table down as much as I could, primed it, and then began the part I really love: painting.
Behold, the finished project: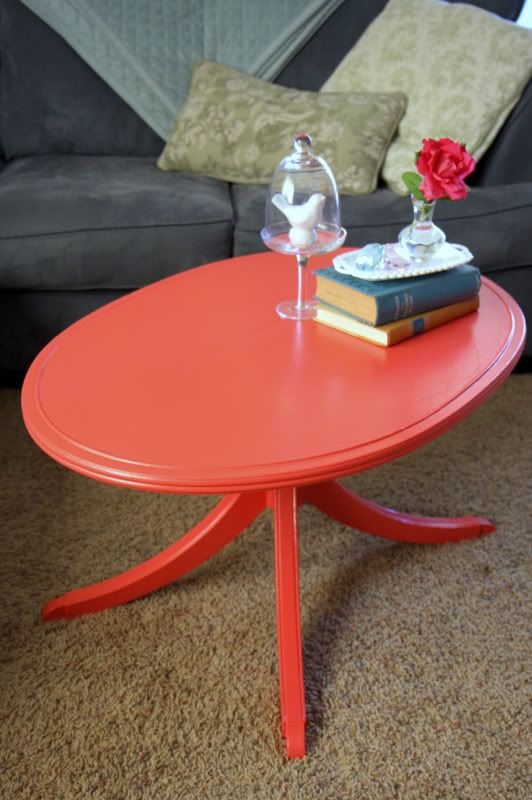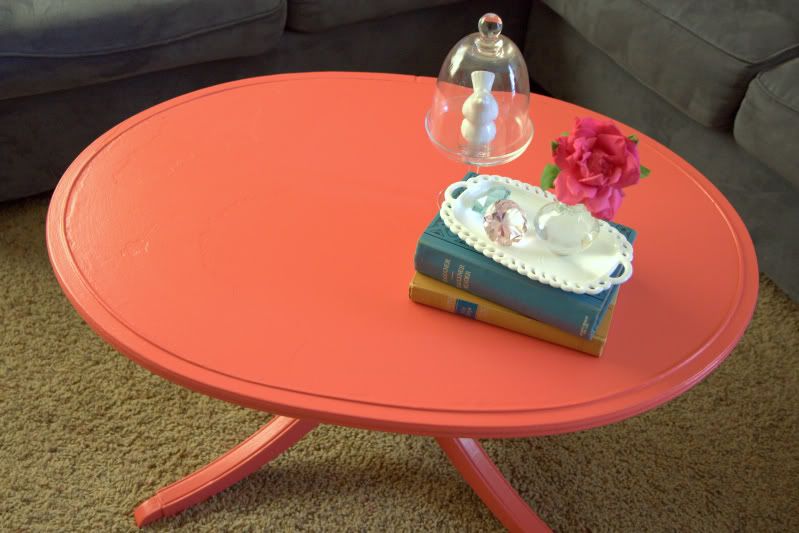 Sometimes it looks more orange, and sometimes it looks more pink-ish, depending upon the way the light hits it, as you can see. I love it. The coral is so cheerful and bright!
And how long will the table stay THIS color, you ask? I do not know, for only time will tell.