Oh, Today... you sly little thing, you. You whispered all sorts of promises about the things I would get done and how
lovely
it all would be, and then BAM! you gave me an incredibly grumpy (and LOUD) baby who refused to nap for any length of time or be set down for more than 5 minutes. How rude.
But, even so, I forgive you, Today. Because even though my youngest darling made me want to rip my hair out of my head and stuff it in my ears, you still managed to redeem yourself. Here's why:
I somehow, miraculously and remarkably, was able to finish a painting project that I've been wanting to do since, oh, September. And now I have a funky blue chair (pictures to come) that I absolutely love. Looking at it makes me rather happy.
Emma was a willing worker for school today. And although we hardly accomplished any (thanks to aforementioned cranky baby), what little we did get done was pleasant.
I got to see my niece's face light up in one of her trademark grins when we delivered birthday balloons to her. My newly-five-year-old Faithie makes me smile.
There were new library books to be perused, which made this little girl, aka She-Whose-Hair-Will-Not-Be-Combed, quite happy and delighted.
Bakery muffins for breakfast. Need I say more?
The sun shone almost all day long, and the girls were actually able to play outside while I gave piano lessons. YAY.
And while Rosalie was a handful-and-a-half, she did have a few moments of happiness and contentment, in which she of course managed to win me over again. Just look at her riding her little horsey! It's a good thing she's so incredibly cute. (this very thought entered my mind no less than twenty times today, and possibly about a hundred.)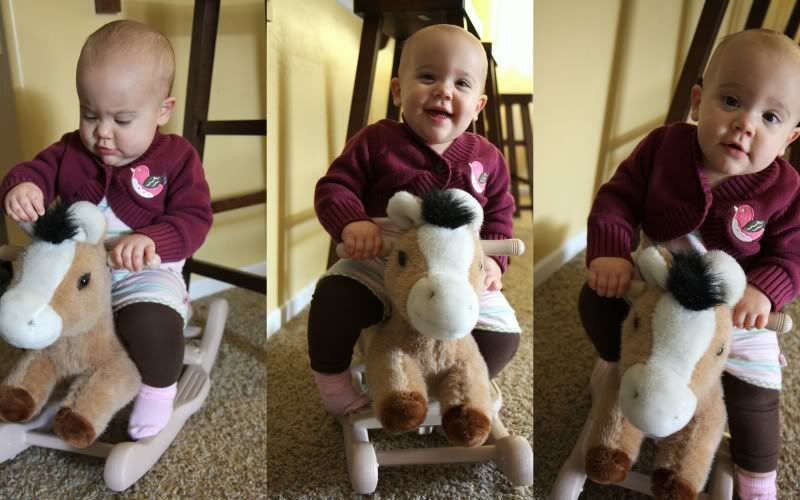 But, the very best thing about you, Today, is that my mom had another MRI done. And that MRI showed us that her tumor has SIGNIFICANTLY and impressively shrunk in size. There's not much left of it at all! This is good news. GREAT news. And while this does not mean it's all over and behind us, it does give us hope and reassure us that we are indeed moving forward. She will continue to receive chemo treatments until the tumor is completely gone; there's another MRI scheduled for March. The doctor wants to make sure that the tumor (lymphoma) is completely gone... because the thing about these lymphomas is that they have a nasty tendency to come back again (something I honestly try not to think about too much). My mom still needs lots of prayers, as we don't know what all may still lie ahead and there are many things she's dealing with as side effects from all this treatment... but we'll take any positive news that comes and rejoice in it!
So, Today, you might not have been exactly what I had planned on. And you may not have been the very best of your kind. But, dear Today, I don't mind... because I know you were
exactly
the way you were supposed to be. And for that, I will not thank YOU, Today... rather, I will thank my oh-so-loving, gracious God and Father, the giver of all good things and Perfect Planner of every circumstance. He is immensely good and wonderful, even, or should I say
especially
, in the midst of teething babies and brain tumors.