Hello, friends. Just popping in to give you the latest update-- so much has happened since the last time I posted. It's been a whirlwind of a week. I'm sorry that I haven't been better about updating... We of course by this time have new information concerning my mom, but it's just been SO busy. And I think I've been processing it all, taking the time to think and pray about it all and just take it all in. Taking the time to rejoice in the positive little things and, sometimes, cry about the scary and hard things. Like I said, it's been a total whirlwind. Less than two weeks ago (wow, really?? It seems ages) I had not an inkling of any of this and now our whole lives, our whole perspectives, have shifted and changed rather drastically. I know this is even more the case for my mom, dad, sisters, and little brother, since they are right there in the thick of it. Me, I'm here, many miles away and busy with my "normal" life because that's really all I can do. Even normal life is not the same now though... anyone who's ever had a dear one with a serious illness must know exactly what I mean. It's hard sometimes.
Anyway, allow me to fill you in. As you already know, my mom had her biopsy last Tuesday night. Jeremy and I were so thankful to be able to be there-- it made it so much easier, and we were able to actually enjoy the time before she went in, just spending time as a family, being our normal goofy selves. She then spent most of Wednesday in the ICU, simply because the hospital was so full that they didn't have a room to move her to, but she was really doing quite well and the biopsy went great. We had to head home again on Thursday, and on Friday my mom got to go home, just short of a week spent in the hospital. Since then she's been doing pretty well, feeling ok and just taking it easy. She's learning her limitations, which I'm sure is frustrating sometimes, but she is blessed with wonderful caregivers in my dad and sisters.
Friday was also the day we got the results of the biopsy back. I should tell you, we've been all over the place with what they thought the tumor might be, first one thing and then another, and we'd been told it probably was NOT certain things too. I guess it just goes to show that you never know for sure until those results actually come in. The results told us that it was a lymphoma-- cancer. My mom has cancer. It's honestly quite surreal to type that...
BUT-- but, while that is most certainly not good news, there are some positives, the first one being that we actually know about it and can now treat it. The doctor is very optimistic, and says the prognosis is good. She and my dad are meeting with the oncologist today to discuss treatments and lay out a plan, so I'm anxiously awaiting to hear the outcome of that meeting and what lies ahead. Whatever it may be, I breathe a huge sigh of thankfulness and relief in knowing and trusting beyond a shadow of a doubt that the Lord already knows every outcome and that He will sustain and strengthen my mom every minute of every day.
I won't lie, this has been hard. Really hard. But it's strengthening all of us and refining our faith, bringing us closer together... and even amidst tears, sadness, fear, and whatever other emotion may come (there's a whole plethora of those, believe me), it's still possible to give thanks to our God for so many things.
My sister Lydia was the one who brought my mom home on Friday, since my dad was taking care of prescriptions and such, and she and mom happened to hear this song while in the car after leaving the hospital. She shared it with me, and I was amazed at how perfect it was. I love what my mom put on her facebook after listening to it, and I couldn't say it better myself: "The sweet silver lining is the promises of God to work all things together for our good." Yes!! Amen.
Please continue to keep praying-- it means so much to us all. This could be a long, hard road-- we don't know. We're taking it a step at a time, celebrating the little victories when they come along (Mom, you know what I'm talking about, I won't share them here ;)), and simply trusting. Tomorrow morning Mom has to have further testing done, to make sure there are no lymphomas anywhere else, so she'll be getting a PET scan, a bone marrow biopsy, and a spinal tap. NOT a fun day. I hate to think of it... :( Extra prayer for quick procedures, skillful hands on those administering the tests, a special measure of grace and comfort for my mom, and hopefully small amounts of pain.
I'll leave you with some pictures of our last-minute trip to Denver last week. Because everyone loves pictures! Whee!!
(Side note: these are not in chronological order. Also, the lighting in hospital rooms is not conducive to attractive pictures. Hence the black and white on many of these. hehe)
Dad and I on Wednesday, in Mom's swanky new room.
Mom received some lovely flowers on Tuesday before her biopsy. Of course, we had to banish them to the nurses' station since they bothered her allergies.... but not before we took a picture of them. The title of this shot is "Girl in a Garden". ;)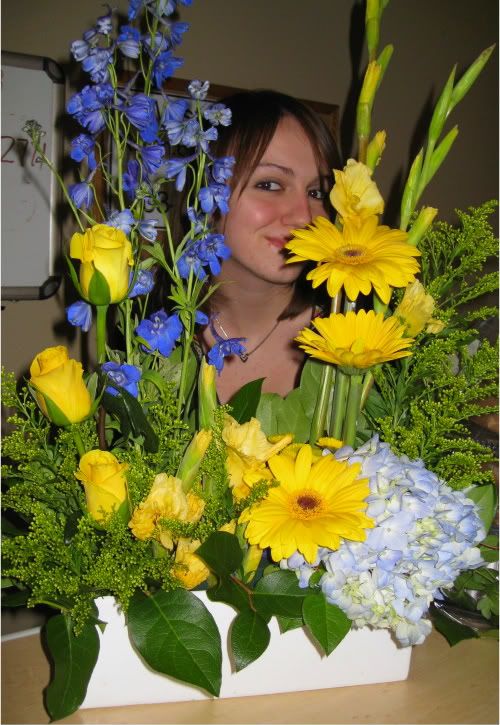 Mom was also blessed with a bundle of all sorts of goodies-- just look at all that loot! I especially love the hat and scarf, which are handmade by a woman in South Africa.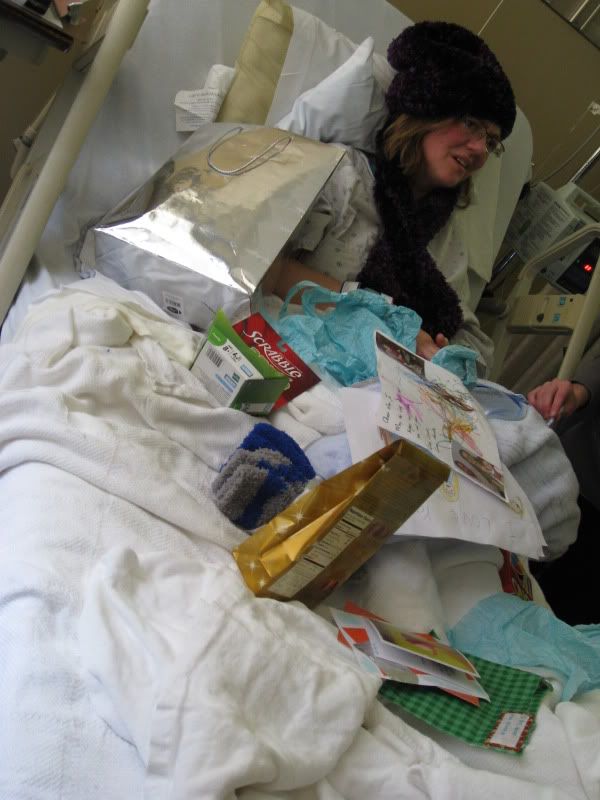 This was LATE Tuesday night, back at the house finally, after the biopsy. I think this picture perfectly sums up how we all felt at that moment. Mostly, just SO TIRED.
Of course we enjoyed our sister time, even if it was under not-so-perfect circumstances. Love these girls, don't know what I would do without them.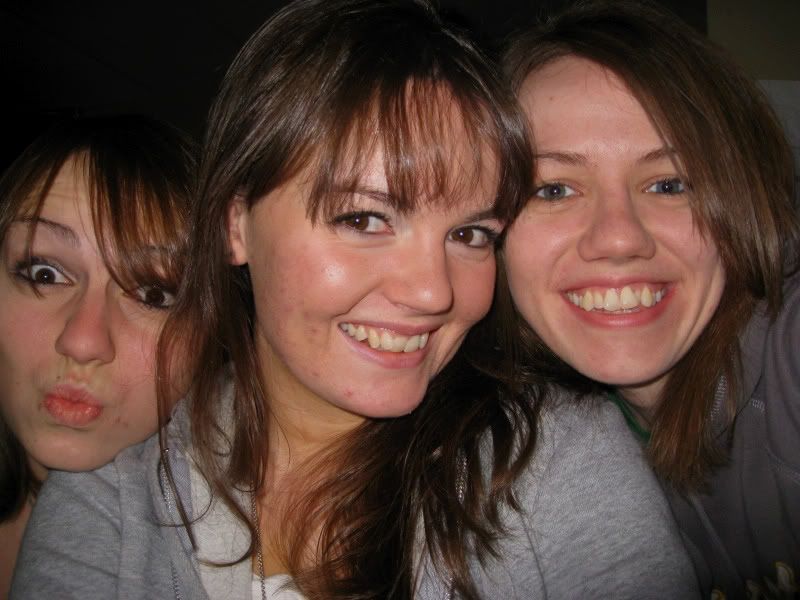 Speaking of sisters, this one looks awfully confused. Or angry. But doesn't she look cute in that hat?
My older brother Tyra was able to fly in from Chicago to be there, and he quickly became our resident researcher and obssessive question-asker. He's a good one. And this is one of the only shots I got of Josiah, because the hospital kicked him out later that day. He's under 18. Boo.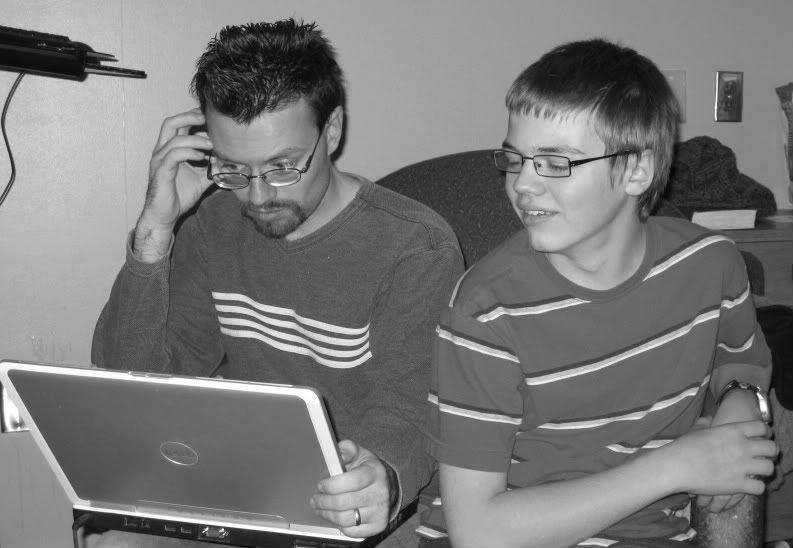 I snapped this while driving to the hospital in the late afternoon. I love the Denver skyline.
This picture melts my heart and makes me want to cry all at the same time. (Doesn't my mom look gorgeous? I could never look that good if I'd been in the hospital for days.)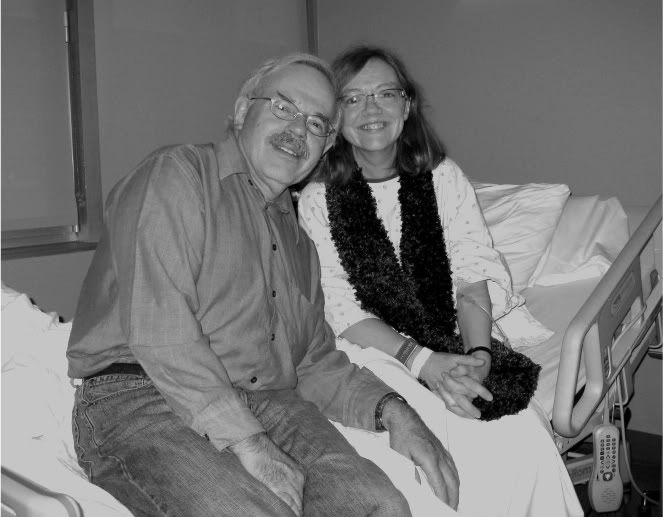 And this one, well, this one makes me wish I was by her side again to spend time with her and be there for her. Love you, Mama-la.