It took me forever to get around to posting this... so maybe you already saw Jerusha's, Lydia's, and Jeremy's posts about our family time? If not, go check them out, there are more stories and pictures to be had if you'd like!
Our Colorado Christmas came late, over the new year-- but it was every bit as wonderful as any other family Christmas. We were all there, together, under one roof, for the first time in years, and that made it so special. Sisters, brothers, sons, daughters, grandchildren, cousins, nieces, and nephews-- our family has grown and it was just so lovely to have the time to enjoy each other. Get ready, folks, I'm about to inundate you with pictures!!
We left on Sunday evening from LAX. As you can see, the girls were quite excited to FINALLY be on their way to Grandma and Grandpa's!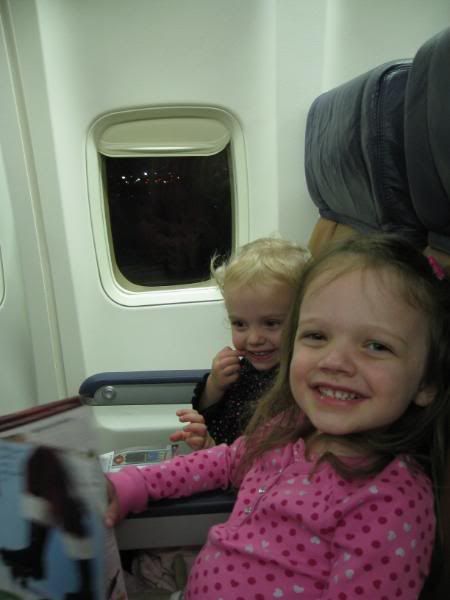 After a bit, however, they settled down to study their Sky Mall catalogs quite intently. There's some good stuff in there, apparently.
On Monday, while my mom and sisters had to go to work at the clinic, Dad, Josiah, the girls, and I took a walk in the afternoon. There's a lovely little park not far from their house, and the kids had a wonderful time running around with Uncle Josiah...
... and even playing a bit in a few patches of snow that we found!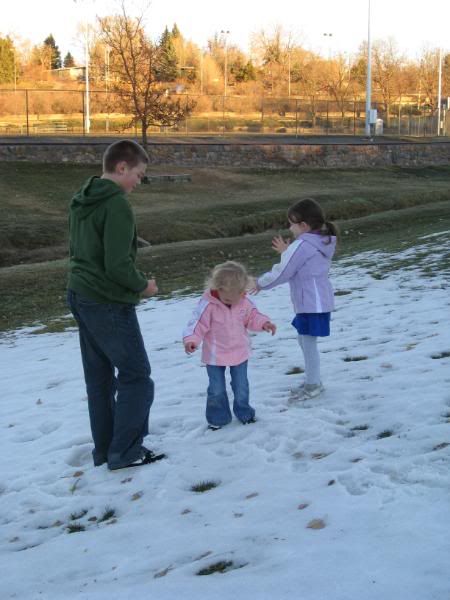 This picture of Emma was taken minutes before she began to complain that her hands were cold (no mittens or gloves along on this walk, unfortunately). I told her to put them in her pockets to keep them warm, which she did. And then she decided she was going to "skate" on a patch of ice that covered part of the sidewalk. (can you tell where this is going?) As soon as she stepped onto that ice I knew exactly what was going to happen, and sure enough... she slipped and fell almost instantly, before I could even say anything. Hands in pockets+slippery ice patch=falling FLAT ON YOUR FACE on hard cement. Thankfully, once we got her home, cleaned her up, and removed the pebble from her forehead (seriously) she was fine. And now she has a healthy fear of ice!
The next day, we all got to take a trip to the Horner Chiropractic Clinic, where we not only got to see for the first time what it looks like now that's it up and running, but also get adjusted by Dr. Horner herself (thanks, Mom! :)) Emma and Annabelle LOVED Grandma's play table with the building blocks in her waiting room-- so much, in fact, that they wanted to go back to work with her the next day!
That brings us to Wednesday, which was New Year's Eve. Our plan for the evening was to hang out, us and the Enochs (family friends of ours for years), play games, drink champagne (or sparkling apple cider, of course), etc.-- the usual ways to ring in the New Year. But before all that was to take place, Lydia and Jerusha and I decided it might be fun to go out to coffee, just the three of us. As we soon found out, however, all the Starbucks within a reasonable distance were closed before 6:00. What to do now? We were bound and determined to have our coffee and hot cocoa and hangout for a bit. So, we did what any pregnant chick and her two underage sisters would do in such a circumstance: went to a tavern. But of course! (Don't judge, it was the ONLY place open, and since it was early, it wasn't crowded with a bunch of crazy people drinking yet. And, it was actually a really cute place.) Unfortunately, we snapped no pictures of our tavern adventure, but it was so fun and funny. To top it all off, we went to buy beer in a liquor store afterwards (at the request of Mom and Jeremy). A very classy outing for us girls!
The rest of New Year's Eve was very fun. The guys played pool (or "crud")...
there was lots of smiling and laughing (cutie-pies)...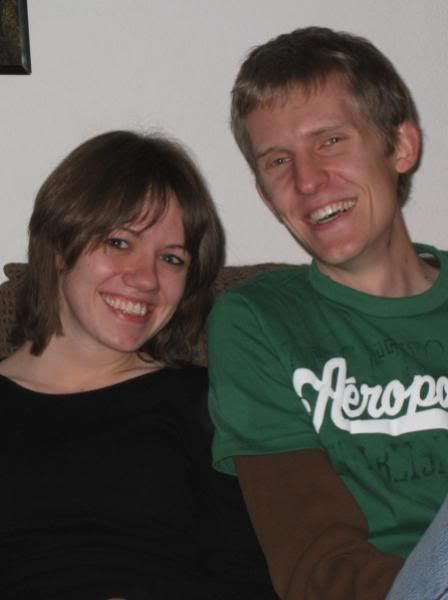 some serious thinking (or is it possible that my dad is just waiting for midnight so he can finally go to bed?)...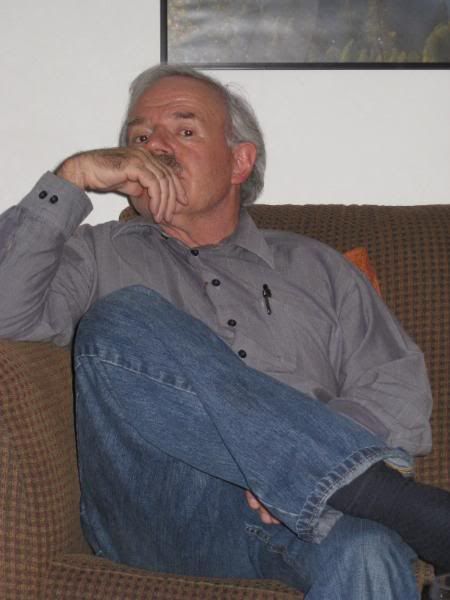 we may have gotten, um, a little loopy as it got later (Elijah started it)...
and of course there was plenty of cuddling on Grandma's lap too!
Now, one thing that Emma and Annabelle were VERY excited about upon arriving in Colorado was the fact that they would get to play in the snow. Seriously, they had talked of nothing else for weeks before. So you can imagine their disappointment when we arrived in Denver and woke each morning to sunshine and blue sky with a balmy temperature of 60 degrees. Not exactly "wintery" weather. The only places that still had snow were the pockets of shady areas (like at the park), and there wasn't much even there. On Thursday, New Year's Day, we decided to take matters into our own hands and go FIND some snow. To the mountains we went! We all piled into one huge van, including Jerusha's boyfriend Chris and his sister Rebecca. Dad took us to a little mountain town named Evergreen. As you can see, it was gorgeous up there...
...but you can also see there wasn't much snow there either! One thing that was happening that day, however, was their annual "polar bear plunge". There were a ton of people participating, and we stood around for a while in the cold mountain air to watch the craziness.
I love this picture of Jeremy and Emma: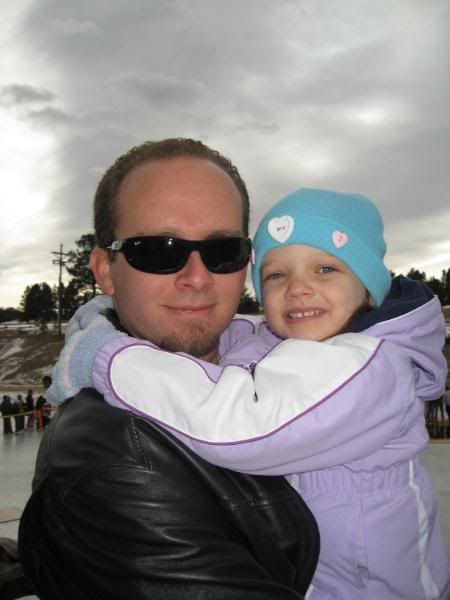 Pretty Rebecca, keeping Annabelle warm:
When I say it was craziness, I mean it. There was a large square hole cut into the lake, and we could see that the ice was probably about three feet thick. Not to mention some people wore nothing but bikinis or swim trunks! Add a brisk (very cold) wind into all this, and you can see why I about froze just
thinking
about jumping into that FREEZING water and then having to climb out all wet. BRRRRRRR.
After some time, we got back to our original purpose in driving into the mountains: FIND SNOW. We drove a little further up, keeping our eyes peeled for a good-sized amount, but all we could see was patches of snow here and there, none more than 2 or 3 inches deep. Well, you take what you can get. And, as you can see, it doesn't take much for children to have a wonderful time, no matter what.
We even managed to put together a teensy little woodland snowman! He's rather cute, don't you think?
It may not have been much, but we enjoyed our patch of snow, as well as our entire mountain expedition, to the fullest. (Jeremy was off taking pictures of the beautiful mountain scenery, so he had fun too)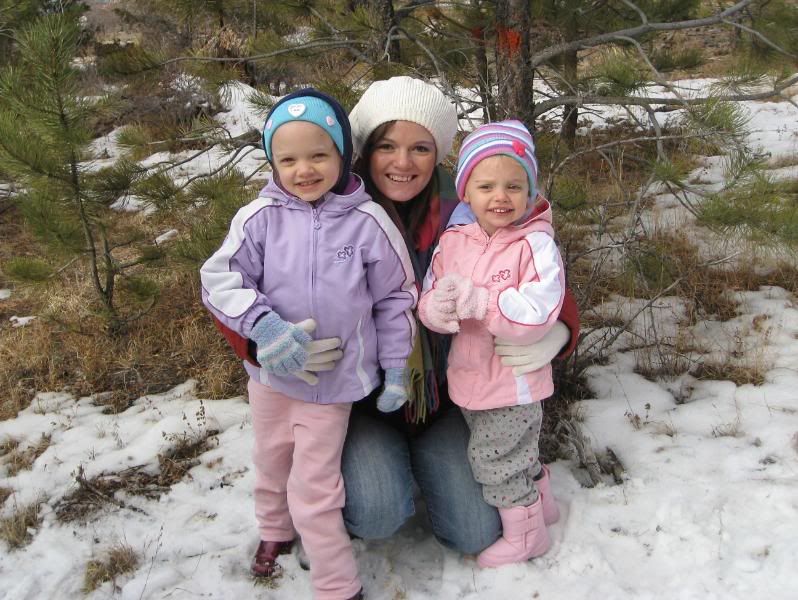 My brother Tyra, his wife Christine, and their two kids arrived very late Thursday night. We got to meet this little guy, our nephew Brayden, for the very first time:
I love him, he's an adorable cutie.
Since every member of our family was finally together, we got to have our "Christmas" the next day, on Friday. All the kids were quite excited of course, and they did not hesitate to rip into their piles of presents. (this is my niece Caitlyn, whom my girls absolutely adored. They had so much fun together.)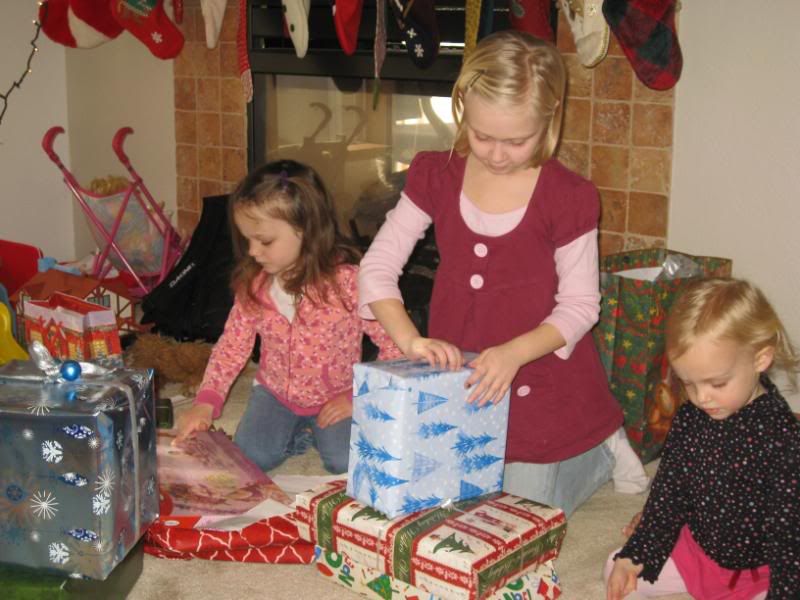 Christine, Tyra, and baby Brayden got into it too!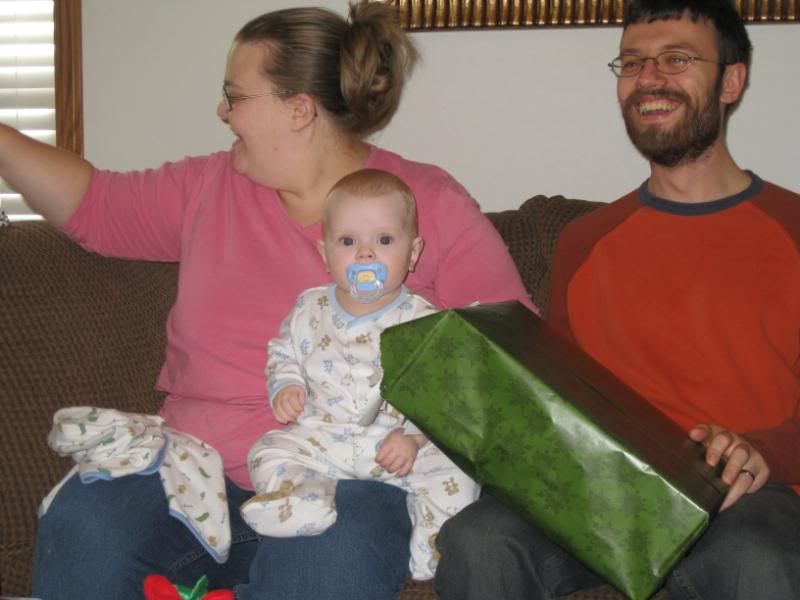 The rest of our time there went by very quickly, it seemed, but oh-so-pleasantly. There was lots of game-playing, late nights, talking and visiting, pinochle (a family favorite), silliness, eating of mom's (and Josiah's!) delicious food, and quite simply, hanging out as a family and soaking up every minute of delicious togetherness.
such beautiful sisters I have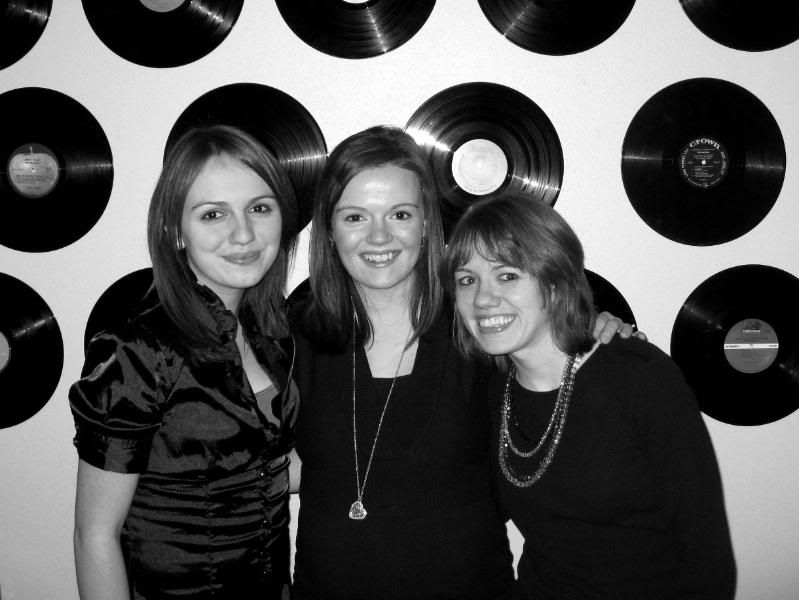 they're a bit silly, too
handsome brother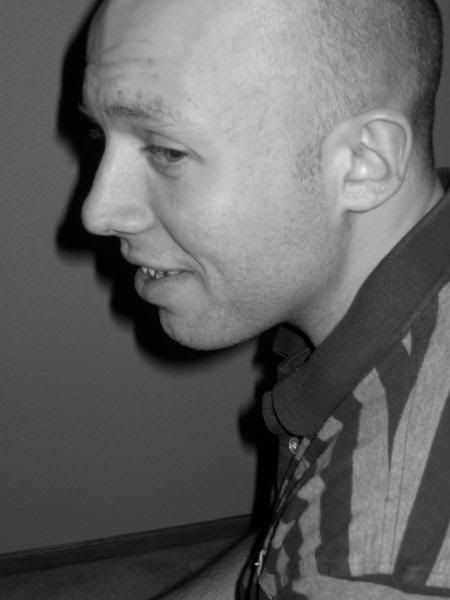 This is not a great picture of us (me), but somehow, it's the ONLY one we took of the two of us together the whole trip!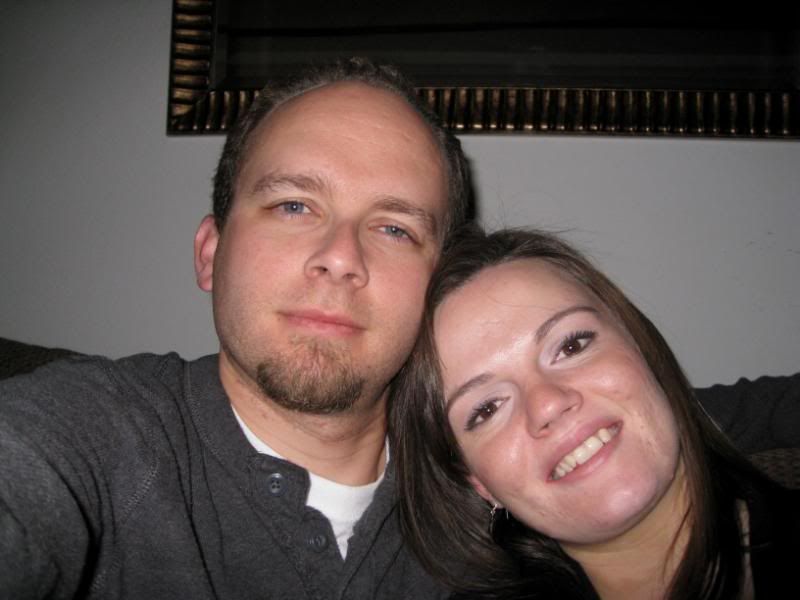 Grandma's girls
gotta love YouTube :)
Lydia-love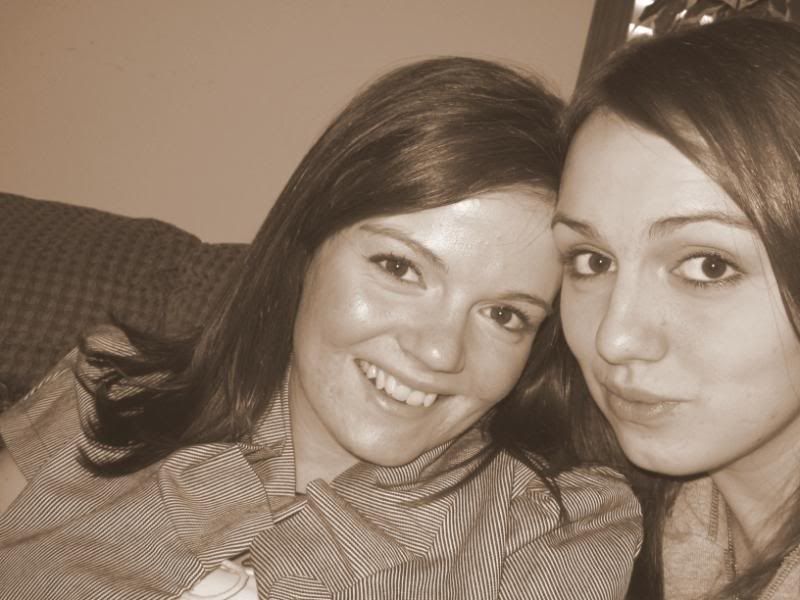 Uncle Elijah is so much fun!
So glad I got to love on him, finally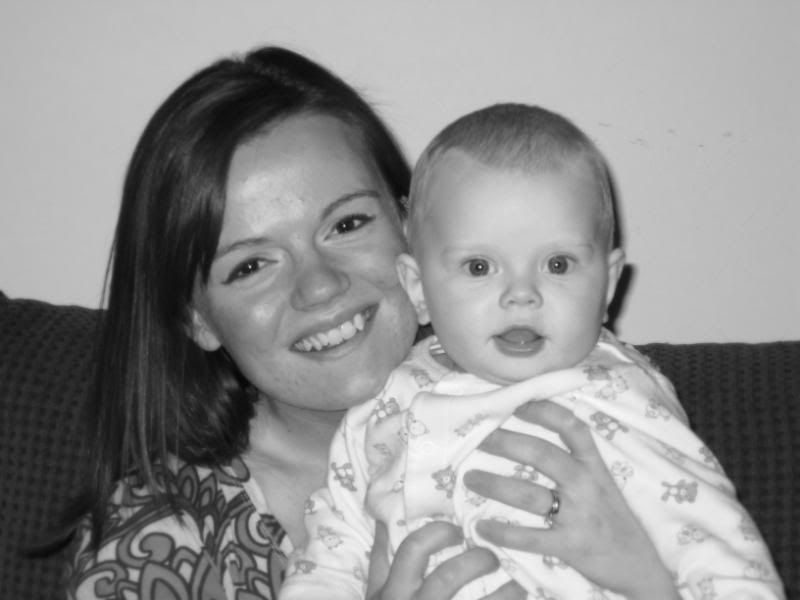 Story-time before bed-- a special treat from Grandma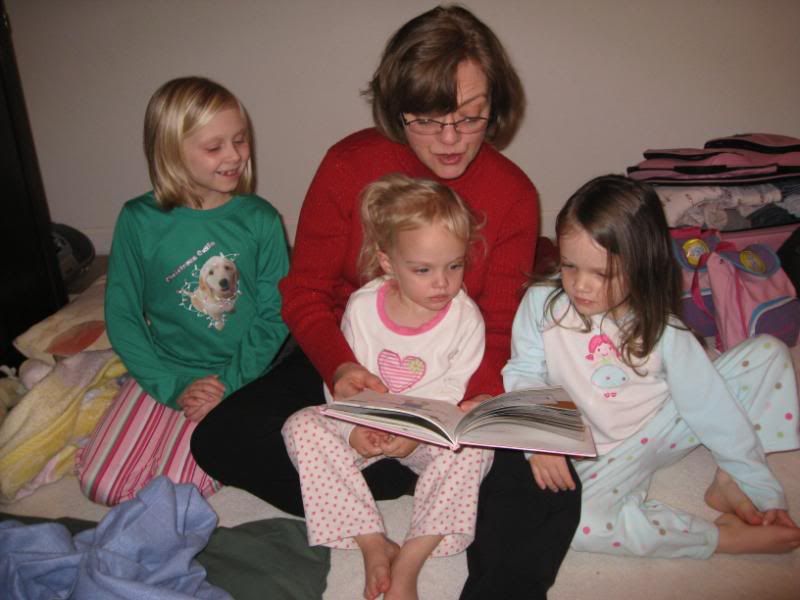 Sweet cousins
I love our family.