This past Friday I had the opportunity to go to an art show here in downtown Bakersfield featuring these two lovely girls:
Colleen
and
Ashley
!
Not only did I enjoy looking at their gorgeous pictures hung throughout the gallery and marvel once again at their amazing talent, but I got to meet
in person
some of the people who have become my friends through blogging.
When I first walked in the door the first familiar face I spotted was Ashley's, and it was so cool to walk up to her and actually say hi in person. She might not even realize this, but Ashley was the very first person I didn't actually know in real life to randomly leave a comment on one of my blogs. I've loved reading hers ever since, and it's crazy to think how much my own little blogging community has grown since then. Believe it or not, Ashley is even more fun and even sweeter and prettier in real life, as those of you who've met her already know. I kinda wish she could have stayed in Bakersfield forever. And ever.
Colleen, the other artist of the night, is someone who I've not "known" as long as Ashley, but I've become just as addicted to her blog recently. And she is just a dear-- I'm so glad I got to meet her! Please note also how gorgeous and glowy she is.
More pictures:
Alyssa was there! (I've met her before, but it was great to see her again)
And look! The adorable Sarah Marie P and her husband Johnny came too! Now I have a picture of one of the world's cutest couples on my very own camera. Loved meeting you both!
Sarah and I. She's surprisingly tall, just like I'm surprisingly short. :) But I wasn't surprised by how sweet and lovely she is... no, I knew that already!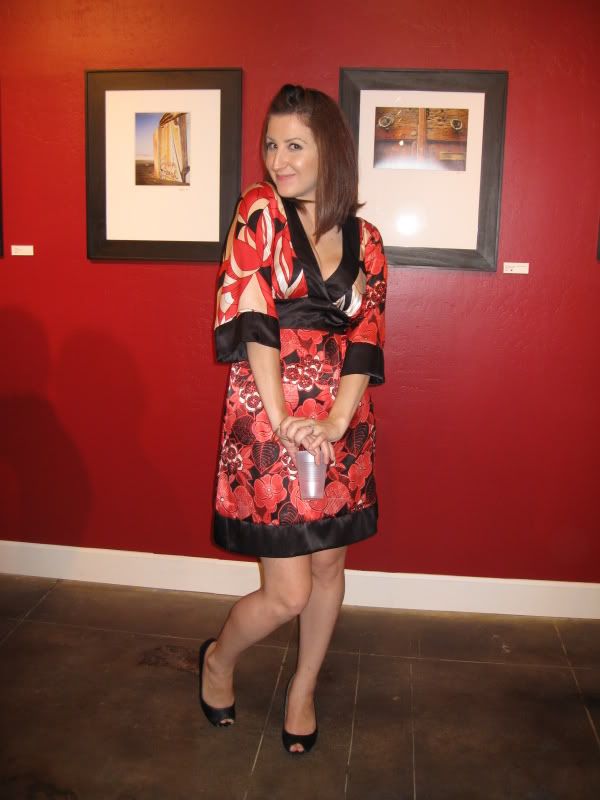 Such a cute picture of Ashley, rockin' that stunning red dress against the red wall.
The "bloggers"-- what a group! Christie (I got to meet her for the first time too), Danielle, Sarah, Ashley, me, Jimaie (yay for getting to meet her also!!), Alyssa, Colleen, and of course the lovely Lorie (who I don't get to see often enough in real-life, even though we've been friends for 5 years now)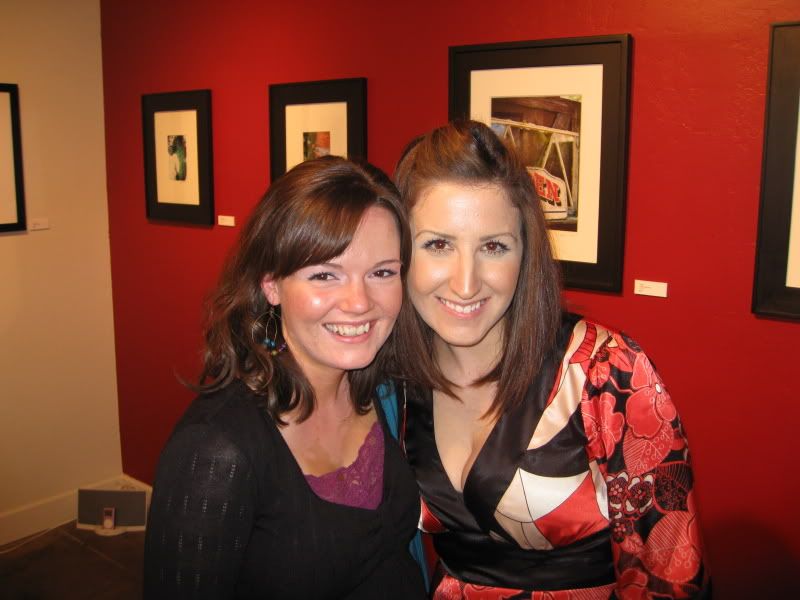 Friends. For reals.
It was such a fun night. I can honestly say that each of these girls that I met for the first time are people I would love to hang out with all the time, if I could. And I simply love being able to put real-life memories and personalities with thes people who have become such a part of my life through the words, pictures, and stories that we share through blogging. Let's hope real-life brings us all back together again soon!
ps. I did not get any shots of Ashley and Colleen's photographs (mostly because I knew me and my humble camera would do them no justice at all), but you can go visit Colleen, Lorie, Ashley, or David to see some amazing shots of the evening.